Manchester campaigners in the cladding and building safety scandals are keeping the pressure up on the Government and construction companies as a national rally takes place in London.
Campaigners from across the country will descend on Westminster today (Wednesday 20 April) as the House of Commons discusses the issue just a couple of weeks before the Building Safety Bill is due to become law.
The Government has recently said it has reached agreement with a number of developers on funding plans for remediation work to be carried out on unsafe buildings.
But campaigners in Manchester say words from ministers must be backed up by actions and many leaseholders still do not have arrangements in place for their buildings and continue to face an uncertain future.
What is the current situation with the building safety scandal?
The Government says it has reached agreements with a number of large developers on funding plans for the remediation of buildings more than 11m in height that were built in the last three decades.
It has been said that the Building Safety Bill should compel developers to remediate buildings for which they are responsible.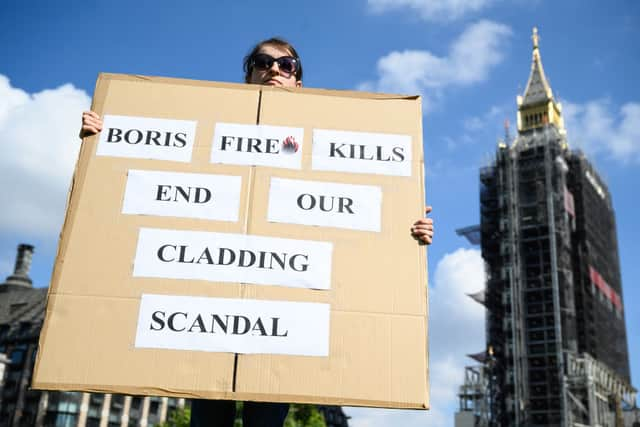 A Government factsheet says developers will be the first port of call for any building safety defects which are not related to dangerous cladding having been installed on them.
However, leaseholders in the End Our Cladding Scandal campaign are heading to the capital on Wednesday to make their voices heard and their views known to politicians once again.
What has the reaction been from campaigners?
Leaseholders who have been caught up in the scandal have given a very cautious welcome to the latest developments, but say ministers now need to make sure the promises and words are backed up.
They have also warned that not every leaseholder now has a clear path to avoid being landed with costs and there are still questions to be answered about the exact workings of the remediation funds and proposals for independent mediation of disputes.
In addition, leaseholders living in buildings whose developers have reached agreements with the Government say they will keep speaking out about the issue on behalf of those who are not in such a fortunate position.
Giles Grover from the campaign group the Manchester Cladiators said: "This could and should be good news but it depends on whether or not the developers' pledge resolves all the issues that need resolving.
"The simple fact is that for years developers have focused on profit over safety and they will still mainly be concerned about their bottom line.
"The Government has asked more than 50 developers to sign up and about two-thirds have done so, but what is Michael Gove going to do about those who don't sign?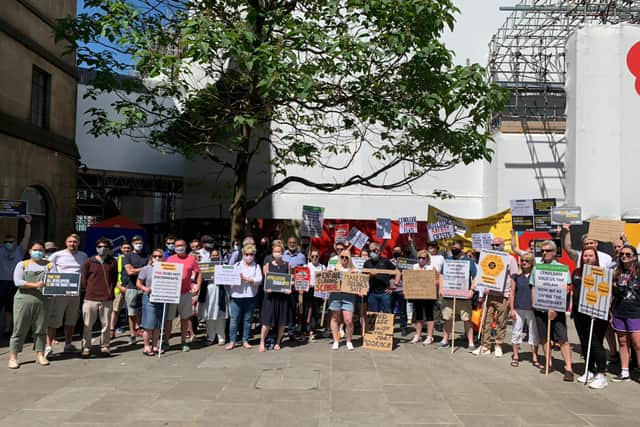 "A fair few people who have been living this nightmare for years are still wondering what the implications are for them if their developers are not on the list.
"The simple message we are trying to convey is that the Government has done more than it has previously but it has taken nearly five years. All we have ever wanted is simple legislation that protects us."
Tom Wilson, a leaseholder at Lamba Court in Salford developed by Bellway, one of the firms which has announced it has signed up to the Government's plan, said: "This is definitely a positive development and it is reassuring to see they are taking this seriously and holding developers to account.
"It's also good to see developers getting on board.
"However, leaseholders in buildings under 11 metres high feel left out and wonder who will be picking up the tab for them.
"A large element of uncertainty also remains regarding the scope of required works, the timeframe for these and when leaseholders will be able to sell their properties.
"Currently lenders are generally very cautious and unwilling to provide mortgages against properties such as ours. Many peoples' lives are on hold while next steps are still being determined."
What has the Government said?
On its factsheet the Government said: "It is unfair that innocent leaseholders, most of whom have worked hard and made sacrifices to get a foot on the housing ladder, should be landed with bills they cannot afford to fix problems they did not cause.
"We are clear that we want those responsible for building defective buildings – developers and construction products manufacturers – to pay the bulk of costs for remediation.
"The government is taking significant action to ensure that industry fixes the mistakes it has made."
What have any of the developers said?
"We have always taken the issue of building safety very seriously and agree with the Government's principle that residents should not have to fund life-critical fire safety remedial works.
"Our engagement to date and commitment to continue our responsible approach has resulted in Bellway today making a pledge that schemes constructed by us or on our behalf in the last 30 years will be remediated.
"This is a positive outcome for affected residents, made in the best long-term interests of the group and will help to secure our ongoing reputation as a leading responsible homebuilder."