Three years ago Rhiane Fatinikun was travelling through the Peak District on a train when she decided she wanted to do more walking and get out in nature for her own wellbeing.
That moment of looking out of the window quickly snowballed and became Black Girls Hike, a not-for-profit organisation breaking down barriers for ethnic minority communities in the great outdoors across the country.
Rhiane, who is from Greater Manchester and currently lives in Bolton, spoke to ManchesterWorld about the incredible success and rapid growth of the organisation which has even taken her to Buckingham Palace.
She also spoke openly about the challenges people from minoritised communities face enjoying nature and the hostility and racism they can still find when they go out in the countryside.
How was Black Girls Hike founded?
The idea for Black Girls Hike came to Rhiane, who was born in Worsley, on a train journey early in 2019 which rattled through the Peak District.
Working at the time as a civil servant for the Department of Work and Pensions (DWP) on Universal Credit, Rhiane wanted to improve her own wellbeing and deciding getting out in the countryside could be the answer.
However, although she was extremely sporty at school, playing netball and rounders and doing cross-country, and had lived across the North West in places close to the West Pennine Moors and lots of countryside, hiking was never something that had been on her radar.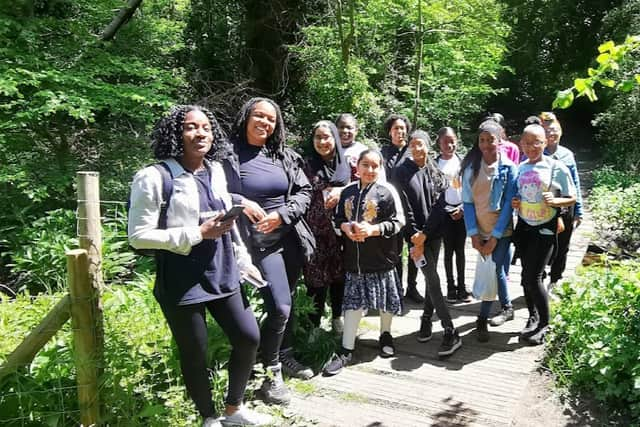 She decided to create a meet-up for other Black women to go for a walk together, and in March 2019 what would become the first Black Girls Hike event took place at Hollingworth Lake near Rochdale.
She said: "The idea behind Black Girls Hike was to create a space where people who didn't have that much exposure to the outdoors could feel comfortable.
"All the places I have lived have been quite close to the countryside but it had never been somewhere I wanted to explore as a child, it wasn't something my family really did.
"I was just on a train going through the Peak District and decided I would do some hiking. There's no real representation in hiking, we have the Peak District on our doorstep but you hardly see any Black people there.
"I started an Instagram page, found a newspaper article with five walks in Greater Manchester, picked one and led a walk there.
"I didn't really know where I was going and it was just a description of the walk with no map but 14 people turned up and I managed to get us back to the start."
From there things grew rapidly as more people across the country began to get in touch and lead walks in areas including Yorkshire, Devon, Bournemouth, Essex and Sussex, all specifically for Black women.
When Black Girls Hike offered its first walk in London in 2020, more than 100 people turned up to take part.
And this year the group is going international with a hiking holiday on the island of Madeira, its first venture beyond UK shores.
Spectacular successes in a few years
In its first three years of existence Black Girls Hike has racked up an impressive list of successes and achievements.
It has partnered with leading outdoor brands such as Berghaus, developed leadership courses so people can safely take groups out walking, won an award from the Royal Geographical Society and worked with Bear Grylls.
Rhiane, who quit her civil service job to run the organisation full time in 2020, has spoken at Buckingham Palace for the Duke of Edinburgh's Award, while one of Black Girls Hike's directors did a TEDx talk.
She said: "I'm very proud of Black Girls Hike, I had no idea it would grow like this. It was supposed to be a way for me to de-stress but now I'm effectively running a business and no-one would say starting a business is a wellbeing activity.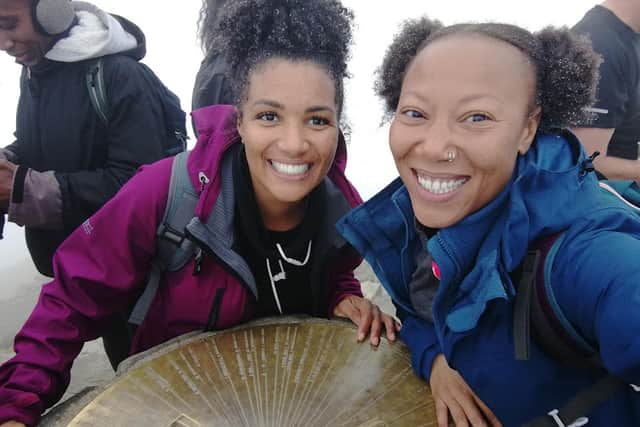 "It is very fulfilling and something I always wanted to do. I did loads of volunteering and worked with organisations on creating opportunities for minoritised groups, so I feel like everything just fell into place.
"I'm doing community development, encouraging more people to access the outdoors, promoting physical and mental wellbeing, inspiring the next generation and creating positive new pastimes for people.
"People have said they always wanted to go out in the countryside but didn't know if it was a safe space as it was somewhere they had never seen themselves represented. Coming to Black Girls Hike has given them a new lease of life and they absolutely love it.
"I'm a lot more adventurous now too .I did paragliding and bought a kayak last year and I've done surfing. I was recently swimming in Windermere and that's something I would never thought I would do because it's freezing."
Barriers to minoritised groups getting out in the countryside and hostility towards them
However, for all the success Black Girls Hike has had Rhiane says people still come to its walks having had extremely negative experiences in the countryside and the group itself has faced hostility both while out on hikes and when it has made high-profile media appearances.
Rhiane said: "People have said stuff to us as a group and at the beginning we got a lot of trolling and racist abuse online and by email. That has died down quite a lot at the moment but when we are featured on something big we get a backlash. We were on Countryfile recently and the BBC got complaints about us.
"It's about reshaping people's perceptions of the outdoors when they have had negative experiences.
"In this day and age there are people we need to be convincing and people who are past trying to convince, and we don't need to be expending energy on that at the moment."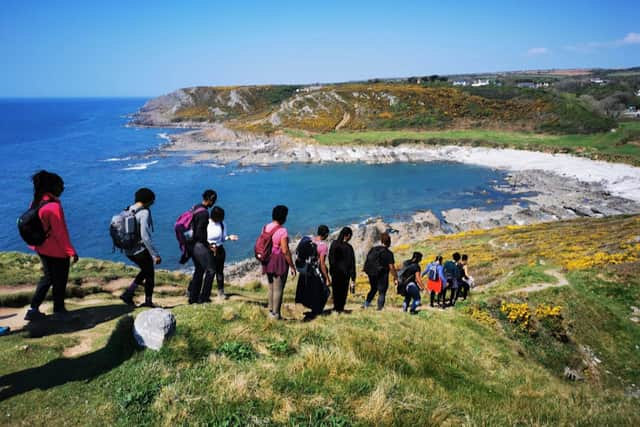 Rhiane says people from minoritised communities face other barriers when it comes to getting outdoors as well.
She said: "There should be more Black and brown people accessing the outdoors but it's like this across the country: participation rates for minoritised communities are very, very low.
"Reports have been done on why this is and they have talked about a lack of representation across the board and that's why we're struggling to engage communities that are under-represented.
"There's also a lot of what people call 'invisible barriers', but I would say that's just how systemic racism manifests itself. It's not just racism, it's class as well.
"Minoritised communities tend to be more working-class and when we look who's accessing the outdoors it's largely white middle-class people.
"A lot of organisations who should be reaching all different communities also don't understand all the issues because they tend to be an echo chamber and have had very similar experiences. It just goes to show there is still a lot of work to be done."
Getting the next generation interested
Rhiane talked about one particularly memorable and enjoyable recent trip which involved taking a group of 14-to-19-year-old girls on a hike, and the organisation has also worked with young people in Years five to eight at school in London.
She said she is particularly keen to do more work with the next generation and instil a passion for hiking and the countryside.
She said: "I love the youth hikes, they are so cool. The last one we did, we ended up stopping to make TikToks. They bring a different type of energy and it's so nice to be around that.
"I would like to do more work with young people, going into schools and letting them know there are career options and things you can do in the outdoors.
"In Manchester we took a group out to Dovestone Reservoir in Oldham on the edge of the Peak District. It's on our doorstep but most of them had never been. Why had they never had a school trip there?
"What access do young people have to quality green space and how they are building that connection with nature, that feeling of wanting to explore and that aspiration to do more outdoors?
"I was talking to the Duke of Edinburgh Awards last year but a lot of schools in working-class areas won't offer that. It's all about resources and access to them and the ability to do that extra-curricular stuff at school."
Three of Rhiane's favourite walks in Greater Manchester
Hollingworth Lake, Littleborough, Rochdale. The 130-acre reservoir sits at the heart of a well-known beauty spot on the eastern side of Greater Manchester which is always popular with visitors. It also marks the place where it all began for Black Girls Hike.
Rhiane said: "It's a nice walk and it will always be special because our first ever walk was there. It's sentimental spot for us."
Rivington Pike and Winter Hill, Bolton. The West Pennine Moors are a magnet for walkers from across the region and many, like Rhiane, prize the spectacular views you get from the tops of the hills.
She said: "The landscapes are really pretty and on a clear day you can see to North Wales, Blackpool, Manchester city centre and even the Chill Factore."
The Kingfisher Trail, Bolton to Prestwich. This 14-mile route stitches together a number of popular green spaces and wildlife havens in a largely-urban part of the city-region, with much of the trail following the River Irwell.
Rhiane said: "This goes through all the industrial heritage and it's a really interesting way of exploring it. You don't often think that from footpaths near your house you can walk all the way through to Manchester from the edge of Bolton, but you can."