Andrew Ellison: domestic abuser jailed for 24 years for offences including rape, assault and threats to kill
Greater Manchester Police said Andrew Ellison's victims were 'terrorised, tortured, and abused' over a period of 25 years.
Watch more of our videos on Shots! 
and live on Freeview channel 276
Visit Shots! now
A Greater Manchester domestic abuser who carried out a sickening catalogue of violent and sexual offences against five women including rape, sexual abuse and threats to kill has been put behind bars for more than two decades.
He was charged with a string of violent and sexual offences against the women and following a trial was found guilty. He has now been sentenced to 24 years in prison and must then serve a further four years on a licence.
Police praised the bravery of his victims for coming forward and revealing Ellison's appalling history of crimes against women.
What did Andrew Ellison do and what sentence did he receive?
Ellison, 46, was charged with several counts of rape, sexual assault by penetration, false imprisonment, threats to kill, harassment with fear of violence, exposure, actual bodily harm, attempted sexual assault by touching and criminal damage over a 25-year period against multiple victims.
Police said that within a few months of beginning relationships with each of the five women he would start subjecting them to verbal and then physical abuse. He would initially charm them before starting to abuse them, with his shocking treatment of them escalating to the stage where they felt they were the ones at fault and were trapped, feeling alone and vulnerable.
Police said Ellison had a bat with "Andy E" engraved on it. Ellison, of Searness Road in Middleton, would refer to this as his "friend" and one woman said she was beaten with it. The woman said he would also force her to stay alone in rooms.
When one woman who had suffered four years of abuse by Ellison tried to break up with him and changed the locks to her property he turned up and tried to force entry by kicking down the door and strangled her. Another victim said he ranted at her while trying to smash her phone and kick her to the ground.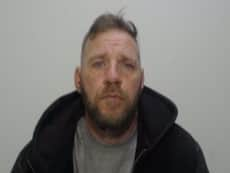 Police said Ellison's victims were subjected to sexual assaults and "constant verbal abuse". When work colleagues noticed victims had black eyes and strangulation marks, Ellison would tell those who asked that the victims were responsible.
His shocking catalogue of offending came to light when a woman in her 30s told police in Middleton of a catalogue of rapes and domestic abuse at the hands of a man. It was established that the victim had been involved in a domestically abusive relationship with Ellison and had been the victim between 2017 and 2022.
Following Ellison's arrest, further enquiries were made by police into his domestic history which revealed a further four women who had been domestically abused, dating back to 1995.
Ellison pleaded not guilty to the string of charges against him at the magistrates' court in 2022 and he was remanded in custody until his trial, where he was found guilty.
He was sentenced by a crown court judge on Friday 31 March and was ordered to serve 24 years in jail with a further extended licence period of four years after that.
Getting Ellison in the dock required an enormous police effort, with more than 60 witnesses providing statements and officers speaking to more than 100 people across the North West to build the case against him. A specially-trained interviewer spoke to Ellison's victims in two sessions which together resulted in nearly 14 hours of audio recordings detailing what they had been through.
What have police said about Ellison's appalling history of domestic abuse?
Police described Ellison's behaviour as "horrific" and praised the courage of the women who had come forward to reveal the ordeals they had been through and help bring him to justice.
Detective Constable Marshall Trower of GMP's Rochdale district said: "Firstly, I want to acknowledge all five victims who suffered years and years of sustained abuse at the hands of this man. The last few months has been such a distressing process for them throughout this long and difficult investigation and trial.
"From 1995 to present day, Andrew Ellison terrorised, tortured, and abused these women. All the victims spoke of how he was nice to them all for the first couple of months, but his obsessive and aggressive nature escalated rapidly, and he took his aggression out in the vilest of ways.
"Ellison's chain of abuse continued through the 2000s and 2010s until he met his next partner. Ellison had now mastered his manipulation and abuse, starting like always being the passionate, loving, caring partner. This partner again described how he quickly became obsessive and controlling.
"I commend all the victims for their bravery throughout this investigation and for having the courage to report this information. Because of one woman's report, we were able to unearth Ellison's previous violent and horrific history of domestic abuse of his previous partners.
"Andrew Ellison's crimes are horrific and his lack of remorse for all five women and their welfare is despicable. He is an extremely dangerous individual who fully deserves the sentence imposed on him today. I truly hope that the sentence of this dangerous individual brings some form of peace to all the victims and their loved ones."
Chief Superintendent Nicky Porter of GMP's Rochdale district and the force lead for violence against women and girls said: "Domestic abuse has been described by survivors as mental torture, a feeling of being in a heightened state of alert, and the constant chipping away of oneself. We can only imagine the stress and torment this must cause. To live in your own home under such terrifying conditions cannot be acceptable in our modern society.
"I truly hope this conviction goes someway in bringing justice for the women he abused. It's also an opportunity to raise awareness and let survivors experiencing domestic abuse or who have been domestically abused know, that you are not alone, and we will support anyone brave enough to report it.
"All five women's support throughout this investigation enabled us to locate more victims as a result of their bravery and as a result we have been able to sentence an extremely dangerous individual from our communities.
"To all perpetrators that believe that this is ok, our message is simple. We will relentlessly pursue you through the criminal courts and we will continue to approach domestic abuse as one of society's most abusive and serious of crimes."
Support is there to help victims of domestic abuse
Victims of domestic abuse and sexual assault in Greater Manchester can seek help from a number of organisations and support agencies within the city-region
St Mary's Sexual Assault Referral Centre supports men, women and children who live or have been sexually assaulted within Greater Manchester. It offers forensic medical examinations, practical and emotional support as well as a counselling service for all ages. Services are available on a 24-hour basis and can be accessed by calling 0161 276 6515.
Greater Manchester Rape Crisis is a confidential information, support and counselling service run by women for women over 18 who have been raped or sexually abused at any time in their lives. You can call them on 0161 273 4500 or email [email protected]
Survivors Manchester provides specialist trauma-informed support to male victims in Greater Manchester who have experienced sexual abuse, rape, or sexual exploitation. You can call them on 0161 236 2182.
Greater Manchester Police is also encouraging victims of rape or abuse not to suffer in silence and for anyone who is a victim or knows someone who is to get in touch on either 101 or 999 in an emergency. Information and crimes can also be reported on the Greater Manchester Police website or to the independent charity Crimestoppers anonymously on 0800 555 111. The police force also has pages of support for rape and sexual abuse victims on its website.