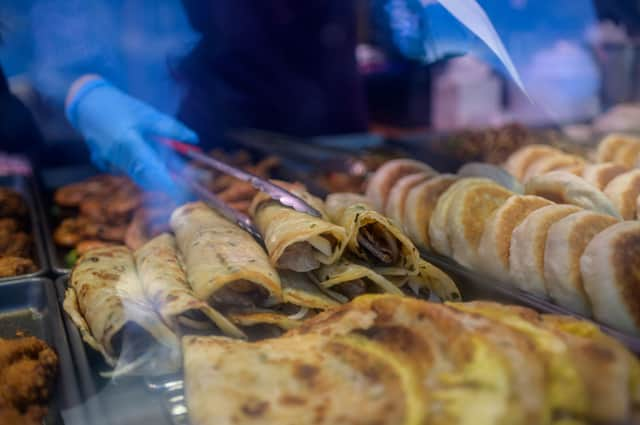 Pancake Day Credit: Getty
Pancake Day is fast approaching, and this year it falls on Tuesday, 1 March.
Traditionally it can be a day where you stay in, and try to make your own pancakes, inevitably falling at the hurdle where you try and do a spectacular flip, it's great fun for the family.
However, if you wish to skip the theatrics and head straight out for a pancake, here's a list of where to get one in Manchester.
Impossible
Available on their brunch menu, that is active between 12pm and 2pm, treat yourself to the 'pancake stack', which costs a very reasonable £9 and consists of mixed seasonal fruit and maple glaze.
Accompanied with a gin bar, you really can't go wrong at Impossible.
Tuesday - Thursday: 4pm - Late
Home Sweet Home
Offering a dine in, takeaway and delivery option, Home Sweet Home seems to be a very good option for pancake day, and with a price range of under £25, it's affordable too. Don't fancy a pancake? No worry, as they offer eggs, bacon, waffles, fried chicken and more.
Popular dishes include the Bacon Bacon Fries and a Club Cali Burrito'
Opening Times: 9am - 10pm
19 Cafe Bar
A 4.6 rating out of 5 on Google review for 505 reviews suggests that 19 Cafe Bar have some very satisfied customers. They offer Biscoff and Bueno pancakes, as well as savoury options such as chorizo & sweet potato hash benedict and halloumi & avocado bagel, to name a couple.
They offer delivery, as well as a dine in and takeaway option too.
Moose Coffee
Offering all day breakfasts, eggs benedict dishes & a range of delicious sounding pancakes, Moose Coffee are celebrating their 16th anniversary this year, and have rave reviews on Google.
With the price of pancakes all standing at £10.50, Moose Coffee would be a good option for Shrove Tuesday.
Brunch Cafe
With dine in and takeaway options available, Brunch Cafe are open for 18 hours a day, so anytime you're free, it's likely they're open. They regularly feature on 'best brunch option' lists for Greater Manchester residents, so have garnered a good reputation.
Opening Times: 5am - 11pm
The Koffee Pot
The Koffee Pot is your slightly more traditional cafe. They serve traditional fry-ups, but also have veggie & vegan alternatives. Their popular All American Pancake includes a sausage patty, streaky bacon, hash brown and a fried egg to give you that authentic American pancake.
Other sweet pancakes, such as their Vegan Sweet Stack which consists of apples, blackberries and whipped cream is reasonably priced at £9.
Sun, Mon, Tues, Weds, Thurs: 9am - 3pm
Alabama All American Eatery
Offering a twist on American pancakes, this eatery in Manchester offers a savoury pancakes, that is accompanied with chicken, bacon and more.
Monday. Tuesday, Wednesday, Thursday, Friday: 9am - 3pm - 5pm - 8pm
Cafe North
Cafe North is available for delivery via Uber Eats and Deliveroo, so you can enjoy their delicious pancakes without even leaving the house. Their pancakes are all £9, so very affordable too.
Serving a unique range of pancakes that include Summer Fruits with yogurt and honey, Streaky Bacon and Maple Syrup, Banana and Nutella, Strawberry and Nutella, Blueberry Pancakes and Maple Syrup, you'll be able to try an unconventional pancake.
Mon – Fri, 7.30am – 4pm Sat: 8am - 6pm Sun: 9am – 4pm
Caramello of Didsbury
Enjoy a sweet Nutella pancake, or keep it simple with strawberries or bananas, whatever pancake you desire come 1 March, Caramello will be able to provide.
Hamton & Vouis
A sweet pancake lovers dream, including a stack of pancakes littered with little bits of Oreo, to add some crunch to your pancake.
With a choice of four pancakes to choose from, ranging from £9.99 to £8.99, there's something for everyone at Hampton & Vouis. Serving soups and grilled sandwiches too, you may not even stop at pancakes.
Monday - Saturday: 8am - 3:30pm
Fress
A wide variety of pancakes here, including the limited edition Valentine's Red Velvet & Chantilly Pancakes, you'll be spoilt for choice. An American pancake including sausages & bacon, or a sweet pancake? You decide
Mon, Tues, Weds: 9am - 9pm
Friday & Saturday: 9am - 11pm