It's February, which means pancake day is just around the corner.
Shorve Tuesday the only day a year in the UK when we celebrate a specific food or drink item.
In fact, it's a key date in the celebration of Easter. So what is Pancake Day all about - and on what date will it take place?
Here's what you need to know.
What is Pancake Day/Shrove Tuesday?
While it has largely become synonymous with the frying and flipping of pancakes, pancake day actually marks the Christian feast day of Shrove Tuesday.
It's the last day before the beginning of Lent - a fasting period which commemorates the 40-days of fasting Jesus is meant to have undertaken in the desert before Easter.
While Lent now tends to involve people giving up a luxury until Easter, usually chocolate, it used to see people clear their larders of all potentially indulgent or fatty ingredients.
This tradition is believed to have stemmed from instructions issued by Pope Gregory I in about 600AD - although they were much stricter in those days, banning not only fatty foods but also meat and poultry.
As food items like eggs and butter were considered to be luxuries in ye olden days, they had to be used up before Lent - and pancakes were an ideal way to do it.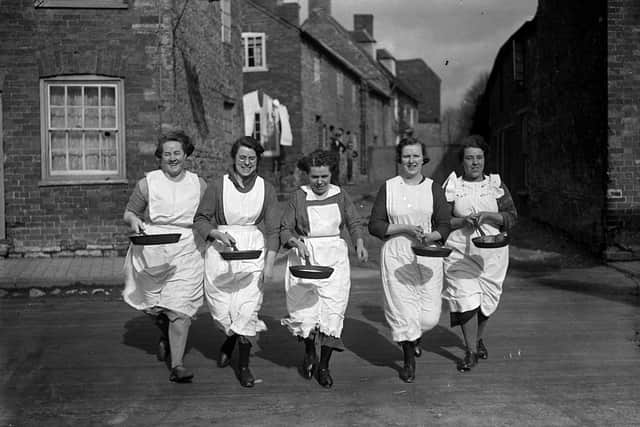 It's not known when pancakes became an integral part of Shrove Tuesday, but the first written record of a pancake in the UK comes from 1439.
However, they are believed to have been eaten in other countries for centuries before then.
Are there any other Shrove Tuesday traditions?
Aside from eating pancakes, the day also has two other major traditions: pancake races and football.
Pancake racing usually involves people in fancy dress running down a street flipping a pancake in a pan - often for charity.
The most famous race takes place in Olney, Buckinghamshire.
According to tradition, it originated in 1445 when a woman in the town heard the bell sound for the Shrove Tuesday church service while she was in the middle of cooking her pancakes.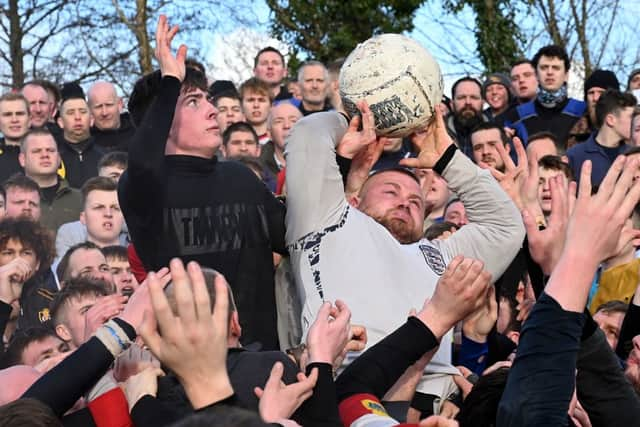 The Shrove Tuesday football match - otherwise known as 'mob football' - is another tradition.
These games date back as far as the 12th century and involve huge crowds attempting to get a ball from one end of their town or village to another.
But don't expect to see skills reminiscent of Lionel Messi or Cristiano Ronaldo - there are pretty much no rules during a Shrove Tuesday match and it bears a closer resemblance to rugby.
While Victorian highways legislation stopped most of these football games from taking place, the tradition does still take place in a few locations around the UK.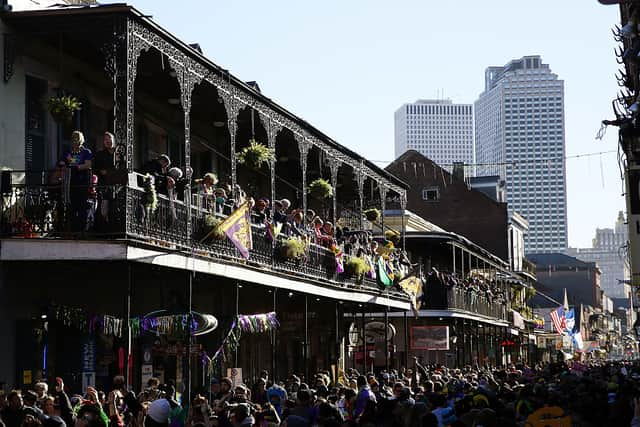 Is it celebrated anywhere else in the world?
Shrove Tuesday is more commonly known as Mardi Gras, or 'fat Tuesday', in many other parts of the world.
While these occasions also typically revolve around the eating of fatty foods, they also have more of a carnival atmosphere - especially in French-speaking countries or places with cultural French heritage, like the southern states of the USA.
New Orleans, Louisiana is synonymous with Mardi Gras and is the focal point of the celebrations in the US, with massive parades and lots of drinking taking place.
When is pancake day 2022?
To the big question then - when is pancake day 2022?
The occasion always falls exactly 47 days before Easter Sunday, which means it can take place between 3 February and 9 March.
In 2022, the UK will be chucking its pancakes in the air and hoping for the best on Tuesday 1 March.
So you still have plenty of time to nail down your flipping technique.
Pancake recipes
Pancakes typically come in two varieties.
You've got the European style ones, which tend to be thin and flat, or the US style ones which are thicker and fluffier.
Here's a quick and easy recipe to make European pancakes:
Put 100g of plain flour, 2 large eggs, 300ml of milk, 1 tablespoons of sunflower or vegetable oil and a pinch of salt into a bowl or large jug, and then whisk until you have a smooth batter.
Put a greased pan over a medium heat and, when it gets hot, pour in enough batter so it spreads around the base of the pan.
When one side turns golden, flip your pancake to fry the other side and repeat.
A top tip is to keep your oven on a low heat setting so you can keep your pancakes warm whilst you cook a batch up.
And don't forget to pair them with lemon juice, chocolate or whatever else works for you.
For American style pancakes, you want to do the same process but add two tablespoons of melted butter and caster sugar - as well as a teaspoon of baking powder - to your batter.
This will make it thicker when you pour the mixture into a pan and you will see the pancakes rise as they cook, giving you the distinct rounded look of an American pancake.
And before you get munching, make sure to top it with lots of maple syrup.
An original version of this story appeared on sister title NationalWorld.