St George's Day 2023: Manchester parade route announced along with celebrations of patron saint
The day celebrating England's patron saint will be marked with a spectacular procession through Manchester - here's where it is going, when it is and who is involved.
Watch more of our videos on Shots!
and live on Freeview channel 276
Visit Shots! now
A sea of red and white will make its way through Manchester city centre for the annual St George's Day parade. Volunteers and enthusiasts have been bringing the community together for a spectacular visual celebration on the feast day of England's patron saint for almost two decades and this year will be no exception.
Local dignitaries, musicians and community groups will all be in the parade, which will wend its way from Miles Platting to the city centre and then back out again on Sunday (23 April).
There will also be entertainment for St George's Day in the city centre. Here's what you can expect and what you need to know if you want to join in the fun.
When and where is the St George's Day Parade in Manchester for 2023?
A parade in Manchester to celebrate St George's Day has been taking place for more than 15 years now. The 2023 one will be the second since the event started up again after a two-year break due to the Covid-19 pandemic.
Participants in this year's parade will meet on Varley Street in Miles Platting and must register and get in place before the scheduled departure time of noon.
The parade turns left onto Oldham Road and continues down to Oldham Street before turning left onto Piccadilly. From there the route goes along Newton Street and Dale Street before making its way through Stevenson Square.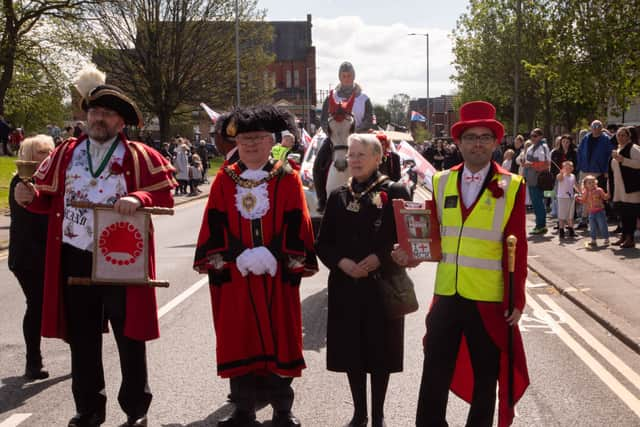 After that the parade goes along Great Ancoats Street and returns up Oldham Road before going along Butler Street and Bradford Road to return to Varley Street where it comes to an end. The parade organisers say it should take about two hours to complete the route.
Participants will be dressed in red and white and the Lord Mayor of Manchester is expected to be at the front of the procession. There will also be carriages, military vehicles, hundreds of scooter enthusiasts on their two-wheeled machines and groups such as The British Manchester Terrier Club which promotes the breed of dog seen in LS Lowry's famous paintings.
Parade floats will take community groups including young dancers with special educational needs around the route and there will be pipe and brass bands providing a soundtrack to the colourful spectacle.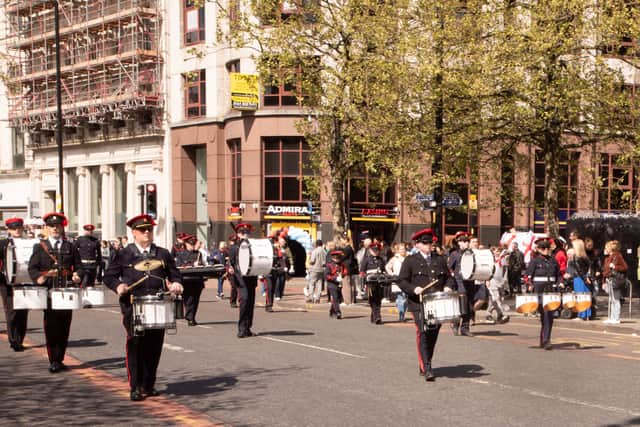 The parade came out of conversations between a group of people who always used to dress in red and white and head out for a drink on St George's Day. They included Thelma McGrail, who is still chair of the organising committee and has been involved in every parade since the first one in 2003.
Thelma says there is always a good turn-out from the people of Manchester to see the parade march past and cheer on those who are taking part.
In addition to the parade it is hoped that the St George's Day celebrations will continue in Piccadilly Gardens from around 3pm.
What is St George's Day?
St George's Day falls in England on 23 April each year, as this is the accepted anniversary of his death in 303AD. He was elevated to the position of England's patron saint during the Tudor period in the 1500s based on his popularity as a saint during medieval times.
Although he is mainly associated today with the legend of him slaying a dragon, he was probably an officer in the Roman army. He was born in Cappadocia in Turkey and was a Christian martyr. It is most likely he was put to death for refusing to worship pagan gods at a time when Christians were being persecuted in the Roman Empire.
He is also revered as an important saint in a number of other cities and countries, and some of these also hold commemorations each year in his honour.
In recent years there has been a revival of the idea of St George's Day as a national holiday for England, with bodies such as English Heritage putting on celebration events and communities and organisations marking the day with traditional English culture and arts. However, St George's Day is not an official bank holiday.