Porky Pig on Exchange Square is the only food vendor at the Manchester Christmas Markets that requires its own crowd control barriers. The markets have been open one day and it is already proving to be a favourite, with customers snaking around the side of the stall just a few hours after opening.
As it says on the sign, Porky Pig is home to the famous Yorkshire pudding wrap – a roast dinner burrito, you could say. For £8, you get your choice of meat – chicken, beef, pork – or vegetarian sausage, wrapped inside an oversized Yorkshire pudding together with peas, green beans, carrots, stuffing and a ladle of gravy. If that's not enough, you can also add potato.
If you're not convinced by the wrap idea, they also serve carveries in a box and all the meats also come in barms. There are vegan and vegetarian options available, and Porky Pig also has its own bar, selling beer, cider and wine.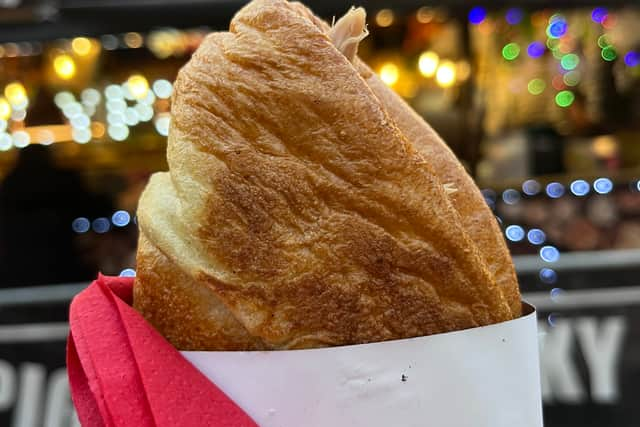 We went along the market's most popular food spot to find out what all the hype is about.
It turns out that a Yorkshire pudding is an efficient substitute for tortilla, or whatever else you would normally wrap food in. Even though the portion sizes are generous and the wrap weighs quite a bit, there were no gravy leakages or overspill. My hands stayed clean, it was easy to eat and tasty too.
I opted for pork, influenced by the fact the whole roast pig has pride of place behind the counter. The meat is definitely the main event in this meal, and the pork-to-trimmings ratio was spot on. Personally, I would have liked a touch more salt, or maybe an apple sauce to cut through the flavours, but overall it was very enjoyable and the perfect lunch after a morning walking round the markets. I imagine it's also a good place to head to after a few mulled wines.
Despite the length of the queue, service is quick and the staff are friendly. Outside of the Christmas season, Porky Pig sets up shop near Old Trafford to serve the matchday crowds and other events, so it's not surprising that they're not phased by such heavy foot traffic.
Unlike the markets at Piccadilly Gardens, there is no seating, but Exchange Square is the one spot in the city centre where there is always somewhere to perch on the steps leading down to the Corn Exchange. However, if you've got an alcoholic drink to accompany your meal, you will have to find somewhere within the barriers to eat it as no drinks are allowed out of the market area.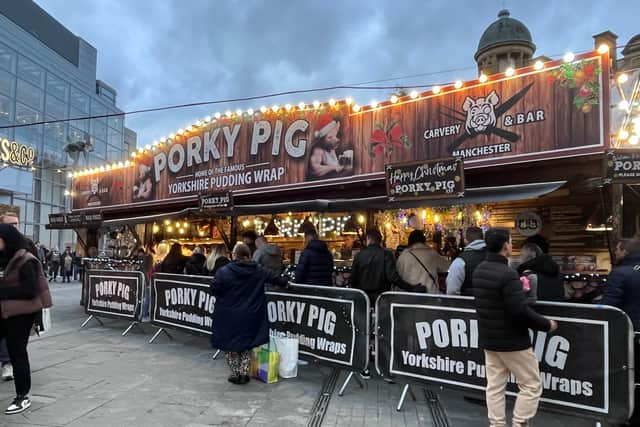 I will no doubt be visiting Porky Pig again before the season's over. Next time, however, I'm trying the battered pigs in blankets – another ingenious twist on the Sunday dinner. It comes either on its own with gravy dipping sauce, in a barm or, as you can probably guess, in a Yorkshire pudding.