Manchester Christmas Markets 2022 prices for Winter Gardens food and drinks including veggie food
From mulled wine to bratwurst, and beer to churros, find out on what food and drink is on sale - with veggie and vegan options - and how much everything costs at Manchester Christmas Markets' stalls this year.
Watch more of our videos on Shots!
and live on Freeview channel 276
Visit Shots! now
There are advent calendars on supermarket shelves, festive adverts on TV and the Manchester Christmas Markets are now open – which means the festive season has officially begun.
Thousands of people are expected to descend on Manchester to soak up the Christmassy atmosphere at the markets, which are taking over a big swathe of the city centre. They stretch all the way from Cathedral Gardens, down Market Street and through to Piccadilly Gardens, where the main attraction, the Winter Gardens, is located. There are dozens of stalls selling all kinds of crafts, like Christmas tree decorations, candles and jewellery, but the number one reason people flock to the markets has got to be the food and drink.
As well as the market favourites – gluhwein and bratwurst – there are Greek gyros, roast dinner wraps, paella and pizza to name but a few options. And it's also a great place to go if you just fancy a hot drink or a warming winter cocktail. New for this year is a giant, cosy Nordic-themed double tipi bar, which has its own fire-pit.
If you're looking to plan your trip to the markets in advance, here's an idea of how much the festive treats will cost at the Winter Gardens - and check out our guide to all nine Christmas Market locations here.
Hotdogs (Korean corn dogs)

Original – £5
Cheese – £6.50 
Potato – £6
Potato cheese – £7
Original half and half – £6
Potato half and half – £6.50

Twist potato – £5
Drinks

Bonbon grape juice – £3
Korean soft drink – £3
Yuja tea (citron) – £3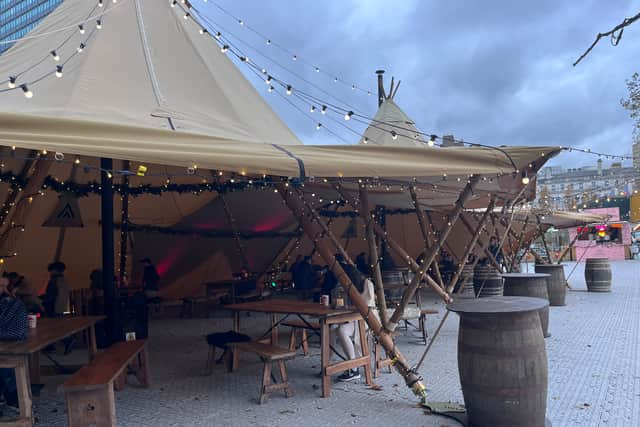 Dumplings (choose one kind)

Pork and ginger – £11 
Chinese chicken curry (halal) – £11
Kimchi, peanut, tofu (vegan) – £10

Viet chicken loaded wonton skins ("nachos with an Asian twist) – £11
Peanut loaded fries (vegan version available) – £7
Plain fries – £5
Eat Greek  – items served with lettuce, tomato, red onion, tzatzki
Chicken gyros pitta – £8.50
Lamb kofta pitta –  £8.50
Halloumi outta – £8.50
Jackfruit – £8.50
Halloumi fries – £7.50
Greek fries – £5
Loaded fries (choice of chicken, lamb, halloumi, jackfruit)– £10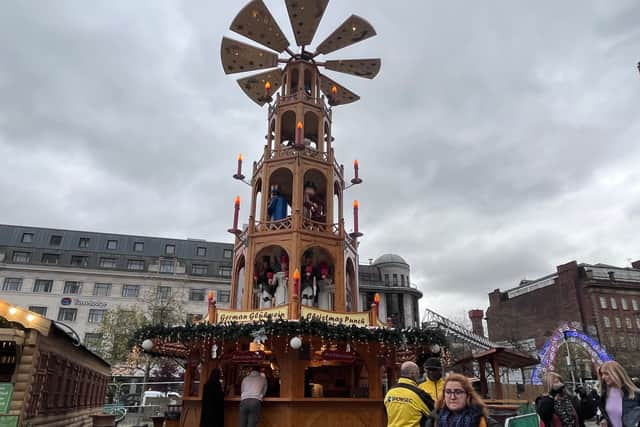 Handmade luxury churros with chocolate dipping sauce – £7
Churros with biscoff dipping sauce (vegan) – £7
Hot Chocolate £3.50
Orange hot chocolate £4.50
After Eight Mint hot chocolate – £4.50
Hot chocolate price do not include mug deposit
All served with cream and marshmallows
Off-piste Bar – card only
Spirit single £5.50
Spirit double £7.50

Spiced rum
Dark rum
Gin
Pink gin
Jameson
Fireball whiskey
Brandy
Bailey's

Premium spirit single £7
Premium spirit double £7.50

Courvoisier 
Tanqueray Sevilla
Edinburgh Gin Liquer

Draught – £5.50

Off-piste lager
Alpine Ale 
Weisbier

Wine – £5
Prosecco/Pink prosecco £6

Winter prosecco –£7.50
Add shimmer £1

Mulled

Mulled wine – £5/£5.50
Mulled plum cider – £5/£5.50
With Disaronno, brandy – £7
With whiskey, cognac – £7.50

Hot cocktails

Spiced rum punch –£8
Hot Apple Gin-gle – £8

Hot drinks

Tea – £2.50
Coffee – £3
Hot Chocolate – £3.50

Plus spirit – +£2.50
Premium – +£3.50

Toppings £1
Christmas syrup – 50p
Boozy choctails 

Chocolate orange – £7
Fireside hot chocolate – £7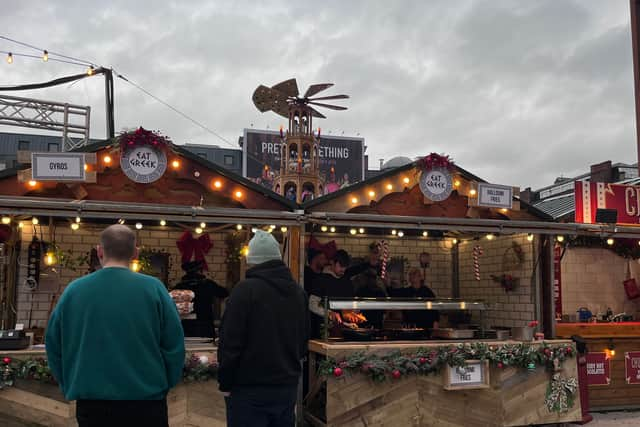 Clowbecks Farmhouse Kitchen
Cumberland sausage, served in a bap with caramelised onions – £6.50

Gluten free sausage  (cooked to order) – £7.50

Lancashire cheese potatoes,  (potatoes and onions cooked in a Lancashire cheese sauce, vegetarian) – £6.50
Navy mushrooms, cooked in garlic and butter (vegetarian)-- £6.50
Drinks (plus mug deposit)

Lager £6 (pint), £3 half
Mulled wine £5
Water £2
Hog roast and Pig & Barrel bar
Hot roast pork rolls (with sage and onion stuffing, apple sauce) – £8
Cans of soft drink £2
Mulled wine/hot cider – £5 + £3 mug deposit
Bar

Tea/Espresso/Macchiato – £3
All other coffees – £3.50
Hot chocolate – £4
Lager – half/pint £3/£6
Mulled wine and cider – medium/large £5/£6
Add 25ml spirit to any drink – +£2.50
Burgers

Mad Mex (salsa, sour cream, guacamole, nacho cheese, jalapeno) – £7.50
Chick'n'Rasher (bacon, lettuce, tomato, mayo, bbq sauce) – £7.50
Katsu Chicken (katsu, slaw) – £7.50
Something Spicy (lettuce, tomato, mayo) – £6.50
Something Simple (tomato, lettuce, mayo) – £6.50
Strips and Fries (with or without spring onions and peppers) – £8

No1 Buffalo and ranch sauce 
No2 Nacho cheese and BBQ sauce
No3 Katsu curry and DC slaw

Dirty fries

Fries and nacho cheese (with or without spring onions and peppers) – £6
Fries and nacho cheese, with BBQ and ranch sauce – £6
Seasoned fries – £4

Drinks

All coffees – £3
Hot chocolate – £3
Syrup – 50p
Tea – £2
Bottles – £2.50
Cans, water, Ribena – £1.50

Alpine Desserts (cash and card)

Cookie dough

All desserts served with ice cream
Slutty brownie (milk chocolate cookie dough, topped with a slab of chocolate brownie, with peanut and oreo crumb) – £8
Nuts about cookie dough (milk chocolate cookie dough, topped with peanut butter and Reese's Pieces) – £7
Absolutely Cookie'd (milk chocolate cookie dough, nutella, oreo crumb) – £7
Loaded Lotus (milk chocolate cookie dough, Lotus biscuit sauce, Lotus crumb) – £7
Plain Jane (milk chocolate cookie dough and vanilla ice cream) – £6.50

Brownies

Cookies and cream (brownie, white chocolate sauce, oreo biscuits) – £7
Snickers (brownie, peanut butter, salter caramel sauce) – £7

Milkshakes

Oreo (made vanilla ice cream, whipped cream)

Hot Chocolate (plus mug deposit)

Luxury milk chocolate (cream, mini marshmallow) – £3.50
 Mistletoe and mint (with peppermint syrup, whipped cream, flake) – £4.50
It's Not Terry's It's Mine – (whipped cream, orange) – £4.50

Amsterdam Frites

Loaded Fries (all £10, skin-on fries)

Dutch chicken
Beef brisket
Manc Poutine (chips, cheese, gravy)
Falafel

Fries and sauce (regular/large– £5.50/£7)

Ketchup
Mayo
Pitta
Cheese
Satay
BBQ

Parmogeddon

(all include buttermilk chicken fillets crumbed and fried, bechamel sauce, melted cheese)

Classic parmo and chips (drizzled in garlic sauce) – £11

Veggie option also available with "This isn't chicken"

Christmas parmo (with pigs in blankets, stuffing, gravy) – £12
Parmo butty (on a toasted brioche bun, pickled slaw, garlic sauce) –£8

Veggie option also available with "This isn't chicken"
Add seasoned chips – +£3

Brie and bacon butty (on a toasted brioche bun, pickled slaw, bacon, brie and cranberry sauce) – £9
Pigs and Stuffing butty (on a toasted brioche bun, pickled slaw, pigs in blankets, deep fried stuffing
Sides

Cheesy pigs in blankets, stuffing, gravy – £6
Garlic butter parmesan chips – £5
Homemade seasoned chips – £4

Vegan Bratwurst

(100% vegan, seitan, served in a vegan brioche bun)

Plain bratwurst – £7
Cheesy bratwurst (with vegan cheese sauce, sauerkraut, pickles) – £8.50
Katsu curry bratwurst (with katsu curry sauce, spring onion, crispy onion) – £8.50
Chilli cheese bratwurst (with chilli non-carne, vegan cheese sauce, jalapenos) – £9.50
Fries – £3.50
Chilli cheese fries (with chilli non-carne, vegan cheese sauce, jalapenos) – £6.50
Soft drinks – £3
Red velvet cake – £3.50

Brook's Mill (bar)

Prosecco/Rose prosecco – £5

Dash of fruity gin (plum, rhubarb, sweet violet, cherry sparkle) – £6.50

Gin and Tonic – single/double, £6.50/£8.50

Bombay Sapphire
Gordon's Pink
Bloom
Sherbert Lemon
Sweet violet
Raspberry
Plum and vanilla
Hendrick's

Choose from premium Indian tonic, light tonic, ginger ale, rose lemonade

Seasonal specials (regular/large)

Mulled wine – £5/£6
Gingerbread gin – £6/£7
Hot whiskey – £6/£7
Hot spiced cider – £5/£6

Coffee with a shot – £5

Coffees – latte, cappuccino, americano, espresso, mocha
Tipple – Bailey's, amaretto, rum, brandy, whiskey, Malibu, Kahlua, Cointreau

Gingerbread latte – £3.50
Caramel latte – £3.50
Tea – £2
Ghirardelli hot chocolate – £3

Add a shot (Bailey's, amaretto, rum, brandy, whiskey, Malibu, Kahlua, Cointreau) – £5

Winter Ale House

Apple or fruit cider (4.5%) – £5.50 (pint)
Manchester Craft Lager (4.7%) – £5.50 (pint)
Cask cider (6%) – £6 (pint)
Red, white, rose wine – £6
Cold Cheeky Vimto – £6
Hot Vimto cocktail (rum or gin) – £6
Hot/cold vimto (non-alcoholic) – £3

MARKET STREET

Dock 53 (bar)

Mulled wine (traditional or cherry) – £5

Add a shot (gin, whisky, rum, vodka, Jaeger) – £7.50

Mulled Morgan's (mulled wine, Captain Morgan's dark rum, spices) – £6.50
Hot buttered rum – (butter, rum, cream, spices) – £7
Hot Vimto (with shot of Jaeger, gin or rum) – £5.50
Hot orange with shot of Jaeger, gin or rum) –  £5,50
Wonky Bar Hotails – £7

Mulled cider, Cointreau, raspberry
Mulled cider, Drambuie, mixed spice
Mulled cider, Jaeger, cinnamon, orange

Apple moonshine

Hot apple juice, rum, Christmas spice

Mulled cider – half/pint, £3/£6

Merry mixed spice
Rudolph raspberry
Santa strawberry
Cracker sour cherry
Dasher dark fruit

Mulled gin (hot apple juice, gin, mixed spice) – £6.50
Draught cider and beers – £5-6

Rogue Pizza

The Plain One (tomato base, mixed cheese blend, fresh tomato, herbs) – £10
The BBQ One (BBQ base, mixed cheese, chicken, sweetcorn, chopped onion) – £12
The Meaty One (tomato base, mozzarella, cheddar cheese, pepperoni, ham, BBQ chicken) – £12
The Hawaiian One (tomato base, cheese, chopped pineapple, diced ham) – £12
The Veggie One (tomato base, mozzarella, cheddar cheese, sweetcorn, chopped onion, mushrooms) – £12
The Cheesy One (tomato base, mozzarella, cheddar brie, stilton) – £12
The Spicy One – (tomato base, jalapenos, ham, sriracha sauce) – £12

Solidarnosci (Polish cafe)

Range of hot drinks and cakes. Price range £2.50-£5

The Simple Greek (cash only)

Pita gyros (chicken, tomato, cucumber, peppers, garlic sauce, pita, chips) – £9
Vegetarian pita (halloumi, tomato, cucumber, peppers, garlic sauce, pita, chips) – £7
Spicy pita gyros (chicken, jalapenos, tomato, cucumbers, peppers, spicy sauce, onion, garlic sauce) – £9
XXL chicken wrap (big portion of chicken, full range of salad, garlic sauce) – £9
Big gyros plate (chicken gyros, chips, salad, sauce) – £9
Greek salad (feta, tomato, cucumber, peppers, red onion, green and black olives, olive oil, oregano, chicken) – £7
Gyros salad (gyros chicken, red onion, sweetcorn, peppers, greek yoghurt, ketchup) – £7
Chips and cheese – £5
Extra veg/ extra chicken – £2

Triple B

Bagels 

Grill melt (cured hot salt beef, grilled swiss cheese, jalapeno, pickle, house sauce, mustard) – £8.50
Christmas reuben (smoked pastrami, stuffing patty, hash brown, swiss cheese, sauerkraut, Russian dressing, cranberry) – £9.50
Fried Camembert (vegetarian) (fried Camembert, red onion chutney, tomato sauce, winter sauce, stilton mayo) – £8

Burgers

Pastrami burger (melted American cheese , pastrami, Russian dressing, sauerkraut) – £9.50
Triple B (American cheese, onion, pickle, house sauce, ketchup) – £8.50

Fries

French fries (skin-on, seasoning) – £4
Goofie fries (pastrami, garlic, cheese sauce, coriander – £6
Angel fries (truffle oil, parmesan, parsley, truffle mayo) – £6

Another couple to add to the ones that are near the Tipi

PANC (vegan, plant-based)

Bratwurst

Festive dawg (grilled sausage, honey-glazed grilled onions, ketchup, mustard) – £8
Big dawg (grilled sausage, lettuce, cheese, bacon, BBQ, PANC sauce)

Fries – £3

Add bacon or cheese – £2 each
Add pickles, jalapenos, salad, dips – £1 each

Burgers (all come on colourful breads)

PANC burger (cheese, tomato, pickles, PANC sauce) – £8
Bacon BBQ cheese burger (cheese, bacon, raw onion, lettuce, BBQ sauce, PANC sauce) – £10
Gar-licker burger – (cheese, bacon, tomato, spinach, red onion, pickles, PANC garlic mayo) – £10
Kofte kebab (served on naan, lettuce, tomato, cucumber, red onion, PANC garlic mayo) – £12
Chick'n pieces with fries (panko chick'n pieces with fries, sauce of your choice) – £10

Yum Yum

Chimney cake (coated in cinnamon, with soft serve vanilla ice cream and sauce) – £10
Chimney cake (coated in cinnamon) 
Soft serve ice cream in a tub – £5
Sauces – £1

Biscoff
Chocolate
Caramel
Strawberry
Nutella

Toppings – £1

Chopped nuts
Biscoff crumbles
Oreo crumbles
Strawberry dust
Sprinkles