Sports and music fans have an outdoor treat in store in Manchester this summer.
Cultural and commercial neighbourhood First Street is set to launch its Summer at First programme for 2022.
James Grigor Square will be transformed with garden games, deckchairs, pop-up food and beverage stalls and a large outdoor screen on which events including Wimbledon, Glastonbury and Commonwealth Games will be broadcast.
The screen will go live on 1 June and will be there throughout the summer thanks to sponsorship from Starling Bank.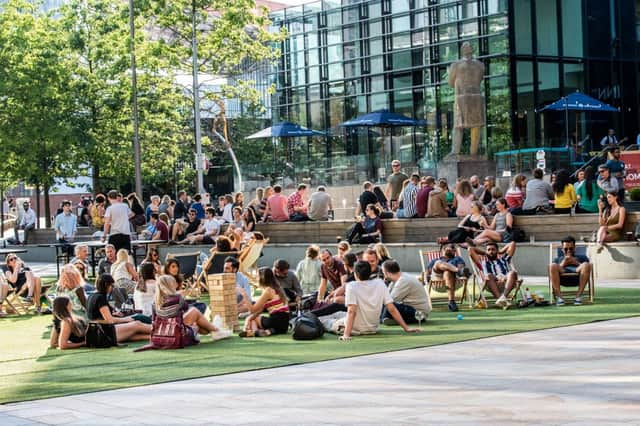 Jamie Hills at developers ASK Real Estate said: "We are delighted to be bringing Manchester a summer of sporting and cultural events following a long break due to Covid-19.
"We like the First Street neighbourhood to be as inclusive a space as possible, and we love putting on such an exciting schedule of events each year as we feel it works for families, our occupiers, local residents and crowds of all ages – it's always a great atmosphere and caters to everyone."
"We are committed to expanding the First Street neighbourhood and creating a special place in the city and are really looking forward to revealing our next stage of development in due course."
First Street Festival
Following the success of Homeground in 2021, arts venue HOME will also stage the inaugural First Street Festival, taking place across five weekends in Tony Wilson Place from 2 June.
First Street Festival will provide a range of free activities throughout June and July 2022, including live music, family events, drag performances, yoga, DJs and more. A central stage in front of HOME will form the focal point of the festival.
HOME will programme and deliver the opening weekend over the Queen's Jubilee weekend and work with four partner organisations to curate the next four weekends.
More details will follow.