Manchester Pride Festival 2023: Line-up and day splits of all acts performing in Gay Village across weekend
Manchester's weekend-long Pride festival kicks off on Friday night
Watch more of our videos on Shots! 
and live on Freeview channel 276
Visit Shots! now
Manchester Pride Festival 2023 is almost here, and a wave of talent is set to perform across the weekend. The hub of the entertainment will be within the Gay Village. 
Hundreds of acts, including singers and dancers, will take to the stage across the upcoming bank holiday weekend. The festival kicks off on Friday August 25 and finishes on August 28, with events taking place in the Gay Village on each day. 
Some of the headline acts performing at this year's Manchester Pride include singer Natasha Bedingfield and Conchita, who won the Eurovision Song Contest with Austria back in 2014. These are just two of the wonderful acts we can look forward to seeing across the weekend. 
Friday
The Village Stage
6.30pm: Stage Opens 
7pm- 7.30pm: DJ XZAN
7.30pm-8pm: Act 1 with Tito Bone, The Bollywitch, Anomaly, Sharon Le Grand
8pm- 8.30pm: DJ Jess Rose
8.30pm-9pm: Act 2 with Tito Bone, Finley, Cyro, Sharon Le Grand, The Bollywitch
9pm-9.25pm: DJ Jess Rose
9.25-9.45pm: Act 3 with Anomaly, Cyro, Tito Bone
9.45pm- 10.30pm: Bimini 
10.30pm-11pm: Trans Filth & Joy Cast
Fat Pride
6.30pm: Stage Opens 
7pm-12am: Fat Pride
The Alan Turing Stage
5pm: Stage Opens
5pm-6pm: Ingress (Playlist) 
6pm-7pm: Human Rights Forum
7pm-7.15pm: Changeover: DJ Fat Britney
7.15pm-8pm: The Enby Show
8pm-8.45pm: Pecs Drag Kings
8.45pm- 9.30pm: The Queeriosity Cabaret
9.30pm-10pm: Changeover: DJ Fat Britney
10pm- 11pm: LA Discotheque Orchestra
Saturday 
The Village Stage
12pm: Stage Opens
12pm-2pm: Playlist
2pm-2.30pm: Manchester Prairie Dogs 
2.30pm-4.30pm: Playlist
4.35pm- 4.50pm: Queen Bayard
4.50pm-5pm: Changeover with hosts 
5pm-5.15pm: JSKY
5.15pm-5.30pm: Changeover with hosts 
5.30pm-5.45pm: Violet Blonde
5.45pm-6pm: Changeover with hosts 
6pm- 6.15pm: Tom Aspaul
6.15pm-6.30pm: Conchita
6.30pm-6.45pm: Monopoly Phonic
6.45pm-7.15pm: Changeover with hosts 
7.15pm-7.30pm: Black Pepper
7.30pm- 7.45pm: Changeover with hosts 
7.45pm-8.45pm: Jodie Harsh 
8.45pm- 9pm: Changeover with hosts 
9pm-9.45pm: Pablo Vittar
9.45pm-10.15pm: Changeover with hosts 
10.15pm-11pm: Alison Goldfrapp
Mancunity
1.30pm: Stage Opens
2pm- 7pm: Swagga
7pm-11pm: Black Pride MCR
11pm- 12am: Raven Mandella
The Alan Turing Stage
12pm: Stage Opens
12pm-2pm: Parade Viewing
2pm- 2.20pm: Welcome: Lucky Roy Singh
2.20pm-2.50pm: Rain 
2.50pm- 3.20pm: DJ Zindagi
3.20pm- 4.05pm: The Bitten Peach
4.05pm- 4.30pm: Changeover: DJ Zindagi & Lucky Boy Roy Singh
4.30pm- 5pm: Val The Brown Queen & Blaq Ivory presents
5pm- 5.30pm: Changeover: DJ Zindagi & Lucky Boy Roy Singh
5.30pm- 5.50pm:  Val The Brown Queen & Blaq Ivory presents
5.50pm-6.30pm:  Changeover: DJ Zindagi & Lucky Boy Roy Singh
6.30pm-6.50pm: House of Spice
6.50pm-7pm: Changeover: DJ Zindagi & Lucky Boy Roy Singh
7pm-7.30pm: Bollyqueer 
7.30pm- 7.50pm: The Bitten Peach
7.50pm- 8pm: Changeover: DJ Zindagi & Lucky Boy Roy Singh
8pm-8.30pm: House of Spice
8.30pm-8.45pm: Changeover: DJ Zindagi & Lucky Boy Roy Singh
8.45pm- 9.45pm: Gracie T
9.45pm- 10pm: Changeover: DJ Zindagi & Lucky Boy Roy Singh
10pm-11pm: Gok Wan
Sunday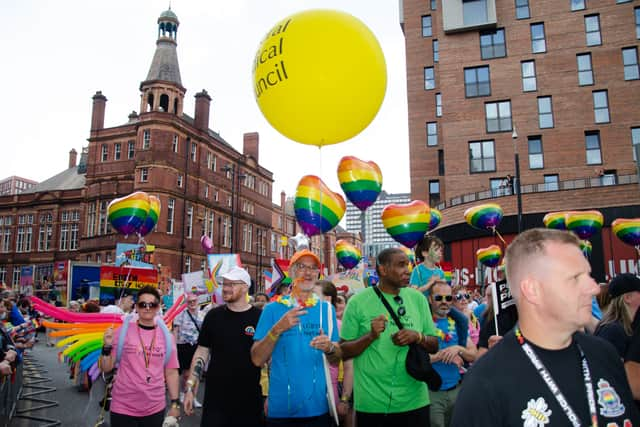 The Village Stage
1pm: Stage Opens
1pm-2pm: Playlist
2pm-2.30pm: Manchester Queer Community Groups
2.30pm-3.30pm: Playlist
3.30pm-3.40pm: Welcome: Danny Beard
3.40pm-3.50pm: Lill
3.50pm-4pm: The Bollywitch
4pm-4.10pm: Banksie
4.20pm-4.30pm: Bailey J Mills
4.30-4.45pm: Lady Bushra
4.45pm-4.55pm: DJ Callum Parr
4.55pm- 5.10pm: Jonbers Blonde
5.10pm-5.20pm: DJ Callum Parr
5.20pm-5.40pm: Kelly Llorenna (N-Trance) 
5.40pm-5.55pm: Barb
5.55pm-6.15pm: Cheddar Gorgeous
6.15pm-6.45pm: DJ Callum Parr/ parade Awards
6.45pm- 7.15pm: Lisa-Scott Lee
7.15pm-7.45pm: DJ Billy Andrews
7.45pm-8.30pm: Natasha Bedingfield
8.30pm- 9pm: DJ Billy Andrews 
9pm-10pm: Jake Sheards
10pm-10.30pm: DJ Billy Andrews
10.30pm-11pm: Danny Beard 
Mancunity
1pm-2pm: Jessie Brooke (Gaydio) 
3pm-4pm: Fat Camp
4pm-5pm: Vanilla 
6pm-7pm: What she said
7pm-8pm: Club Clam
8pm-9pm: Mix-Stress and Friends 
9pm-10pm: Blasha and Allatt 
10pm-11pm: Kim Lana
11pm-12am: Monki 
The Alan Turing Stage
12pm: Stage Opens 
1pm-3.30pm: Ginny Lemon's Dog Show
3.30pm-6.30pm: Your Manchester
6.30pm-7.15pm: DJ Nkay and Rikki Beadle-Blair 
7.15pm-7.30pm: The Noirtones
7.30pm- 7.45pm: DJ Nkay and Rikki Beadle-Blair 
7.45pm- 8.15pm: Ghetto Fabulous
8.15pm-8.30pm: DJ Nkay and Rikki Beadle-Blair 
8.30pm-9pm: The Noirtones
9pm-9.15pm: DJ Nkay and Rikki Beadle-Blair 
9.15pm-9.45pm: The Cocoa Butter Club 
9.45pm-10.15pm: Angie Brown
10.15pm-10.30pm: DJ Nkay and Rikki Beadle-Blair 
10.30pm- 11pm: Oneda
Monday 
The Village Stage
12pm: Stage Opens
12pm-2pm: Playlist
2pm-4pm: Misty Chance and Friends
4pm-4.15pm: Crip Ladywood Disabled Queer Joy Cabaret
4.15pm-4.25pm: Valkyrie Cain Disabled Queer Joy Cabaret
4.25pm-4.40pm: Frogboi Disabled Queer Joy Cabaret
4.55pm-5.10pm: Cuppa T
5.15pm-5.30pm: MX Dennis Queen 
5.35pm- 5.50pm: George the Dragon Disabled Queer Joy Cabaret
5.50pm-6pm: Host closes stage
Mancunity
1pm: Mancunity 
2pm-5pm: The Runway by Banksie 
5pm-6pm: Egress and Markets
12pm: Stage Opens
12pm-2pm: Playlist
2pm-2.45pm: Disney Orchestra
2.45pm-3pm: Playlist 
3pm-3.45pm: Disney Orchestra
3.45pm- 4.30pm: The Alan Turing Stage Closes
9pm-10pm: Candlelit Vigil