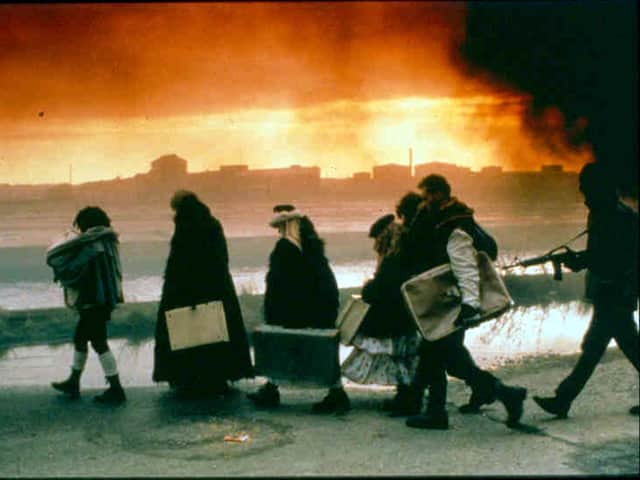 A scene from Derek Jarman's film The Last of England
Manchester arts venue HOME has announced a major celebration bringing the unique work of British film-maker Derek Jarman back to the big screen.
The culture hub located between Deansgate and Oxford Road is showing all 11 of Jarman's full-length films as well as 11 short movies in a massive retrospective of his iconoclastic career.
The celebration kicks off on Sunday 30 January, getting under way on the eve of what would have been his 80th birthday, and runs for six weeks until 1 March.
Manchester is the place to be for fans of Jarman's work as the celebration of cinema is part of a collaboration with Manchester Art Gallery which is currently running Protest!, a massive show exploring Jarman's art and his legacy and influence on culture.
What is the Derek Jarman celebration at HOME?
Curated by Rachel Hayward, head of film at HOME, and Jason Wood, the organisation's creative director of film and culture, Jarman at HOME is celebrating one of the most influential figures in recent British art.
Derek Jarman was a set designer, author, gardener and film-maker who merged avant-garde practices and techniques with a painterly approach to cinema composition and framing.
He was also a pivotal and pioneering figure in gay rights activism and outspoken about politics.
The season opens with a collection of his Super 8 short films and closes with a triple-bill, and along the way puts every one of the feature-length films he produced during his life on HOME's big screens.
What are some of the highlights of the programme?
Jarman's film Caravaggio, which takes as its subject the life of the Italian Baroque painter and was the film debut of Sean Bean and frequent Jarman collaborator Tilda Swinton, will be introduced by writer and director Francis Lee who has been highly acclaimed for his films God's Own Country and Ammonite.
The programme also contains Sebastiane, a landmark of queer cinema which will be shown on 1 February, his final film Blue which has a remarkable soundscape to accompany the images, and The Last of England, made just after he was diagnosed with HIV and presenting a near-apocalyptic vision of Thatcher's Britain in turmoil.
A still image from Derek Jarman's film Sebastiane
Jarman's work also includes his distinctive adaptations of classic works of literature, such as his take on Shakespeare's play The Tempest, and his beautiful piece The Garden which was shot at his home in Dungeness in Kent.
The retrospective at HOME comes to an end with a night showing three films: Glitterbug, a compilation of Super 8 fragments posthumously assembled by Jarman's friends in 1994, The Queen is Dead from 1986 which was a music video for The Smiths' song of the same name, and Mark Jordan's Leaving Time: The Art of Derek Jarman (2020), which features the director in his studio discussing morality, the tabloid press and the terminology applied to people's sexuality.
An image from Derek Jarman's film The Garden. Photo: Liam Daniel courtesy of Basilisk Communications
There is also Jubilee from 1978, Jarman's provocative account of the punk movement, starring a host of punk rockers including Adam Ant and Toyah Willcox. There will be a post-screening Q&A with lead actor and punk rock icon, Jordan, on Saturday 5 February.
The retrospective runs alongside Manchester Art Gallery's Protest! exhibition which marks the first time the diverse strands of Jarman's work have all been brought together in over 20 years since a major show at The Barbican in London in 1996.
What has HOME said about the Derek Jarman retrospective?
Co-curator Rachel Hayward, who will introduce the screening of Sebastiane, said: "Filmmaker. Artist. Set designer. Author. Gardener. Activist. Jarman was a true polymath and we are delighted to be hosting this extensive retrospective of one of the most influential figures in contemporary British culture.
"We look forward to screening all of Jarman's 11 feature films to our audiences, alongside some lesser-known short films, and we encourage people to also check out the brilliant Protest! exhibition at Manchester Art Gallery to be fully immersed in the world of Derek Jarman."
A scene from Derek Jarman's film adaptation of Shakespeare's play The Tempest
Her co-curator Jason Wood said: "It's an honour to again link up with Manchester Art Gallery following our previous collaboration on True Faith and to celebrate a polymath figure whose astonishing career operated at the intersection of art, culture, politics and identity.
"Jarman's films remain as vital and potent today as they were at the time of their release and we are thrilled to present them anew and with some very exciting artists to help contextualise them."