Lightwaves festival: relief for organisers as centrepiece Floating Earth is back on display for final weekend
The awful weather has prevented the beautiful artwork being seen during the event at Salford Quays but it is now back on display.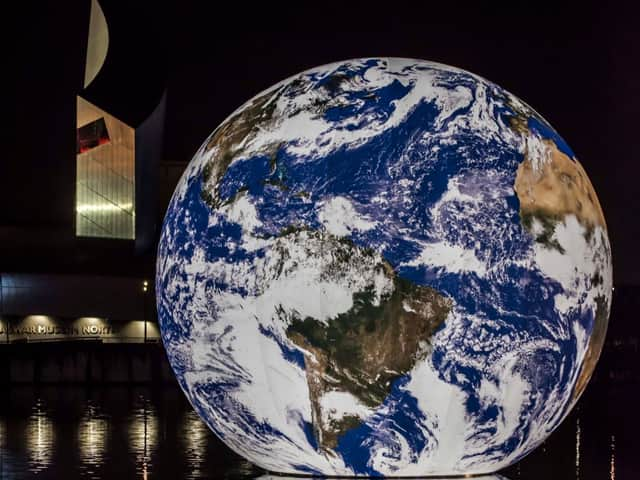 Floating Earth by Luke Jerram at the Lightwaves festival. Photo: Chris Payne
Organisers of the Lightwaves festival are breathing a sigh of relief as the spectacular centrepiece of the show has gone back on display for the final weekend.
However, the appalling weather this week, including high ways and storms, meant it has not been able to be put on display for some of the time.

Most Popular
However, it is now back in its place on site and organisers have their fingers crossed that visitors will be able to enjoy it until the festival comes to a close on Sunday night (12 December).
Floating Earth measures some 10 metres in diameter and offers a detailed look at our planet as it has been created from NASA imagery.
Floating Earth by Luke Jerram at the Lightwaves Festival. Photo: Chris Payne
Bristol-based artist Luke hopes the work will give people an appreciation of the interconnectedness of life on Earth and remind them of humanity's responsibility for caring for the environment.
There's a good deal else to be seen at the free festival too, with visitors able to follow a trail around the Quays to enjoy everything. Quays Culture has launched a mobile app to help visitors navigate Lightwaves.
Other pieces on display this weekend include Sirens, a beautiful and haunting display featuring life-like mermaids and sea creatures which float on Mariner's Canal and encounter the devastating effects of plastic pollution and climate change.
There is a water ballet featuring robotic swans that change colour as they glide around to music, a 3D printed sculpture exploring what can happen if we come together to tackle climate change and a giant interactive sound instrument made up of more than 150 illuminated and hand-tuned chime bars.
This is the third year of the Lightwaves festival.