Flying Scotsman staffed by all-female crew for International Women's Day at East Lancashire Railway in Bury
Flying Scotsman will set off from ELR for three round trips through the picturesque Lancashire countryside.
Watch more of our videos on Shots! 
and live on Freeview channel 276
Visit Shots! now
The iconic Flying Scotsman locomotive will be crewed by an all female team on International Women's Day ( 8 March 2023) at East Lancashire Railway.
In celebration of its centenary, the world's most famous steam locomotive will be leaving its home at the National Railway Museum in York and touring through railways across the UK. It will stop off at East Lancashire Railway (ELR) for a special event celebrating the past, present and future of women in rail.
Renowned as a feat of design and engineering, Flying Scotsman will set off from ELR for three round trips through the picturesque Lancashire countryside, crewed entirely by a female footplate team.
The ground-breaking crew is made up of three volunteers from East Lancashire Railway, Linda Henderson, Charlotte Instance and Steph Elwood along with Beth Furness from Network Rail who will be driving Flying Scotsman.
Linda began volunteering at ELR in 1993 at 14-years-old along with her mum and younger brother. Throughout the years she has taken on many different roles at the railway including dispatcher, signal operations manager and in March 2017, Linda became the ELR's first ever female main line locomotive driver.
Steph joined the ELR team in October 2021 with a background in maintenance and repair, eager to push herself further and build on her self-confidence. She was soon put on a fast-track course and passed her firing exam in September 2022, becoming the second ever female fireman at ELR.
Charlotte came to the ELR in the summer of 2021 and helped to get the station shop up and running. She quickly began following in her great grandfather's footsteps when she joined the steam crew as a cleaner and had the privilege of prepping and cleaning Flying Scotsman during one of its visits to the ELR; she has since worked her way up to the coveted position of locomotive driver.
Beth's love for trains started at her local railway when she was 16-years-old and she has worked in a number of roles including operations, fitting, signalling and working as a fireman. She has previously worked for the National Railway Museum and now works for Network Rail.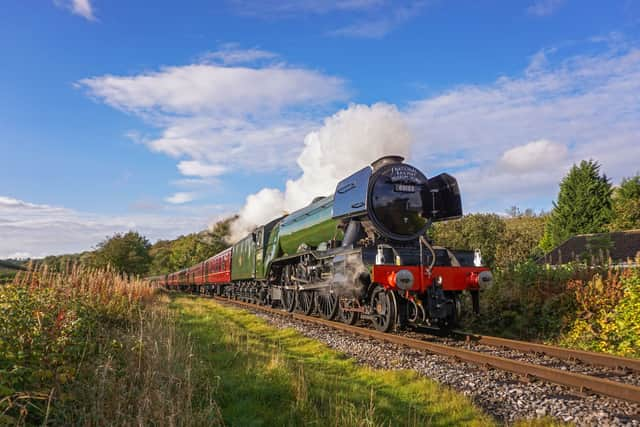 The railway will celebrate International Women's Day on Wednesday 8th March with a private event that will see local primary schools, children's charities, community groups and the National Railway Museum team visit the railway and ride behind Flying Scotsman.
Tracey Parkinson has been General Manager at East Lancashire Railway since 2017, with an extensive 28 year background in railways she has worked across a number of roles including steam locomotive fireman and main line fireman. She said: "This is an incredible opportunity to celebrate the contribution of women in the railway industry and the iconic Flying Scotsman in its 100th year. We are honoured to be a part of it and to have female volunteers crewing the locomotive and in supporting operational roles.
"We want to help shine a spotlight on women in the rail industry over the past 100 years and the future opportunities for women within the railway sector, including at ELR.
"We have some very exciting things planned for Flying Scotsman's time at the railway, including the chance to ride behind it and enjoy a luxury dining experience. It will also be on static display at our Heywood and Bury Stations for the public to get up close and personal with it.
"We want people of all ages, genders and backgrounds to know that they are welcome at ELR, with or without experience. We offer extensive training programmes across a variety of roles at the railway and our hardworking volunteers are crucial in keeping the doors open."
Beth Furness, who works as a section planner for Network Rail, said: "Historically the railways have been a male dominated industry, but this is changing. Since 2017, our female workforce has grown twice as much as our male workforce and today, around 19% of people working at Network Rail are women.
"Never Mind the Gap is an industry-wide collaboration that offers two-week work placements to show women what it takes to be a train driver, work at one of our stations, as well as experience in engineering, communications and investment. Once you join the industry, there's lots of support available to grow your career.
"I'm hoping that the team today and the magnificent Flying Scotsman can inspire more young women to come forward."