The Flying Scotsman has been given a warm welcome on its arrival in Bury at the East Lancashire Railway.
The famous engine steamed into town on Wednesday 8 March for a special visit to celebrate International Women's Day. staffed by an all-female crew for the first time. And now the public are being invited to take a ride behind the Flying Scotsman for themselves as part of the landmark engine's tour in 2023 to celebrate its 100th anniversary.
The engine will now be will be running services from Bury's East Lancashire Railway on Bolton Street, as well as showing her stuff on static displays, in a series of events between 9-19 March.
If you want to ride behind the Flying Scotsman, you can book onto one of five daily services being held on 11, 12, 17, 18 and 19 March between 9am and 5pm. Tickets cost £36 for an adult and £22.50 per child and include one round-trip between Bury-Rawtenstall-Bury, plus free entry to Bury Transport Museum, and unlimited travel on other services on the full length of the 12-mile line between Heywood, Bury, Ramsbottom and Rawtenstall that day.
The 2999 Lady of Legend is on loan from the Didcot Railway Museum and will also be running on the same days.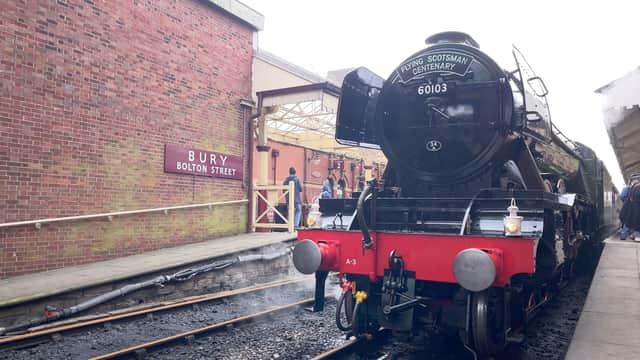 If you fancy a luxury option, you can also dine behind the Flying Scotsman by booking one of the evening dining experiences, which last almost three hours. The Red Rose dining experience costs £119 a person and will take place on 17 and 18 March. A special VIP dining experience featuring the Caledonian pipe band takes place on 11 and 12 March and costs £130 a head.
The Flying Scotsman was built in Doncaster in 1923 and it went on to become the first steam locomotive to reach 100mph in 1934, and to circumnavigate the globe. It is normally based at the National Railway Museum in York but has gone on tour, offering trips in 2023, to celebrate its centenary.