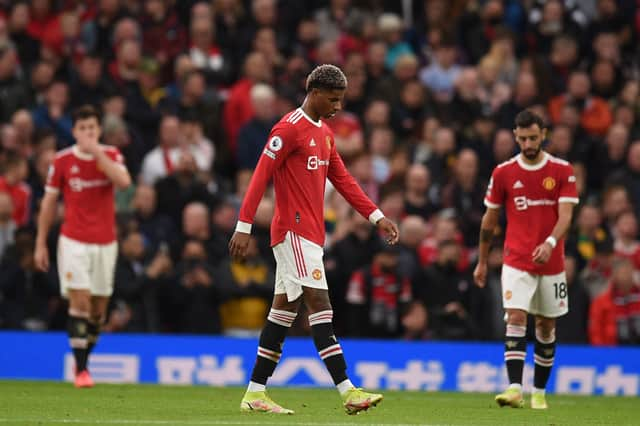 Harry Maguire, Marcus Rashford and Bruno Fernandes. Credit: Getty.
Ole Gunnar Solskjaer has said he and his Manchester United squad 'can't stand' for 'blatant lies' being told about the club.
The Red Devils manager was speaking as part of Friday's press conference when he made these remarks, after a week in which his position has been under the microscope following last weekend's the 5-0 loss to Liverpool on Sunday.
Reports also emerged this week that the United squad were split on whether they felt Solskjaer was the right man to lead them forward, while Paul Pogba took to social media to say rumours that he had blanked the manager in the week were 'fake news'.
"I spoke about it last week," he told reporters via video link. "I think Mikel Arteta said something about it, what we have to deal with [as] managers in high-profile situations.
"For me, I'm as focused as ever. I've had players come up to me - for example, I don't tend to read social media but when Paul came up to me, angry.
"We expect to be criticised because, hands up, the performance [against Liverpool] wasn't good enough and we expect to hear about it from right, left and centre, but we don't expect, or we can't accept when lies are being made up.
"Paul came to me and told me what he put out on his social media account. We're better than that as a group - the culture is better, the environment is better, we can't stand for… when it's blatant lies they've got to stand up and say so. All the opinions and reports, fine, but don't make up lies about players or me."
Paul Pogba is suspended for this weekend's game. Credit: Getty.
The squad are together
Solskjaer also said reports this week of in-house squabbling among the squad were incorrect.
In fact, the 48-year-old praised the reaction of his players since the Liverpool loss, despite being in the eye of a media storm.
Asked how true this week's reports have been, Solskjaer responded: "I think I've just answered that. The players come in, the proper professionals, come in, good players, good people, they do their best.
"We have an environment in and around the place here, we have loads of respect for each other. Sometimes when you come in for criticism like you do, you get into the trenches with your teammates. That's the reaction I've seen this week.
"This club, whatever we've been through before, it's always about getting through with courage, togetherness, teamwork, self-belief, sticking together and this group has done."