Manchester United's player ratings for EA Sports' FIFA 22 - the latest edition of the popular franchise has been released and there is much to ponder.
The improvement by the Red Devils have seen some players bolstered whilst those who played a lesser role or found themselves out of form were degraded.
There have also been a number of summer acquisitions, including the return of Cristiano Ronaldo, though for a player that has such high standards, he may not be too pleased with his fate in the virtual world of football.
Jadon Sancho and Raphael Varane arrived at Old Trafford before Ronaldo and their ratings have had some movement since their move to Manchester.
What's Ronaldo's FIFA22 ranking then?
Starting off with one of the signings of the summer, Ronaldo is now the third-best player in the game and has been replaced in second-place by Bayern Munich's Polish striker Robert Lewandowski with Lionel Messi the highest-ranked player.
Despite eclipsing Ali Daei as the world record holder for most international goals this year, as well as winning the Golden Boot in Serie A, he has suffered a rating decrease (91), though that hasn't been based on his time at Manchester United.
He is tied with Manchester City's Kevin de Bruyne for the best player in the league, highlighting the rise of the noisy neighbours.
There is joy for Ronaldo's compatriot Bruno Fernandes who has been moved up to 88 following another good season personally for the midfielder with 18 goals and 12 assists in the league.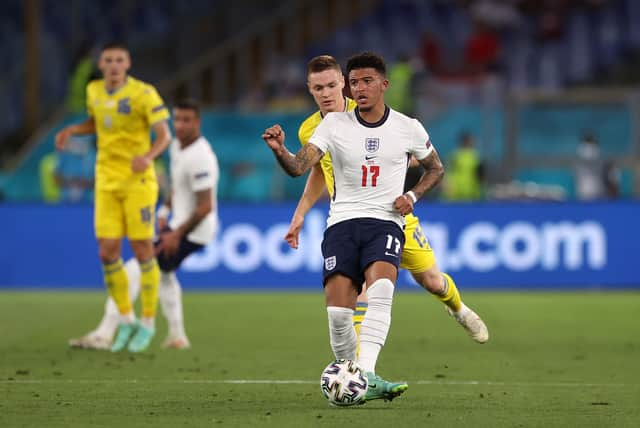 New signing Sancho has the same rating as Paul Pogba after a respectable campaign for Borussia Dortmund in the Bundesliga. His England teammates Harry Maguire and Luke Shaw, who helped reach the final of EURO 2020, have both been rewarded with increases. Left-back Shaw has gone from 81 to 84 whilst Maguire who salvaged his first season with the club is on the same rating.
World Cup winner Pogba has lost two points each for his pace and physicality but has seen improvements for his dribbling and defending, his international teammate Varane is a non mover, remaining on 86 following his transfer from Real Madrid.
Edison Cavani, who finds himself out of favour at the moment, has been given an increase of one after a satisfiable first year in English football, the Uruguayan forward netted 17 times across all competitions.
Other players who have been downgraded include goalkeeper David de Gea, who has dropped to 84, however performances this season could see him return to his former rating. Anthony Martial, who finds himself in the wilderness at United, has suffered a drop of three, moving from a respectable rating of 84 to 81.
Youngsters Mason Greenwood and Scott McTominay have moved up by one with the Scotland midfielder now 80, whilst Greenwood, the most prolific teenager in the Premier League, now rated 78, though that could rise given his blistering start to the campaign.
Unfortunately in life, someone has to be the last and that dubious title goes to Under-19s captain Shola Shoretire. He is the lowest ranked player with a rating of 62, however at 17-years-of-age, that is a respectable score, especially when he has a potential of 84, for those who play on Career Mode.
Manchester United's FIFA 22 player ratings in full:
Cristiano Ronaldo - OVR 91
Bruno Fernandes - OVR 88
Jadon Sancho – OVR 87
Paul Pogba – OVR 87
Raphael Varane – OVR 86
Edinson Cavani – OVR 85
Marcus Rashford – OVR 85
Luke Shaw – OVR 84
David De Gea – OVR 84 
Harry Maguire – OVR 84
Aaron Wan-Bissaka – OVR 83 
Alex Telles – OVR 82
Donny van de Beek – OVR 81
Fred – OVR 81
Anthony Martial – OVR 81
Scott McTominay – OVR 80
Dean Henderson - OVR 80
Victor Lindelof – OVR 80
Jesse Lingard – OVR 79
Nemanja Matic – OVR 79
Eric Bailly – OVR 79 
Mason Greenwood – OVR 78
Juan Mata – OVR 78
Tom Heaton - OVR 76
Diogo Dalot - OVR 76
Phil Jones - OVR 74
Amad - RM - OVR 68
Lee Grant - OVR 65 
Anthony Elanga - OVR 64
Hannibal - OVR 62
Shola Shoretire - OVR 62