While Tottenham have built a new stadium and Liverpool and Manchester City have significantly upgraded their existing arenas, Old Trafford has been allowed to fall behind the times.
The lack of action over the stadium has been one of criticisms leveled at current owners, the Glazers, but the ball is rolling over the improvement of the stadium, and there are now questions over whether the club will be sold in the meantime. With all that in mind, we have rounded up all the latest on Old Trafford's future.
What has been said?
United have consulted with supporters over the redevelopment of Old Trafford. As detailed by The Telegraph, the club have spoken to fans in a bid to get a feel for what fans would like to see improved at the Theatre of Dreams.
In April, United confirmed that they had hired the services of global architectural firm Populus and management consultants Legends International in a bid to put together plans for the upgrading of Old Trafford.
It's claimed plans would increase the capacity of the south stand to increase the overall capacity of the stadium to 88,000. That would make Old Trafford the eighth biggest stadium in the world, behind Wembley Stadium. Currently, Old Trafford holds around 76,000 and is the 34th biggest football stadium.
There is an option to build a completely new stadium, but current club bosses are said to prefer to improve the current structure.
Latest reports
A recent report from the Manchester Evening News has claimed the redevelopment of the stadium is on the cards, but it's unlikely any work will happen for around two years. The improvements floated are deemed 'possible', but United are said to have admitted that there are 'significant challenges' to the work.
Collette Roche, United's chief operating officer, told a fans' forum: "Findings so far show that it is possible to redevelop Old Trafford to take it to the next level, but there are significant challenges in terms of complexity, timing, cost, and disruption, not least because of the inherent constraints around our site, including proximity to the adjacent railway line, canal, public access routes and housing. In short, it's possible but not easy.
"Further work is required to finalise this phase, including refinement of existing options and exploration of potential alternatives. Once we have landed on our preferred option, we will then be able to move to phase two, which will comprise more detailed design work, further stakeholder engagement and detailed technical feasibility studies."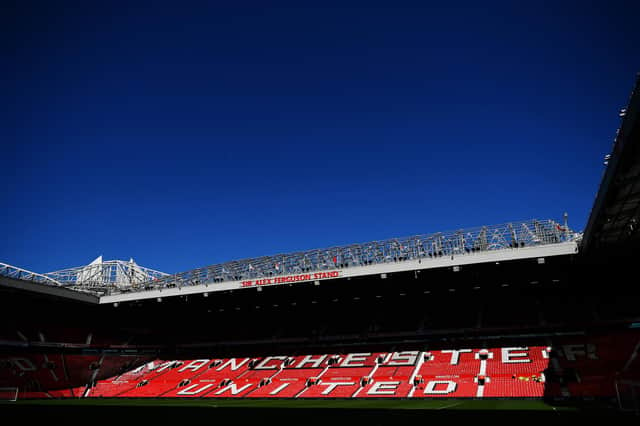 Roche added: "We are currently at the initial feasibility stage, and further work is required to determine our preferred option before moving to phase two, which will be more focused on design," said Roche.
"Although timescales are uncertain, we expect phase two to last about nine months, following which we can move to finalisation and planning, which could take up to a further year. It is only then that we will be able to appoint partners for the construction and delivery phase.
"These timings are in line with industry best practice – as you will appreciate, we need to take time to get it right, and it is not a quick fix. In relation to the number of extra seats and cost, it is too early to give any definitive details in this regard, but we are working through various options."
Ownership situation
The ownership situation could mean things change in regards to the stadium, given the Glazers have now announced plans to seek investors. The planning process is not likely to change, given United have already contracted the aforementioned companies, while key decision-makers could remain at the club.
But a new ownership could prefer to build a new stadium over redeveloping Old Trafford, and according to the Daily Star, should Apple buy United, they would build a new state of the art stadium as part of their takeover. Other prospective new owners could agree, but they could also agree with the current leadership in improving Old Trafford, and the time scale of all this could be impacted by a takeover for better or for worse.