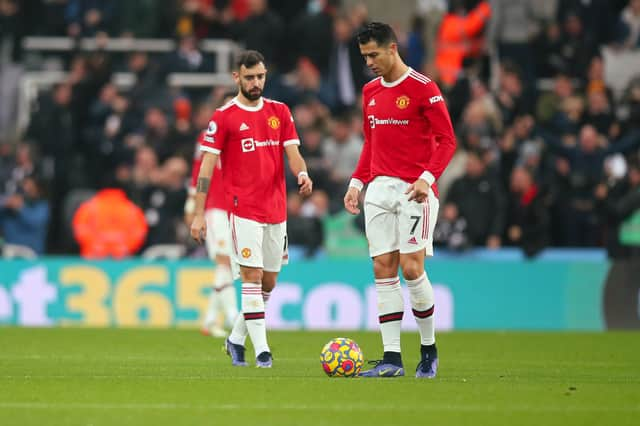 Neville criticised Ronaldo & Fernandes after the Newcastle draw. Credit: Getty.
The pair were both seen gesticulating to team-mates during the game at St James' Park, in which the Red Devils put in another dire showing and were fortunate to emerge with a point.
But Neville, who was covering the match as a pundit, said the actions of the Portuguese stars are having an impact on the younger members of the squad.
Neville didn't hide his damning opinion of United's abject performance against Newcastle. Credit: Getty.
"We talk about body language and we talked about it earlier in the season when Ronaldo ran off at the end of the Everton game," Neville said during Sky Sports' post-match reaction. "He's run off again tonight. He ran off at Watford, when everyone knew the manager was going to get the sack, and at Norwich.
"And there's [Bruno] Fernandes' whinging too. They're the two senior players. It's devastating for younger players when the two best players are looking at every other player like they're not good enough.
"[Edinson] Cavani takes that away," he added. "I don't think Cavani wilts in the presence of Ronaldo or Fernandes, I think he stands up to them and helps other young players on the pitch. He needs to be on the pitch.
"I don't care how you've played, you need to go over and clap the fans at the end of the game. Get over to them, particularly when you're the best player in the world, and one of the greatest of all time.
"It's annoyed me for about two months. The best players in your team - it's devastating when they're showing that look and body language to the younger ones."
Other issues at United
Neville doesn't feel Ronaldo and Fernandes are the only problems with the team, and he went on to explain that the dressing room dynamics are affecting club captain Harry Maguire.
"Something isn't right in there. I don't know what it is, but there is definitely whinging going on. They are all at each other and not helping each other," said the Class of '92 graduate.
"The spirit of a dressing room is really important and I don't think they're all with each other at this moment in time.
Harry Maguire put in a hapless display at St James' Park. Credit: Getty.
"There's a leadership struggle going on. Harry Maguire is the captain but he doesn't feel like the captain.
"That was a mess in the second half, in terms of formation, style; it was desperation," he added, in reference to the performance in Newcastle. "It was really worrying. I think there will be a lot [Ralf] Rangnick hates about that performance."
"They've not done one single thing right as a team, and not one single player can go in and say they've done their jobs, or even done themselves justice. There were no positives. Nothing."