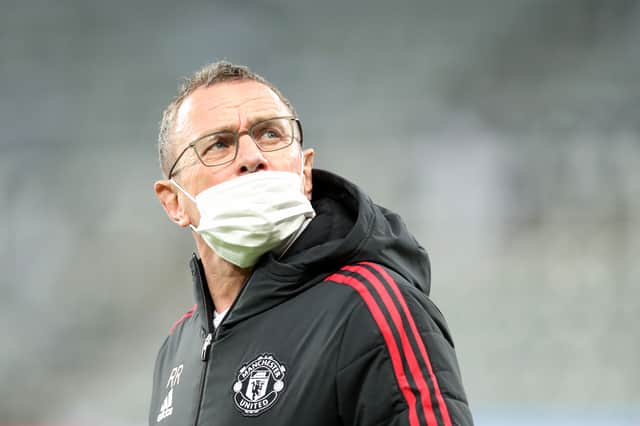 It's too early to have formed a definitive opinion on Ralf Rangnick's impact at Manchester United, but after nearly four weeks in charge, there's no denying the same problems which ultimately cost Ole Gunnar Solskjaer his job continue to haunt his replacement.
Monday's 1-1 draw against Newcastle United embodies just what is amiss with this United squad. A lack of pressing, cohesion and leadership coupled with an inability to stop opposition attacks and put together passing sequences is a recipe for disaster.
For their part, the Magpies came into the game on the back of spirited displays against Liverpool and Manchester City, both of which ended in rather convincing defeats.
Eddie Howe's men had moments against the division's top two, but that they were the better side over 90 minutes against United demonstrates how feeble the Red Devils are, in and out of possession.
There were obviously mitigating circumstances, a 16-day layoff with many players testing positive for Covid-19 is not the ideal preparation, but United have been training for almost a week now, while Newcastle have played three times since Rangnick's charges were last in action. Simply, it does not justify such a performance.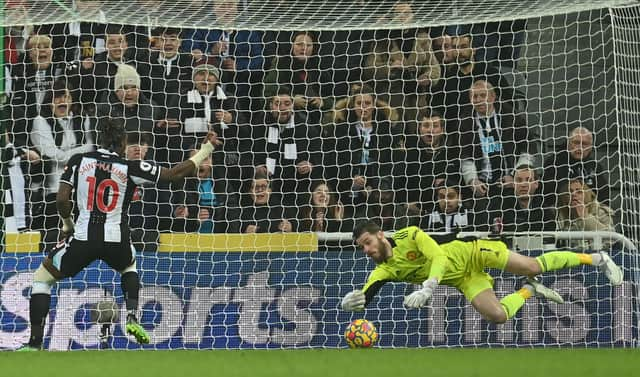 The same old problems for United
Individually, there were too many errors at St James' Park. Neither full-back could deal with the directness of Allan Saint-Maximin and Ryan Fraser, while Harry Maguire and Raphael Varane seemed in direct competition with each other for could make the most mistakes.
Fred gave the ball away 10 times in the first half before being hooked at the break, Mason Greenwood, similarly replaced at half-time, had little impact, while Bruno Fernandes's passing radar was off - he lost possession more than anyone. As for Cristiano Ronaldo, it's in such performances where the impact of a 36-year-old up front is questioned.
Yet for all the mediocre performances, David De Gea and Edinson Cavani again showed their reliability. The former pulled off several impressive saves, two in particular, to deny Saint-Maximin and Miguel Almiron respectively in the second half, which ensured United headed back to Manchester with a point.
As for Cavani, his equaliser means it's a goal every 129 minutes for the striker in the league this season, and despite only playing 45 minutes, he had more touches than any other United player in the opposition box.
It was the Uruguayan's introduction at the break that stirred a tad more life into the visitors after that abject opening. Far from the level expected of such quality players, but at least in the second half they controlled most of the possession and created significantly more shooting opportunities.
But there was still a vulnerability through the middle, and countless times United seemed to be scurrying back as Joelinton, Saint-Maximin or Sean Longstaff advanced aggressively with the ball.
It's a problem which has plagued the Red Devils throughout the season, and Scott McTominay and Fred have long proven their inability to effectively shield a back four. The pair may have other qualities, McTominay in particular, excels when driving forward in possession, but the pair are incapable of preventing opposition counters. Finding someone who can, should be top of Rangnick's transfer priorities next month.
But there were so many other aspects that made this performance alarming. This was a scrappy, awkward showing, and despite the ability in offensive areas, United's front four failed to find sufficient space and shooting opportunities. In fact, the hosts produced double the number of shots on target as the Red Devils managed.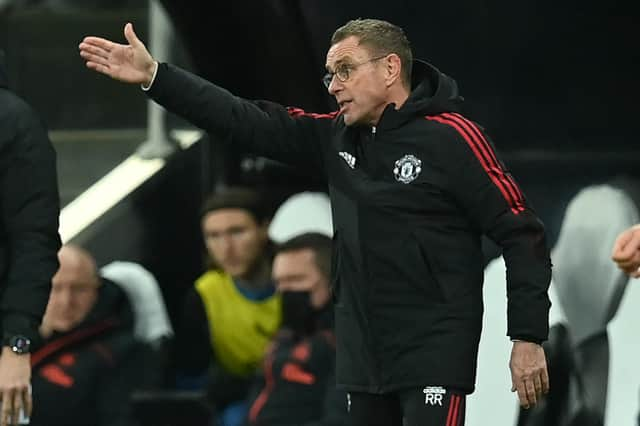 Bear in mind, this side, who took points from a Champions League last-16 team, have won just a solitary league game all season, while it was Newcastle who looked most likely to grab a late winner.
These are not new issues for United this season, and truly this wasn't in the top-three worst performances of the campaign, but there's no doubting the magnitude of the task Rangnick has on his hands. These are the same problems with felled Solskjaer, and they will take time to eradicate, but the speed at which that can be done could determine United's spot in next season's Champions League.
Do United suit 4-2-2-2?
For all the positivity surrounding Rangnick in the opening days after his appointment, suddenly it seems the German has unearthed a new problem with his unorthodox 4-2-2-2 system.
It's too early to question his methods and principles, nor can it be overlooked how successful Rangnick has been in Europe using similar tactics, but there is a real concern the Red Devils don't have the players for such a complex shape.
Discussions of the formation dominated Gary Neville and Jamie Carragher's post-match examination on Sky Sports, and will be a major talking point ahead of Thursday's clash with Burnley.
The 4-2-2-2 lends itself to inventive, intelligent attackers, who can rotate positions, pull defenders out of shape and look to exploit any gaps. Pep Guardiola uses a version of it at City, at times, to devastating effect, although his philosophy requires much more width from his wingers.
At United, the two players behind the striker are neither wingers nor No.10s, but a concoction of both, which allows the team to operate with two centre-forwards. The problem for Rangnick, remains that Fernandes thrives in a central role, Jadon Sancho and Marcus Rashford suit wide areas, and Mason Greenwood prefers to be higher up the field. Ironically, the one player who looks ideally suited to this, Paul Pogba, position remains unavailable.
There's also the question of whether this shape highlights the deficiencies of McTominay and Fred. The latter was withdrawn at the break, a change that saw Fernandes drop into midfield alongside McTominay, further evidence of how difficult it is to fit the No.18 into this system.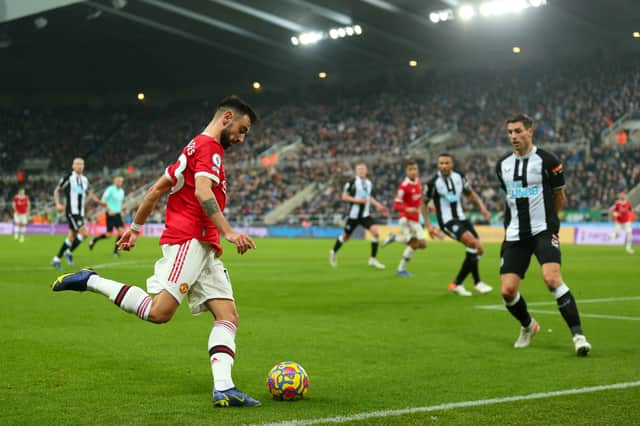 In addition, a clear lack of width from the full-backs is impacting the team's creative output. The need for Diogo Dalot and Alex Telles to push up only creates more gaps for opposition players to exploit, as Newcastle repeatedly showed on Monday.
Evidently, with further time and coaching, Rangnick's men will become more in-tune with the requirements of such a formation, but for now it's another obstacle for this team to overcome, on top of the plethora the 63-year-old inherited when he took over.
The silver lining on a rather gloomy cloud is that United's goal showed just how 4-2-2-2 can work. It was Fernandes who started the move after flitting into a central gap, before he sprayed a magnificent pass out to Dalot. The full-back had advanced down the flank and his excellent cross found one of three players positioned centrally in the box. Cavani finished it off and gave Rangnick a rare moment to cherish in the North-East.
Finding more of them in the coming weeks is a necessity if United are to make anything of the 2021/22 season.