Exclusive: Whiteside reflects on 1985 FA Cup triumph ahead of reunion
We spoke to the Manchester United and Northern Ireland legend about one of the greatest moments from his distinguished career.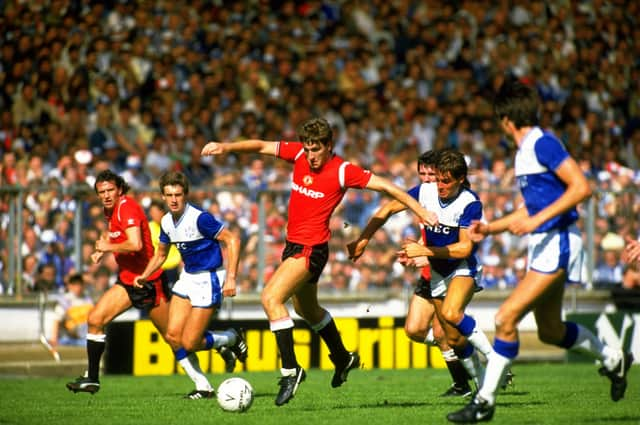 Norman Whiteside playing against Everton in 1985. Credit: Getty.
Three players from Manchester United's 1985 FA Cup-winning side are set to meet later this month as part of a special event to celebrate that team's triumph.
It was the final piece of silverware ever collected by the Red Devils in the pre-Alex Ferguson era, and the team reunion will reflect on a memorable day for Ron Atkinson's men.
The match is infamously remembered for producing the first red card in an FA Cup final, when Kevin Moran was dismissed for hauling down Peter Reid in the 76th minute. However, the 10 men of United responded well to that setback against that year's league champions, and Norman Whiteside netted the only goal of the game in the 110th minute.
Whiteside, one of three players from that team who will attend the event, also spoke exclusively to ManchesterWorld about his memories of that day.
Graham Sharpe and Paul McGrath compete for the ball during the 1985 FA Cup final. Credit: Getty.
What does the event entail?
Along with Whiteside, Bryan Robson and Frank Stapleton will be in attendance at the reunion, which will also feature an appearance from comedy impressionist and radio star Mike Maguire.
The event will include a two-course meal plus a photo, as well as plenty of reflections on that memorable afternoon from the three guests.
Where and when is the reunion?
It takes place on Sunday 14 November at 2pm and will be held at the Halliwell Jones Stadium, Warrington.
Where can I purchase tickets?
Tickets cost £60 and can be purchased from Ray Fisher by calling 07792 813698.
Whiteside's reflections
Ahead of the event, the matchwinner from 1985 spoke to ManchesterWorld about his memories of that famous afternoon.
"I remember we were quietly confident, despite Everton winning the league that year and them beating us 5-0 earlier in the season - although I was injured for that game, so you can't blame me," Whiteside told us.
"Anything can happen in cup finals, as turned out with the red card for Kevin, although I'd give Reidy a 9/10 for that dive," he added with a chuckle. "But even when we went down to 10 men we were still confident."
Of course, Whiteside's goal settled the game in extra-time and came against his future team-mate Neville Southall.
Whiteside scored 67 goals for Manchester United in 274 appearances. Credit: Getty.
"Well, everyone knows I used the defender as a screen in the cup final," the Northern Ireland great explained. "It never worked for me in training [against Southall], but it did in '85!.
"Back then, it was everyone's boyhood dream to score the winning goal in the FA Cup final and it's definitely one of my career highlights.
"Although I do look back at the 1982/83 season as my best," he continued. "I scored in both the semi-finals and finals [of the FA Cup and League Cup]."