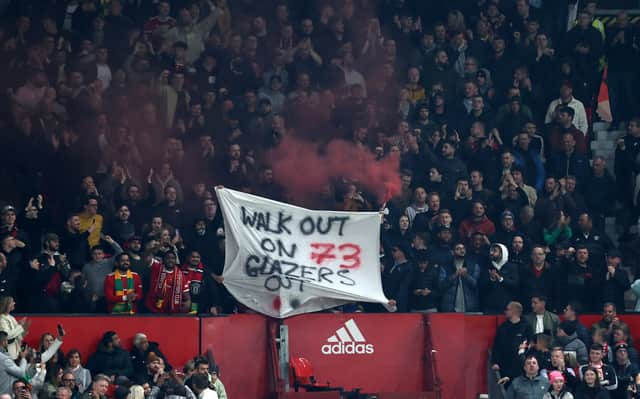 There was a planned anti-Glazer protest at Old Trafford on Monday night. Credit: Getty.
Manchester United's anti-Glazer fan protest against Brentford didn't quite go to plan on Monday night.
It was widely shared on social media ahead of the fixture that supporters would walk out of the ground on the 73rd minute, 17 minutes from the end of the game, one minute for each year the club have been owned by the Glazer family.
In previous matches, a small number of fans entered the ground after the 17th minute, but the switch on Monday against Brentford was planned to provide even greater exposure to the ongoing frustrations of the supporters.
A banner calling for fans to walk out on 73 minutes was seen at Old Trafford in the win against Brentford. Credit: Getty.
Ahead of the game, fans congregated in the Munich tunnel, where the directors' box is located, with the area eventually being cordoned off.
There were also no shortage of chants during the game aimed at the Glazers, with the club's supporters vocally expressing their anger at the ownership, while a banner in the corner of the Stretford End read: "Walk out on 73. Glazers out," and flares were left off in the same corner of the ground.
However, that display oddly remained up after the 73rd minute, and while some fans did walk out, the vast majority remained in their seats.
That may have been in part due to the timing of Raphael Varane's goal in the 3-0 win, with the Frenchman netting the third in the 72nd minute. It meant that as the planned walk out occurred, the fans were still celebrating the Red Devils' final strike of the night.
In general, the protest didn't quite match the previous instances in games against Norwich City and Chelsea, with Monday's partly impacted by the positive on-field display from the Red Devils.
United put in one of their best displays of the season and dominated possession against Brentford, with Bruno Fernandes, Cristiano Ronaldo and Varane scoring.