Perhaps Anthony Martial's most recent Manchester United appearance summed up his Old Trafford career.
A few boos, mainly support, and fans ultimately left with a sense that maybe there's more to come from the inconsistent Frenchman.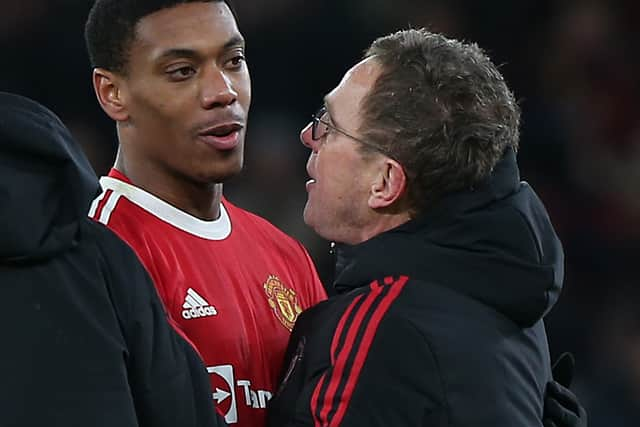 But even in that eight-minute showing against the Hammers there was even a small reminder of the talent Martial possesses, and he played an important role in the build-up to Marcus Rashford's late winner.
Twice the former Monaco man picked the ball up on the left touchline and looked to shimmy inside, as he did on his United debut in 2015 when he so memorably netted the winner against Liverpool.
Supporters, quite understandably, wondered at the time if this was just the first page in a long and happy tale - after all, the club made Martial the world's most expensive teenager when Louis van Gaal brought him to Manchester.
How it started...
There was so much raw promise from the attacker, and four goals in his first four appearances left many to believe United had brought one of the world's next top stars to Old Trafford. He ended that season as an FA Cup winner, having scored the decisive goal against Everton in the semi-final, one of 17 he netted in his maiden campaign in England.
In his first seasons at United those inconsistencies, which would plague his Red Devils career, were forgiven due to his age and the difficulties attacking players experience under Jose Mourinho.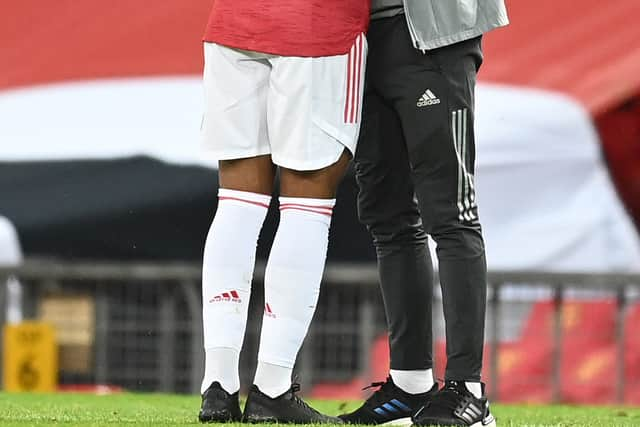 But it was Ole Gunnar Solskjaer who managed to get the best out of Martial, and in many senses it's remarkable to think just two seasons ago he was the club's top scorer with 23 goals in all competitions.
Having outlasted Romelu Lukaku and Zlatan Ibrahimovic, the No.9 was thriving as a central striker and even netted his one and only United hat-trick in that 2019/20 campaign, during a 3-0 victory over Sheffield United.
That was one of the many highlights from Martial's time so far at Old Trafford, as were the aforementioned goals against Liverpool and Everton, while he also netted in home and away Manchester derby fixtures in that excellent 2019/20 campaign.
How we got here...
But even during that term, too often games could pass Martial by, and it wasn't uncommon for him to appear disinterested and lethargic. There's been a constant sense of 'which Martial will turn up today?' during his career at United. Few players in the Premier League era have habitually demonstrated such impressive highs and infuriating lows.
In many ways this paradox has soured his relationship with the club's supporters. Fans can forgive mistakes and poor form, but it's difficult to overlook a lack of effort or interest. His departure won't have helped either, with the striker's agent publicly announcing he wished to leave, while Rangnick's claims he was unwilling to play against Aston Villa won't be forgotten, despite the player refuting them.
Even at his peak under Solskjaer there were frustrations at times from the Norwegian, who felt Martial could and should have given more in training, while on one occasion there was a irritation with how the Frenchman dealt with a minor knock, with Solskjaer feeling he wasn't keen to play through a small amount of pain.
But injuries have also taken their toll on Martial's United career, and a knee problem curtailed his 2020/21 campaign and affected his pre-season preparations ahead of the current season.
The squad dynamics at Old Trafford also aren't to Martial's preference and the forward has always excelled when feeling assured of his place in the side, a nicety few in United's bloated squad have. The signings of Edinson Cavani and Cristiano Ronaldo have also shunted Martial back to a position out wide after he impressed centrally in that 2019/20 season.
For a while, it's seemed inevitable how this saga would end - and for everyone's sake a move seems best. This is only goodbye for now, and although a summer move could easily be scuppered by a transfer fee and poor form, it does really feel like this is the end for a player who promised so much but only delivered in patches.