The big transfer news in the footballing world this week looks to be the transfer of Norwegian star Erling Haaland to Manchester City.
The striker's signature is one which is one of the most sought after in world football, but it looks as though City may have won the race.
Here's all you need to know about the exciting 21 year-old, including his record at his current club and how much City will need to pay for him.
Who is Erling Haaland?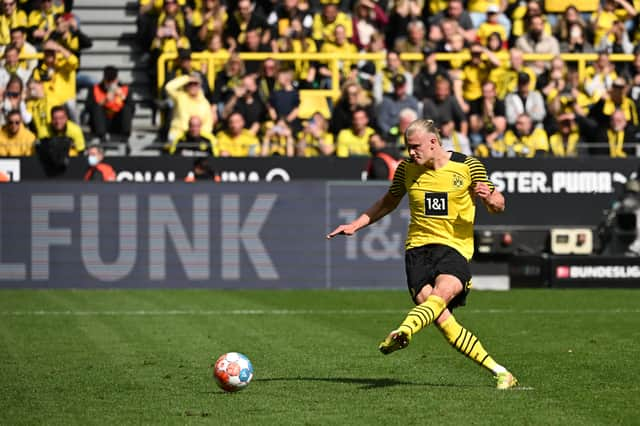 Norwegian star Erling Haaland has quickly become one of the most exciting prospects in world football.
His pace, height and strength has made him a player increasingly hard to play against, and one which every club would want in their side.
Haaland began his career with Norwegian side Bryne before moving across the country to join Molde.
Twenty goals in 50 appearances attracted the attention of other European clubs, and in 2018 he joined Austrian side Red Bull Salzburg.
A remarkable record of 29 goals in just 27 matches meant that some of the continent' top sides would soon be in the running for his signature, and in 2019 that club was Borussia Dortmund.
This is where Haaland is currently playing his football, and he has continued his great goalscoring record. In just three seasons at the German side, Haaland has scored 85 goals in 88 games, helping Dortmund to a German FA Cup in 2021.
He has, unsurprisingly, become a key player for his country and in 17 appearances for Norway Haaland has bagged 15 goals.
What is the latest with the transfer story?
Haaland's transfer to the Etihad Stadium appears to be progressing well, however City boss Pep Guiardiola was unable to give too much away at his press conference today (Tuesday).
Speaking ahead of City's trip to Wolverhampton Wanderers, Guardiola hinted that he would 'love' to talk about the transfer, but that an agreement between City and Dortmund had been made so that he was unable to talk about the move until anything was finalised.
"Everyone knows the situation," Guardiola responded to a question about Haaland. "I should not talk about the future, next season. But I should say something.
"Borussia Dortmund and Man City told me not to say anything until the deal is completely done. I am sorry but I am not allowed to talk."
Following the press conference, Manchester City revealed that a deal had been agreed in principal for Haaland.
Who is Alfie Haaland?
If Erling Haaland does complete a move to City, he will become the second member of the Haaland family to represent the blue half of Manchester.
Erling's father Alfie was a defender who spent three years playing for City. He will be remembered by both sets of fans in Manchester for an incident during an April 2001 Manchester derby.
In 1997, when Haaland played for Leeds United, Manchester United midfielder Roy Keane pulled up with injury and Haaland stood over the Irishman and accused him of faking the injury, which later turned out to be a serious ACL problem.
Fast forward to the Manchester derby in April 2001 and Alfie was on the end of a high tackle from Keane.
The then-United captain was immediately sent off and fined £5,000 for the tackle, but before leaving the pitch he stood and shouted down at Haaland, much like Haaland had done to him four years previous.