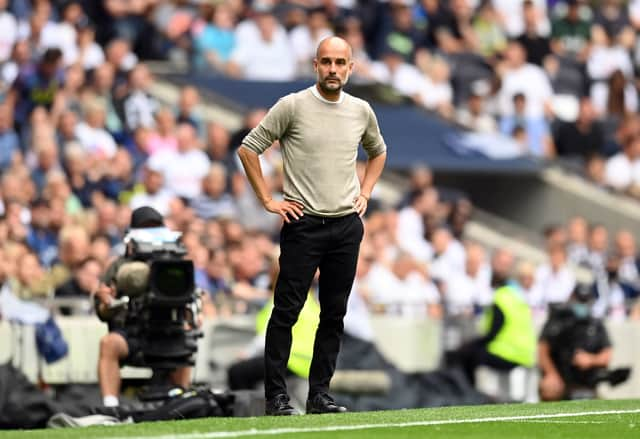 Pep Guardiola. Credit: Getty.
Pep Guardiola isn't used to this: an opening-day loss in a Premier League season. In each of the Manchester City manager's four campaigns in England so far, he'd always come away with the three points.
So if there was one place he didn't want to start 2021/22 it was in North London, where City have now lost on all four of their visits to Tottenham Hotspur's ground. It was Heung-min Son who grabbed the decisive goal for Spurs in the 1-0 victory and ensured it was a dream start for Nuno Espirito Santo.
As for City, one loss won't lessen the discussion surrounding their title aspirations this term, nor will it alter the mindset of Guardiola and his coaching staff. However, after a frustrating and sub-par performance against Spurs, there's plenty the Blues will look to put right ahead of next weekend's clash with Norwich City.
It was frustration all round for City. Credit: Getty.
While City weren't at their usual level on Sunday, it was far from an awful showing against Spurs. The Blues actually registered more shots than Nuno Espirito Santo's men and outperformed their opponents on expected goals.
The issue was putting the ball in the back of the net, something Raheem Sterling and co failed to do. That of course, will lead to further analysis on whether City need another striker, as speculation continues to surround Harry Kane, who wasn't involved for Tottenham on Sunday.
Even at their free-flowing best last season, City were a little dependent on Kevin De Bruyne to create chances in front of goal, and with the Belgian still recovering from injury, he was reduced to a brief cameo appearance on Sunday. Had De Bruyne and Kane started the game in sky blue, the outcome may have been very different.
So what to do now? Work on shape and movement? Hope for more from Jack Grealish? Give more responsibility to Gabriel Jesus? These are the questions Guardiola will ask himself, in case City are forced to line-up again without their no.17 again and fail to capture Kane's signature.
Jack Grealish had a quiet league debut for City. Credit: Getty.
Grealish's position and performance
Where exactly the club's record signing was going to line-up always looked destined to be a talking point. In the end, it was needs must for Guardiola, whose squad are still lacking sharpness after several late returns to pre-season.
Consequently, Grealish began in a No.10 role, although he enjoyed drifting out to the left flank and showed some encouraging link-up play with Sterling.
Admittedly, Grealish is also not back to his optimum level of fitness yet, but he will feel frustrated at his inability to create any clear-cut chances on his league debut for City.
There were several encouraging dribbles and interchanges, but nothing like the star-studded, virtuoso showings were used to from his time at Villa Park. City also felt a little slow in possession on Sunday, something Grealish didn't particularly help with, and De Bruyne cut a much more threatening and dynamic presence in comparison after his introduction in the second half.
It was also notable how much space Tottenham found in the centre of the park, and there were often huge gaps between Grealish and his midfield colleagues Ilkay Gundogan and Fernandinho.
There certainly will be no panic from Guardiola after one performance, but getting the £100m man immediately in tune with his tactical set-up will be a huge boost for the City boss.
Dealing with the counter attack
Spurs' main threat came on the break, with the champions struggling to deal with the runs of Son, Lucas Moura and Steven Bergwijn.
At 36, Fernandinho has long lacked the ability to keep pace with the division's speedier attackers, but it will be concerning just how often he was outstripped by Spurs' runners. Against rapid counter-attack sides, don't be surprised to see Rodri replace the Brazilian in future.
But there's also a bigger concern in all this. Spurs repeatedly found a way through the City midfield. Something just didn't seem right; City just couldn't cut out those channels, and in the final stages it was the hosts who even looked more threatening.
At the start of any new season it may take a few games for certain players to find their groove again, but Guardiola's first job on Monday morning should be poring over the video footage, seeing exactly how Spurs found so many holes in City's rearguard.
"He can't defend," Gary Neville stated in the second half, as Benjamin Mendy gave away a foul on Moura, after once again failing to dispossess the winger.
It was another one of those uncomfortable days for the Frenchman, who always seems much more assured when breaking into the opposition half than defending his own. On Sunday, Tottenham even looked to target City's left flank, to such an extent that Mendy was replaced by Oleksandr Zinchenko with 10 minutes remaining.
The No.11, widely considered to be City's best option on the left-hand side of defence, isn't really a natural left-back in what remains a troubled position for Guardiola.
With all the focus on signing Kane before the window shuts, it's unlikely City will have the time or resources to find an alternative solution to Mendy and Zinchenko, so Guardiola needs to find a way of molding either player into a top-rate left-back - and soon.
Had City's squad been 100% fit, their trip to the capital could have panned out very differently. Instead, the Blues looked lethargic, cumbersome and rusty, the opposite of what we've grown accustomed to from Guardiola's side.
But Ederson, Kyle Walker, John Stones, Aymeric Laporte, De Bruyne, Sterling and Jesus only returned to training in the last seven days, meaning the team selection was based as much on fitness as ability or suitability.
When you consider Zinchenko, Rodri, Bernardo Silva, Grealish and Ferran Torres also lacked a full pre-season, it's no surprise City looked so out of sorts.
Remedying that on the training ground this week, will be key ahead of the club's first home game on Saturday.