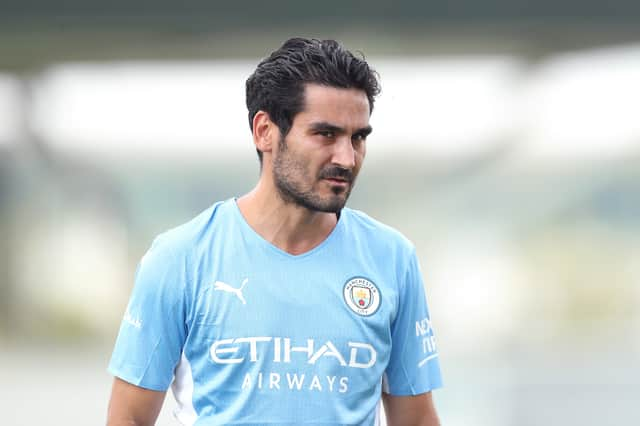 Last season, Ilkay Gundogan established himself as one of Pep Guardiola's most reliable players in a Manchester City squad not short on star quality.
The German is an amalgamation of his manager's favourite qualities: positional savvy, meticulous in possession and capable of a defence-splitting pass.
But last season, Gundogan added another string to his bow: goal-scoring. The former Borussia Dortmund man netted 13 in the Premier League, more than any of his City team-mates.
Yet, the arrival of Jack Grealish last week for £100m has cast doubt on Gundogan's place in the side ahead of a new Premier League campaign.
Where did Gundogan play last season?
Guardiola commonly set up without a striker in 2020/21, giving his interchangeable six-man midfield the freedom to take turns operating as the most advanced player on the pitch.
It worked with devastating effect, as City's movement and creative flair made it impossible for the opposition to effectively close down all the attacking options.
In such a system, Gundogan regularly found himself as the champions' furthest forward player, slotting home chances from inside the box. On other occasions, the midfielder played more of a box-to-box role, with Kevin De Bruyne pushing higher up the pitch, or, when Guardiola did play with a striker, Gabriel Jesus led the line.
With his range of long passing, Gundogan was also deployed in a defensive-midfield role on occasion, such as in the Champions League final against Chelsea.
In short, Gundogan was utilised in a variety of positions and provided a number of roles in Guardiola's fluid and interchangeable system.
Where did Gundogan excel?
Looking at the numbers behind the midfielder's season, he stood out in a number of areas compared to team-mates Fernandinho, Rodri, Bernardo Silva, De Bruyne, Phil Foden, Riyad Mahrez, Ferran Torres and Raheem Sterling.
In the Premier League, Gundogan registered the most goals (13), had the most efficient conversion rate for shots, registered the second-best pass completion percentage (91%), covered the second most distance and only De Bruyne registered more key passes.
Gundogan also didn't concede a single chance to the opposition from an error all season, and the team posted significantly improved stats for points gained and goals scored when he was playing - in fact, better than the comparable numbers for any other City midfielder.
Gundogan's principal role in the team is to recycle the ball; keep it ticking over and don't allow the opposition to get settled. In fact, Rodri is the only midfielder to complete more passes than the German last season.
The stats also suggest that Gundogan's goalscoring exploits in 2020/21 were somewhat fortuitous. No City player outperformed their expected goals (xG) ratio to a greater extent than the 30-year - he actually netted four more times than nine goals he was expected.
His previous goalscoring stats also imply this, and Gundogan had never bagged more than six goals in a season prior to 2020/21.
One key area the midfielder could develop in his ability to provide assists; he contributed just two in the league last term and his numbers for goal-creating actions were also low.
Somewhat surprisingly, Gundogan's defensive stats failed to match up to his fellow midfielders'. The no.8 ranked lower for tackles won, pressures applied and interceptions, suggesting his skills lie with the ball at his feet rather than when attempting to win it back.
Will Grealish change things?
There has been a suggestion that the new arrival from Aston Villa will operate in a central role, potentially ousting Gundogan from the side. Alternatively, Grealish's signing could see more game time for Foden in the middle of midfield.
Either way, Guardiola has added another creative player to his ranks and, while Grealish shares more similar attributes with De Bruyne, Foden and Sterling, it's only natural that his signing will reduce the playing time for last season's attack-minded players.
What should we expect from Gundogan in 2021/21?
Fewer goals, for sure, given how much he outperformed xG (expected goals) last season. We're going to boldly predict Gundogan won't net more than five this season.
Grealish's arrival also offers Guardiola another attacking midfield option and after shelling out £100m for the England international, he's unlikely to spend much time on bench.
But any suggestion Gundogan will struggle to find a place in the City team is far off the mark. The Gelsenkirchen native was a vital part of Guardiola's side last term and only four players started more games in all competitions.
At 36, Fernandinho will need to be managed this campaign, and a midfield base of Rodri and Gundogan could be a familiar sight for City supporters over the next nine months.
*Stats based off data from Transfermarkt and RBref.