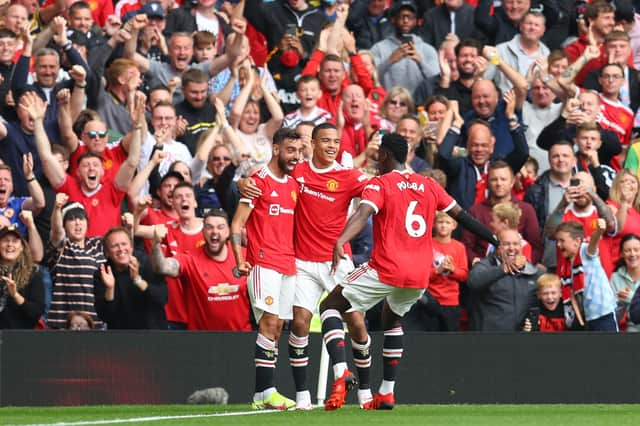 Bruno Fernandes's reaction to his second goal said it all. A pointed finger in the direction of his accomplice Paul Pogba - "we got this, buddy".
And rightly so, should the dynamic duo share a celebratory moment on an afternoon that will live long in the memory of those fortunate enough to be inside Old Trafford.
Between them, the Manchester United midfielders played a part in all five goals during the season opener as Ole Gunnar Solskjaer's side demolished Leeds United 5-1.
Fernandes helped himself to his first United hat-trick and oozed class throughout the 90 minutes. After a long campaign in 2019/20, a busy summer with Portugal and a shortened pre-season, Fernandes could have been forgiven for starting the new campaign a little sluggishly. But it was the exact opposite.
Against the bundle of energy that is Leeds' midfield, the No.18's bursts from the centre of the park were devastating, his finishing clinical and he provided a cool, calm head in the midst of battle.
As for Pogba, he may never again play so well without being voted man of the match. Four assists - surpassing his entire Premier League tally for last season - demonstrate just how instrumental he was to the Red Devils's fortunes.
Talk about a masterclass in distribution, the timing, weight, height and distance on Pogba's passing proved unstoppable for a Leeds defence who looked bereft by the hour mark, by which stage the Frenchman had twice set Fernandes up to score.
But perhaps the pick of the bunch from Pogba came in the 52nd minute, when from midway inside his own half, the 28-year-old dropped the ball sublimely into the path of Mason Greenwood, who provided a neat finish past Illan Meslier a few seconds later.
A mere inch or two either side the angle could have been too wide for Greenwood, or allowed Pascal Struijk an opportunity to tackle, and a tad softer or harder may have asked too much of United's teenage wonder. But the ball was just perfect.
It's also worth noting where Greenwood started his run from, on the left-hand side, an unusual position for a central-forward on the counter attack. Yet, there was little conventional striker's play from the United academy graduate.
In fact, it was Greenwood's freedom and fluidity that acted as a catalyst for Fernandes and Pogba to perform at Old Trafford. After just 13 minutes the writing was on the wall for Leeds, as United's Yorkshireman dropped deep, spun with the ball and had the option of passes to either Fernandes or Pogba. He opted for the latter, and the midfielder's effort went just inches wide - a rare mistake in an otherwise marvellous display.
But it was Greenwood's spacial awareness and speed in possession that created the chance, much as it did for Fernandes's opener, when the England international spun wide to provide room in behind, or the fifth goal, when Pogba latched onto Greenwood's forward ball and teed up Fred for a straightforward tap-in.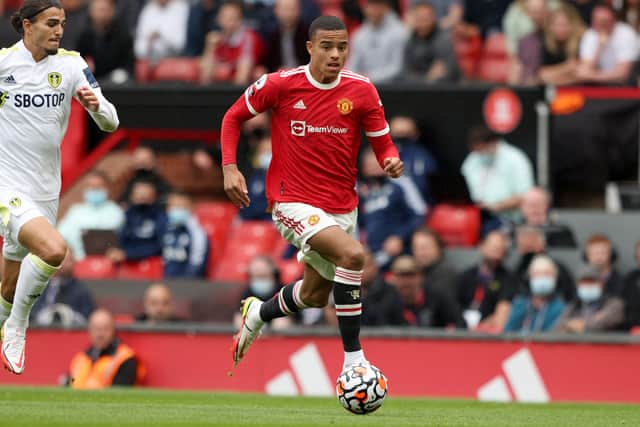 It was a mature and intelligent display from a youngster who already feels like a key man in this star-studded squad. Everyone knows how potent Greenwood is in front of goal - evidenced again by that sublime finish on Saturday - but this link-up play showed another side for an attacker Solskjaer has always maintained could end up as No.9.
United's best option up front
The Red Devils boss has also repeatedly mentioned the traits Greenwood could learn from his experienced team-mate, Edinson Cavani.
The 34-year-old is a natural goalscorer, able to hold the line and capitalise on the most minute of gaps in the opposition defence. But for all his undeniable skill and poise, Cavani is a striker who very much likes to operate between the width of the posts. The Uruguayan rarely drops deep or out wide and is the focal point of attacks.
As for Anthony Martial, Solskjaer's other option up front, the French international can lack spacial awareness, sharpness and even a boost of energy at times, three key attributes to the Red Devils' offensive output against Leeds.
So, could Greenwood be United's best option as a central striker?
It's a bold claim to make, certainly after one game of the season, and there's no denying Cavani and Martial's respective skillsets bring something to the table, but it's also difficult to imagine United playing with such freedom and imagination against Leeds with Cavani or Martial starting up front.
The system and shape certainly suited Fernandes and Pogba. It provided the former with ample space behind the Leeds backline, while Pogba's inverted winger role allowed him a split-second longer on the ball than in central areas, but also meant he wasn't glued to the touchline like a traditional winger. The trio's ability to interchange position and shape was crucial on Saturday and was exhibited through all five goals.
Admittedly, few sides will offer such meek resistance as Leeds did, or give so much time and space for United to play, but if Solskjaer's men can continue to operate with such freedom and variety, they'll be a tough outfit for any defence to contain this campaign.
Yes, Fernandes was right to point appreciatively towards Pogba, but expect a welcomed finger or two directed at Greenwood as the season continues.