Talented young performers from Greater Manchester have shared their excitement at taking part in the Queen's Platinum Jubilee Pageant in London.
A spectacular show will take place on the streets of London to celebrate Her Majesty's seven decades on the throne and the city-region will be represented by Tameside organisation Global Grooves.
More than 200 dancers, drummers and flag bearers are currently going through their final preparations for the big day, with all 10 of Greater Manchester's boroughs represented among the performers.
They spoke of their excitement at taking part in what promises to be one of the biggest street events seen for years.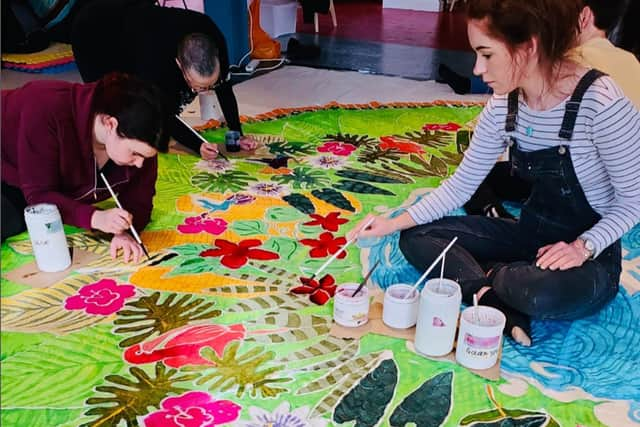 What is Global Grooves' contribution to the pageant?
Global Grooves' colourful carnival-influenced spectacle, called A Sharing of Gifts, draws inspiration from across the Commonwealth, including the Caribbean, Africa and the Indian subcontinent. It will also feature music, fashion and dance influences from closer to home.
At the head of the entourage will be a carnival queen in her chariot, played by drag artist Cheddar Gorgeous. Following behind will be four giant walkabout puppets, a 100-strong young people's carnival music group, 50 lavishly-costumed dancers and a sea of giant flag bearers.
The parade will wind its way through the streets of Westminster and along the Mall, past Buckingham Palace, using carnival, dance, music, circus and street theatre to tell the story of Queen Elizabeth II's record 70-year-long reign.
The pageant will be one of the final events across a four day bank holiday weekend between 2 and 5 June.
The only northern organisation in the parade, Global Grooves put out an open call for participants in March and received applications from skilled young dancers and drummers from across the region.
What have participants said about taking part?
Catherine Rhodes, from Hindley in Wigan, plays drums at grade eight level and currently studies for three science A-levels at Bolton College.
She said: "I'm really excited to learn a new style of music as I love trying new styles and expanding my musical knowledge and skills, and am really looking forward to performing in the pageant."
Benedict Kayonda, 15, a student at St Joseph's RC High School in Horwich, has been chosen to dance in the parade.
She said: "I've loved to dance my whole life and began officially training and going to classes almost a year ago. I firstly danced in a more contemporary style, then moved to a more African style and then fell in love with commercial and street-style dancing.
"At the Pageant, I will be one of the fan dancers and I will be representing the whole continent of Africa.
"I'm truly looking forward to dancing for the Queen's Jubilee and I believe that it will be an experience of a lifetime. I have never done anything like this before and I am so thankful for the opportunity."
Benedict's older brother, Elysee, 20, is also taking part. A student at the Northern School of Contemporary Dance in Leeds, he was born in Kinshasa in the Democratic Republic of Congo, moving to Little Lever in Bolton at the age of four.
Elysee, who speaks three languages, said: "It will be an amazing time for us to come together and help celebrate Queen Elizabeth's Platinum Jubilee.
"Simply being in London, it's been a massive dream of mine for so long but growing up we could never really afford it and now the Pageant is allowing me to do this but in the most stylish way possible - performing for the world!
"The largest audience I've ever performed in front of is 300 and I've only ever performed on a stage before, not as part of a moving parade.
"So to be able to do this whilst representing Tameside is incredible."