A Tameside carnival arts organisation has been invited to perform for the Queen's Platinum Jubilee Pageant in London this June in front of a broadcast audience of over one billion people.
Mossley's Global Grooves will wow her Majesty and TV viewers worldwide with a colourful carnival-influenced spectacle called "A Sharing of Gifts", involving over 200 participants from Greater Manchester.
The parade, scheduled on Sunday 5 June 2022, will draw inspiration from across the Commonwealth, including the Caribbean, Africa and the Indian subcontinent, along with recognisable music, fashion and dance influences from closer to home.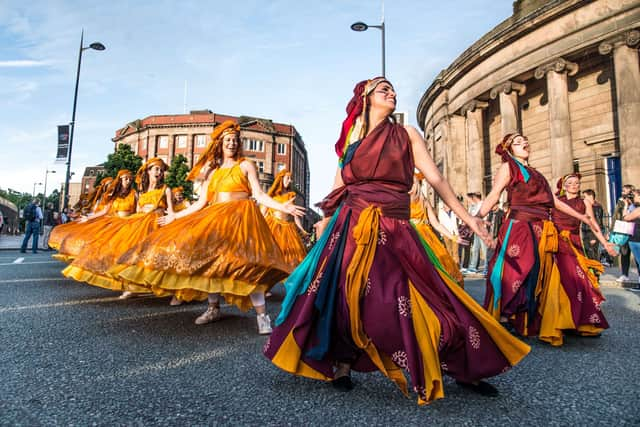 A celebration of diversity
Since 2003, Global Grooves has worked to popularise carnival-style events both locally in Greater Manchester and globally in Gambia, Brazil, New Zealand, Singapore, and Trinidad and Tobago.
Leon Patel, the CEO of Global Grooves, said: "Our parade piece celebrates the deep cultural exchanges that take place when people travel and meet others who have vastly different experiences, ideas and ways of living and being.
"It also focuses on our talented, diverse communities in Greater Manchester, showing that when we are open to new friendships and cultural collaborations, anything is possible.
The Global Grooves entourage will be led by a carnival queen in her chariot, followed closely by giant walkabout puppets, a 100-strong young people's carnival music group, 50 lavishly costumed dancers and a sea of giant flag bearers.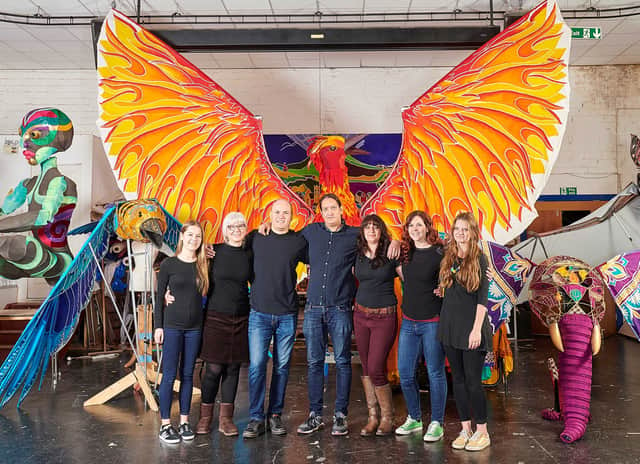 A celebration of Greater Manchester
Although Global Grooves is based at Carnival arts centre The Vale in Tameside, the organisation will represent the whole of Greater Manchester.
Local communities across the region, from all backgrounds, skill levels, interests and ages, will be involved throughout the project, from behind-the-scenes tasks to performing.
Mr Patel said: "In Greater Manchester, the last 70 years has seen an incredibly rich exchange between people from Commonwealth countries and beyond, forging a truly unique global city-region."
The invitation comes less than a month after the government released its Level Up plans, which hope to fuel prosperity in the north.
"There is still a lot of work to do to ensure that the arts are represented with equity across the country. But there is not just a north-south divide, but also a hierarchy with regards to equal investment in more diverse art forms and artists," said Mr Patel.
"Carnival arts, for example, is under-represented in terms of investment, but it reaches amongst the largest audiences and numbers of active participants of any art form."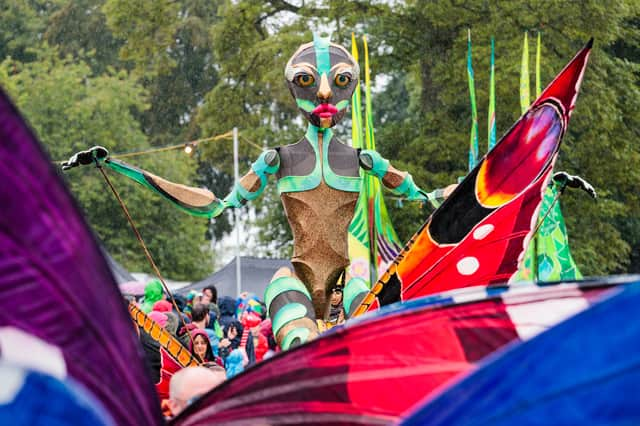 But he has hopes that the new Arts Council England 'Let's Create' strategy and investment principals "will support the journey to a more equitable investment strategy in the future".
And Global Grooves plans to bring the project to the north after the procession.
Mr Patel said: "Our work has sustainability at its heart and all of the work will be created so it can be shown at public events for many years.
"We will be bringing the production back to the north for another show later in the year and also, elements of the production will go to events and festivals across the UK, further increasing audience reach."
Kirsty Connell, the Greater Manchester Arts network coordinator, said: "The Queen's Platinum Jubilee Pageant offers a fantastic opportunity to showcase to the world some of the talent we have here in Greater Manchester.
"We're really pleased to be able to support Global Grooves in ensuring that all of Greater Manchester is represented."
Support from Greater Manchester Arts will fund two 'dance ambassadors' from each Greater Manchester borough to travel to London to take part in the event.
The Platinum Jubilee programme
The Queen's Platinum Jubilee Pageant will progress through the streets of Westminster and along the Mall, past Buckingham Palace.
It plans to tell the story of Her Majesty's record 70-year-long reign - the longest of any British monarch.
The pageant will be one of the final events across a four-day bank holiday weekend and will have three acts - ceremonial, celebration and finale. Global Grooves is one of 22 professional arts organisations participating in the celebration section, alongside emerging artists and key workers.