The winning design for an enormous piece of new public art which will go in famous Manchester leisure and entertainment hub the Printworks has been unveiled by star DJ and producer Norman Cook aka Fatboy Slim.
The musician revealed what the artwork which will be seen by thousands of visitors to the indoor venue's bars and restaurants will be after Printworks ran a major contest for artists to submit their ideas.
And the competition has ended in a hometown success as Ancoats artist Alex Sylt had his design, which celebrates the city's history and culture, chosen to appear at this iconic Manchester location.
Here's why Alex had his design picked and when you will be able to see it.
What is the new public artwork which will go on display at Printworks in Manchester?
The winning design for the Printworks was created by Alex Sylt, a 32-year-old screen printer based at Hope Mill. His work will be turned into an enormous 215 square metre artwork which will be on display in a prominent location in the entertainment destination.
The piece is based on the idea of celebrating Manchester past and present and is inspired by the city's architecture while making references to aspects of life and history in Manchester including the suffragette movement, the LGBTQ+ community, as well as its sport and music.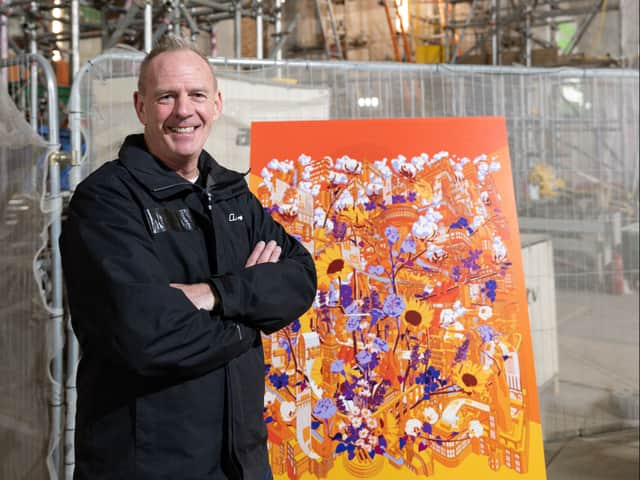 A central column acts as a statue being held up by the hands of the city's people which also represent Manchester's diversity. The story of the city is told through a number of symbolic flowers including sunflowers for Alan Turing's early research, lavender, pansies, violets and carnations which historically have all been symbolically associated with the LGBTQ+ community and daisies which represent Manchester's working class history.
The colours include purple, gold and white to represent the Suffragette movement, red for life, orange for healing, yellow for light, purple for spirit and white for peace.
Alex was chosen from five shortlisted artists as the winner of the Printworks Big Art competition by a public vote and also a high-profile panel of judges.
The design will be installed and revealed to the public in the Printworks later this year.
What has been said about the search for new public art in Printworks?
Artist Alex, who has been doing screen printing for more than a decade, said: "When I submitted my original design I didn't expect to win as the other finalists are amazing and their work is such a high standard.
"I'm absolutely over the moon to be chosen and can't wait to show my friends and family my artwork on this scale. It's not something I have done before and I hope that the public think I have done our amazing city justice with the piece."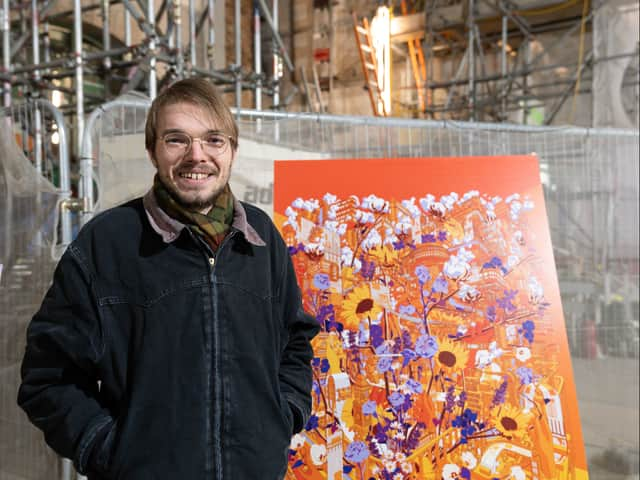 Norman Cook, who unveiled Alex's winning design, said: "I have been involved in public art projects for many years now and it's a passion of mine to ensure that all forms of art can be experienced and accessed by everyone.
"I was blown away when I saw Alex's design. It's a fascinating blend of Manchester history and current day and everyone who sees it will identify with something different. It is so unique and striking that everyone who lives in Manchester or visits the city should certainly come for a look.
"A huge thanks to everyone who voted in our public vote to help us make the decision that Alex was the right choice and his piece was the one that celebrated Manchester past and present in the most unique and exciting way."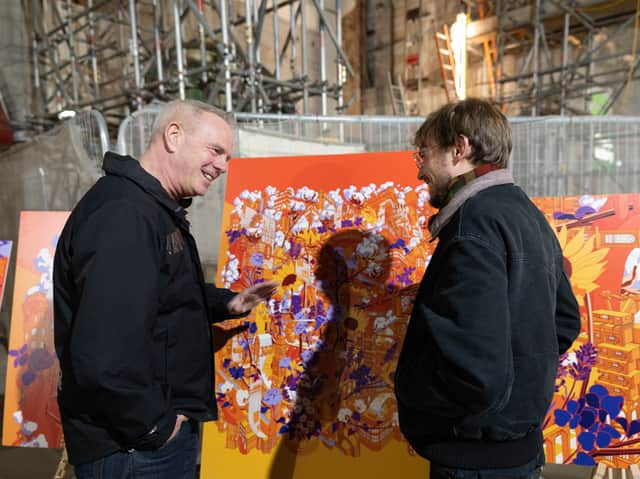 Jason Shay, centre director of Printworks, said: "This artwork is a key milestone in the £22m Printworks refurbishment which will be complete this year. It truly brings Manchester's soul and our pride for the spirit of our city to life.
"The piece reflects the Printworks' core values of vitality and energy, being connected to one another, and a focus on ethics, honesty, trust and escape."
Ben Reed, creative director of Wild in Art which came up with the Bee in the City project, said: "Public art is hugely important and Manchester especially is a city packed full with it. This latest piece is so personal to the city and is a true celebration of people, place and the history of Manchester."