Will Young visits Manchester dogs home to help find rescue pets a forever home
The former Pop Idol winner and chart-topping singer is passionate about animal welfare and rescue dogs and is keen to spread the message about how to find the right pet.
Watch more of our videos on Shots!
and live on Freeview channel 276
Visit Shots! now
Staff and volunteers at an animal rescue centre received a star visitor when singer and actor Will Young dropped in to see its work first hand and meet some of the four-legged friends looking for new homes.
The winner of Pop Idol and chart-topping musician is in Manchester to appear in a play at culture hub HOME but was keen to spend some of his time in the city sharing his passion for animal welfare and rescue dogs. He made the trip to Manchester and Cheshire Dogs Home to see some of the canines searching for their forever homes and see if he could do anything to help some of the animals most in need of loving new homes. Will is particularly keen to encourage people not to be put off by breeds which might have bad reputations or larger animals.
How did Will Young come to visit Manchester and Cheshire Dogs Home?
Will is currently in Manchester appearing in one-man show Song From Far Away at the culture hub located between Deansgate and Oxford Road train stations and was standing outside the venue when he noticed someone walking past with a Staffordshire terrier.
The dog's owner told him she worked at Manchester and Cheshire Dogs Home in the Harpurhey area of the city and Will said he would pay the place a visit. He met the staff and volunteers at the rescue centre and spent time with some of the dogs, in particular a American bulldog cross called Rocky and a Staffie called Molly.
Will hopes his visit will help to raise awareness of the work the dogs home does and help to find the animals most in need of a loving new home the right owner.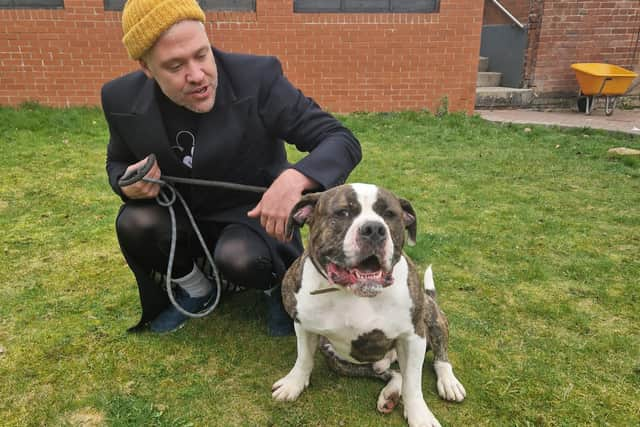 He said: "I thought I would see what they are doing and see if I could offer any help. I got to meet some fantastic dogs. They have taken in a lot of strays and a lot of different types of dogs, it was quite interesting to see the breeds there. People think there will be certain types of dogs but there were labradors, German shepherds, Japanese akitas, all sorts.
"I asked them if they had any dogs they are really looking to get adopted because sometimes dogs struggle more in kennels. Rocky was just adorable and beautiful and I'm really hoping to get him adopted because he's a gentle giant. Molly has a tumour which is possibly benign but they don't want to operate on her and they just want her to find a home."
The dogs home was also delighted to receive such a high-profile visitor.
Manager Anna Stansfield said: "At Manchester Dogs' Home we were so pleased to welcome Will and show him around the kennels where he was a huge hit with our canine residents, staff and volunteers.
"It means a lot to us that Will took the time out of his incredibly busy schedule to come and see up close the work we're doing, year in and year out, for some of the region's most vulnerable dogs.
"Will shared photos of his visit on his social media afterwards, and that sort of publicity is fantastic for us, carrying as it does the message that rescue dogs here and across the country are always looking for loving homes.
"He's a really genuine person and a great respecter of dogs. A big thank you to Will from all of us!"
What did Will say about getting dogs from rescue homes?
Will has three dogs of his own, a border terrier and two American pitbulls which he rescued from a kill shelter in Los Angeles and which were just a few hours away from being put to sleep. Some shelters in America only keep certain breeds for a particular length of time and then have them put down because they have so many of them which are unwanted.
He has been interested in animals for most of his life, growing up around them and spending time living in the countryside. He is keen for people to have a second look at breeds which may struggle to find homes due to having a bad rap and says some negative views of dogs are unfounded.
He said: "I have noticed that people seem to be put off from adopting brindled or speckled dogs for some reason. There seems to be a bit of a stigma and I don't know why. We also shy away from certain types of dogs. It's almost like cars where people don't want certain colours. We need to think a bit beyond that to the love and affection you get from rescue dogs, which is unequalled.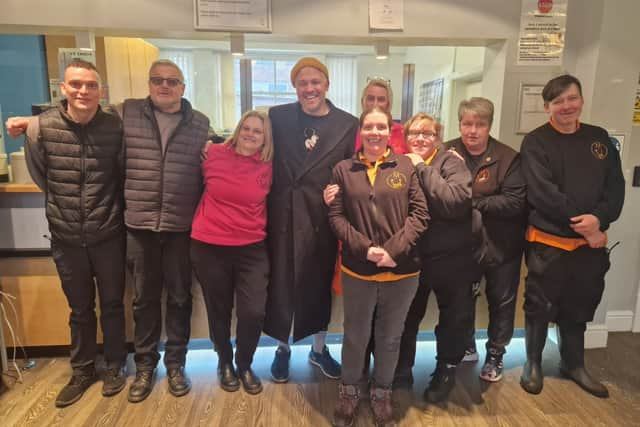 "I think people have an idea that rescue dogs are more of a liability but I find I get a lot more reward from having rescue dogs. The bond you have with them can be a very special, close one.
"There has been a massive rise in people getting dogs because of Covid and now after Covid maybe they have dogs who haven't been socialised properly or they have gone back to work so they have given the dogs up.
"A good home will never let a dog go to a home which wouldn't work. They are good at knowing what their behaviour is and how to line up a dog with the right house. Even if people think they can't have a dog they can help by volunteering at a home. You can get a lot from that for your mental health and it's a really special thing to do. If everyone helped a little bit the difference it could make would be amazing."
Why is Will Young currently in Manchester?
Will is currently in Manchester starring in the 80-minute monologue Song From Far Away by Simon Stephens and Mark Eitzel, which is about a man who travels home and seeks to reconnect with his past and his estranged family following the death of his brother. The play runs until Saturday 11 March and more information is available on the HOME website.
Work in the arts industry has brought Will to Manchester before but he says this time he has consciously made the effort to enjoy some different things the city and the surrounding region has to offer.
He said: "One of the lovely things about this is I can get out and do different things like going to the dogs home which I wouldn't have the opportunity to do on tour. I've been up to the Lake District, I went to Hebden Bridge, I found a brilliant antiques centre because I love collecting things. I've had a slightly different experience of Manchester this time.
"The play has been really well received which is wonderful and it's a shame it's coming to an end. HOME also has a brilliant set up and is clearly a very popular place. I would encourage anyone to see shows or films there."