The owners of a puppy, whose breeder threatened to put him in the bin, are fundraising for the final surgeries that will give him the quality of life he deserves.
Martin, believed to be an American bulldog mix, has been undergoing treatment most of his short life. He has had problems with his legs, kidneys and skin – all due to the severe neglect he experienced as a puppy at the hands of an irresponsible breeder. Now his owners have launched a Gofundme campaign to raise £10,000 for the final procedures that will help him run again.
He was brought to a veterinary surgery in Manchester just under two years ago by a couple who had found him at a scrapyard near Oldham. The scrapyard owner had offered them the puppy, saying that the dog would be thrown in the bin if they refused. Veterinary nurse Amber Penny-Ward, who was a lab assistant at the time, says that when he was brought in he had bad diarrhoea and was "very cold, covered in his own faeces and very skinny."
Amber said: "Ever since the beginning, he's always been super happy. I think that's what drew us to doing absolutely everything we could for him when he first got brought in. He was quite weak, but you could see in his eyes that he's quite bright. His tail was constantly wagging, despite him being really poorly."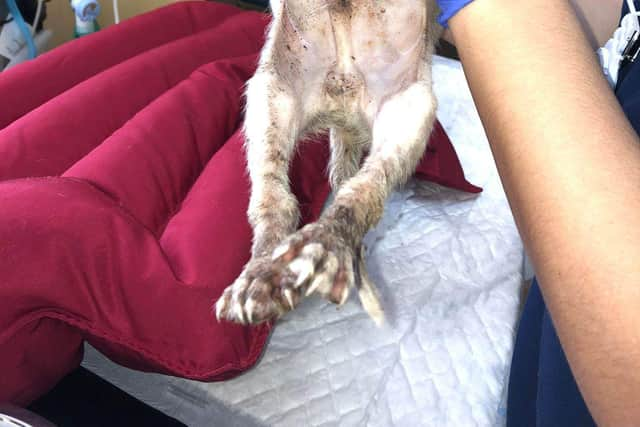 Amber's dad Neil and step-mum Rachel, from Halifax, agreed to foster him while he was receiving his initial treatment, but it was not long before they realised he would become a permanent member of the family. Four months into his new life in his forever home, Martin started puppy training classes where they realised he was sitting funnily. A check-up with the orthopaedic surgeon confirmed that his bones were not forming properly, most likely due to malnutrition.
Amber said: "Luckily, he was able to be a puppy for a little while and run around, but just as he was growing, his bones continued to deform and get worse."
By the time he was nine months old, he had had two surgeries to correct his hip displasia, but this was only the beginning of Martin's health issues. The vets found that he had developed kidney problems, as well as skin allergies, and referred him for specialist treatment at the Small Animal Teaching Hospital in Liverpool.
Amber said: "As he's continued to grow, because he's had to have all these surgeries, he's been on crate rest, not able to go out on walks, other than just being in the garden. If he does go out, he has to go out on a sling.
"But he is constantly wagging his tail, constantly trying to lick anyone who comes near him. He wants to jump up, but that's not something that he can do yet, he can't physically do it, but he wants to be giddy and play. He's just so happy.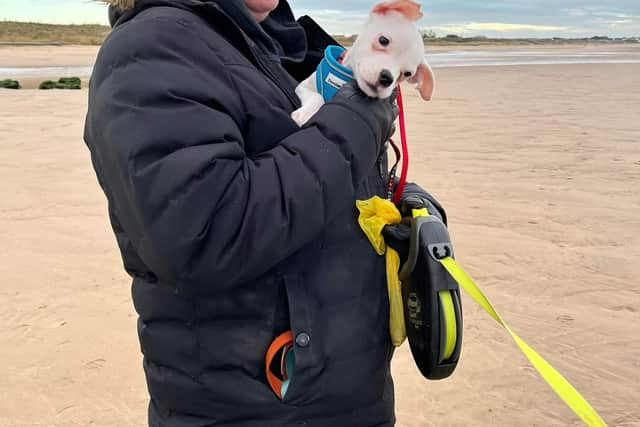 "Obviously, with him being on crate rest, it's quite difficult to keep him mentally stimulated. As lovely as he is, he is a little bit dim. He does get distracted very easily. Anything you put in front of him, he wants to play with, he wants to chew. His favourite thing is actually just a block of wood!"
He now has a loving home with Neil and Rachel and their three other dogs, who Amber says he "absolutely loves."
Amber said: "If he's on crate rest, they'll go and sit with him, or play with him through the crate, they will always be together, playing, or if he's lying on the coach, they'll get up and sit with him. They really do have a sweet bond. We have always looked after animals and we do end up with strays and ones that have taken our hearts."
Martin's treatment so far has been covered by pet insurance, but it has now reached the £12,000 limit. Amber and Neil are hoping to raise a further £10,000 for the final two surgeries on his hind legs, which the vets are confident will allow him to "be a puppy again."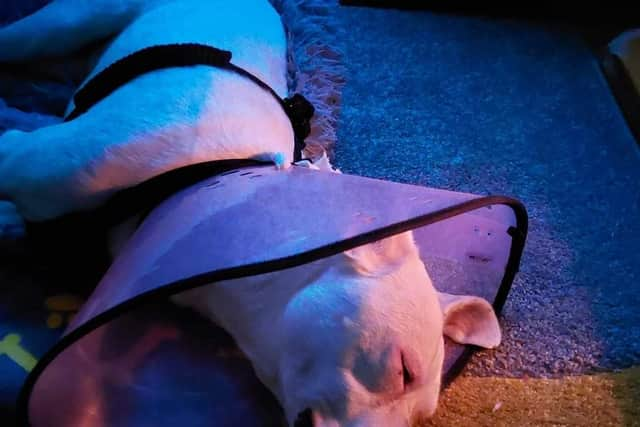 Amber explained: "Later in life he's going to be more susceptible to getting arthritis, wearing legs down a bit quicker than they usually would, but the vets are really happy with the prognosis, that when they do fix these deformities, then there is no reason he wouldn't be be able to lead a normal life."
The veterinary nurse added that the RSPCA were informed about the breeder and have investigated the case. Her advice to anyone thinking of getting a dog from a breeder is to check out the conditions the puppies are kept in and the mother first, make sure that the puppies are receiving appropriate care, training and enrichment.
More information about Martin and how to donate can be found on his Gofundme page.