Border collies turn pet detectives to track down missing and stolen dogs in Greater Manchester
Jennie Alton, 42, from Wigan, trained the fearless duo by getting her young kids to hide in fields and asking the dogs to follow their individual scents.
Watch more of our videos on Shots! 
and live on Freeview channel 276
Visit Shots! now
Meet the pair of sniffer dogs dubbed "Lexi's Angels" who have tracked down dozens of missing fellow mutts and reunited them with their grateful owners.
Brave border collies Diesel and Skye can travel miles over rough terrain and slip through cities searching for pooches that may be lost, injured - or even stolen.
Their owner Jennie Alton, 42, from Wigan, trained the fearless duo by getting her young kids to hide in fields and asking the dogs to follow their individual scents. And after assisting other dog search organisations for years, they've now stepped out as a single operation - and have already saved seven mutts this year alone.
Jennie says while most hounds are coached in either scent work, trailing or tracking, her dogs can uniquely do all three, meaning they're like "real-life pet detectives".
And the mum-of-three, who doesn't take payment for her services, adds there's was no greater feeling than seeing lost pups back in the hands of their loving owners.
She said: "It's really, really good, especially when you see them with the owners. It's just fantastic. There are so many missing dogs and some people just don't have a clue where the dogs have gone, so obviously, we can help.
"The difference with these and other dogs is most are only trained in one thing - scent work, trailing or tracking - whereas these are trained in all three. And in a sense, they're like real-life pet detectives."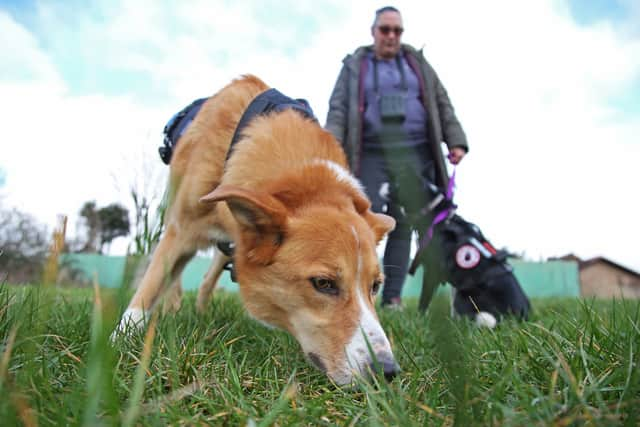 Jennie found out about eight-year-old Diesel's sleuthing skills after he helped find a mutt belonging to her son's pal in 2017.
The NHS worker, who volunteers as a dog obedience trainer, said she was amazed when he found out "exactly" where the pup was among the undergrowth in a field.
She continued to coach Diesel at home by getting him to follow her children's scent and then moving on to smaller, harder-to-find items of clothing around her home.
She said: "I'd let them go and hide, and I took one article of clothing off a child, got him to smell that, and then out of three kids, he had to find the one that he smelled. Then I upped it in the house as well, taking small socks from a pair, hiding one and getting him to smell another one, and he was doing it.
"I'd hide treats high above too so that he had to use his nose and had to indicate, and then just watching body language really as to what he was doing."
Jennie then joined up with the missing mutt charity DogLost, and helped track down several hounds with Diesel, before she got Skye, now three, in 2019.
And she decided to take the duo "public" as a single entity last Christmas when they managed to find a missing pup called Lexi - and earned their catchy name.
Jennie said that Lexi's family had been left distraught when she escaped from their dogsitter who was looking after their home in Wigan, as they holidayed in Thailand.
They rushed back home 24 hours after they heard the news of her disappearance, but when they called in Diesel and Sky, they found her in just five minutes.
Jennie said: "They are all pretty special really. But I think the most special has to be Lexi because they actually went straight to her.
"And the reason why we called them 'Lexi's Angels' was because that's what her owner named them that – and said they were 'her angels'."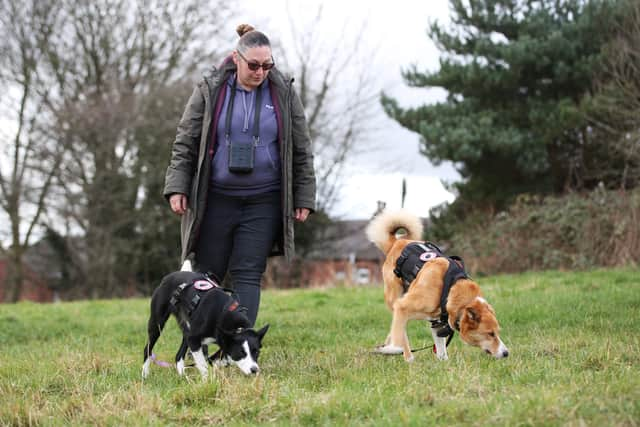 The dogs' tasks seem ever more important as figures from insurance company Direct Line show that 2,760 mutts were stolen in 2001, a rise year on year of 13%.
And Jennie said Diesel and Skye were able to track dogs that may have been dumped by thieves or separated from their owners on rough terrain or city streets.
She said: "We can go five miles with the dogs. And If Diesel wants to cross a road – because he knows he can't cross a road on his own – if he knows that scent is going across the road, he'll stop and just look at me.
"We had one case where the dog had been run over, nobody knew what was going on, so I took the dogs up there, and he just confused because the scent had just stopped dead. From that, we then found out that the dog had actually been run over. Then it was found that the dog had been dumped at a vet."
Diesel is just one of the dogs being celebrated at Crufts and will be competing alongside Jennie's daughter Cerys in agility.
And when they're not working, Jennie says the two dogs are loveable family companions.
She added: "Diesel means the world to us, he is such a loveable cheeky chappy.
"The work that we do together is amazing and so great to work together as a team, and we understand what each other is saying."