Singer Will Young rallies round for puppy dumped in scrapyard in Oldham
The fund-raising page is hoping to bring in around £10,000 for the operations American bulldog mix Martin will need to live a happy and active life after his legs didn't grow properly due to neglect.
Watch more of our videos on Shots!
and live on Freeview channel 276
Visit Shots! now
A campaign to raise thousands of pounds to help a dog who was badly neglected and dumped as a puppy enjoy a normal life has had an unexpected boost in the form of a supportive social media share from singer and actor Will Young.
The former Pop Idol winner, who has made no secret of his passion for animal welfare and rescue dogs, had posts about the GoFundMe page set up by Amber Penny-Ward on his official Facebook and Instagram accounts. Amber's dad Neil is trying to raise £10,000 for American bulldog mix Martin, who needs a series of operations because his legs did not grow properly due to the appalling treatment he suffered at the start of his life before being rescued after he was found at a scrapyard near Oldham.
Support from an unexpected quarter for the GoFundMe campaign
The fund-raiser has been bringing in money for the operations Martin needs following his terrible start to life. He was found in a scrapyard near Oldham where he had been dumped and his rescuers were told he would be put in a bin if they didn't take him.
Neil and his fiancee Rachael took Martin in as he was brought into the veterinary practice where his daughter Amber worked, and it quickly became clear that after an initial fostering period Martin had found his forever home. However, neglect at the hands of an irresponsible breeder meant he was in a terrible condition.
Neil said: "His kneecap was on the inside of his knee, he had an angular limb deformity which meant his bones didn't grow at the same time so his limbs got twisted out of shape and his legs were badly deformed. This was all from him being starved and dehydrated by this so-called breeder. He had been taken away from his mum, he had no food, no water, he very nearly died."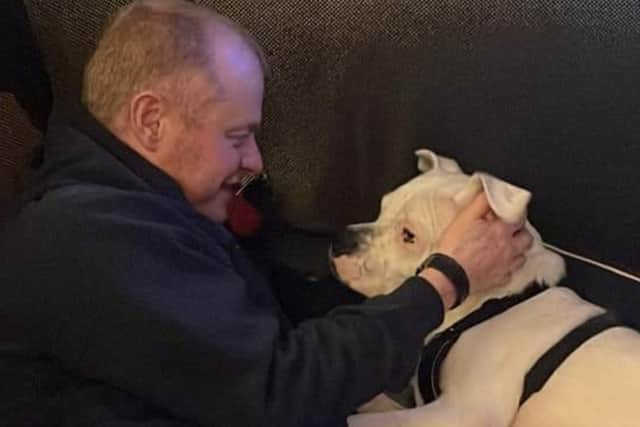 The efforts to raise enough money to help Martin walk and enjoy a happy life were then given a boost when Amber and Neil found the fund-raising page had been found and shared by animal lover Will following his visit to the dogs home in the Harpurhey area of Manchester.
Neil said: "I don't know how Will got hold of it, I've absolutely no idea. My daughter saw something about him going to the rescue place, looked at his Facebook page and Martin showed up there. He also put it on Instagram for 24 hours and donated £200 himself. It was quite overwhelming when I saw it. It didn't generate a huge amount but for me that's not the point, it was the fact that someone like Will had put the story on there."
How is Martin doing now?
Martin has already had a number of major operations including one to sort out his bilateral hip dysplasia and he also endured a setback when his cruciate ligament ruptured, necessitating another trip to the operating theatre and another four-figure bill for Neil and Rachael.
As well as his serious limb problems Martin's dreadful start to life meant he had developed kidney problems and skin allergies, and he had to go to the Small Animal Teaching Hospital in Liverpool for specialist treatment. He also suffered from seizures which needed medication in order to bring them under control.
Neil is hoping Martin will have his final surgery in the middle of April, which will sort out the deformity on the last of his right legs but is quite an extensive procedure involving straightening out the bones above and below the knee.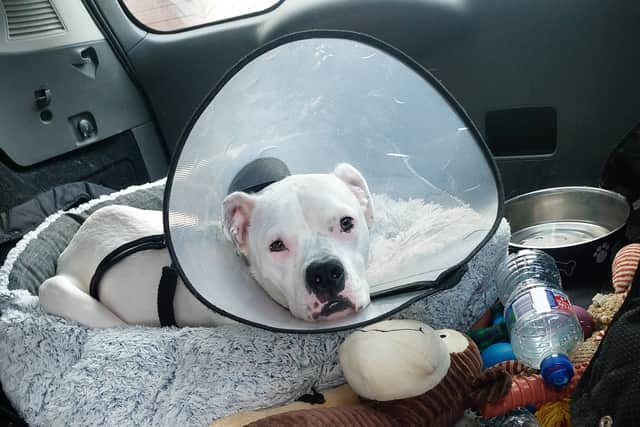 Neil says the vets warned him at the outset that overcoming Martin's shocking ill-treatment as a puppy would be emotionally and physically hard and would also set him back around £15,000. but he insists it is worth every penny.
He said: "For the first two operations on his hips for six nights afterwards I had to sit up with him, I basically got no sleep. Whenever he moved he would get pain that would cause him to literally scream. It wasn't a yelp, it was a scream. I had to put him back into a comfortable position. Eventually the healing got to a point where it wasn't touching the nerves any more.
"I asked the vets if he could have a more or less normal life. They said he might develop arthritis in later life, he will probably be a bit wonky and run a bit like Phoebe in Friends, but apart from that he could have a happy life. We thought that was worth putting the money into and it just snowballed from there."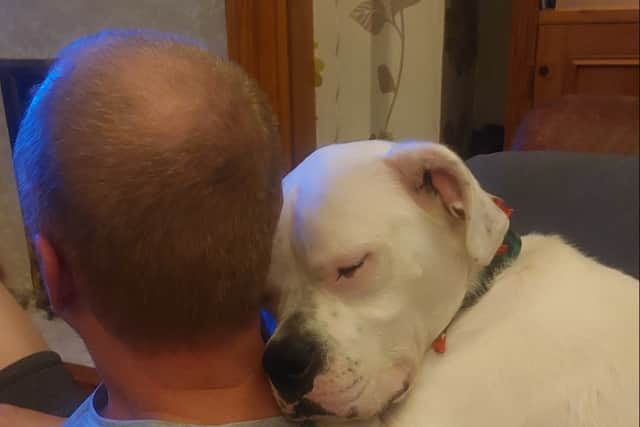 Martin's family turned to fund-raising to help with his long road to recovery after setbacks meant the insurance money ran out, with Amber suggesting they ask the public for help on GoFundMe.
Neil said: "I had to cash in my pension early, I've put some of the tax-free loan into it, I've paid off credit cards so they can be used in emergencies. We're about half way there and we're on about £6,000. It's going to cost us about £11,000 to £12,000 between now and November until the next lot of insurance kicks in. It's a lot of hard work."
Alongside the fund-raising Neil is working extra hours in his job as a classic car restorer, with Martin going along to Neil's job with him in case anything happens during the day.
Even after the final operation in April Martin will need to go through a fairly intensive physio process and could also have hydrotherapy. He also has to go through periods of crate rest, for which Neil and Rachael have got him a soft play pen.