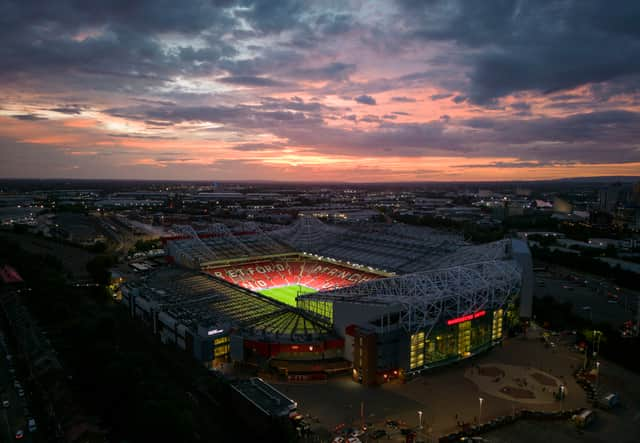 Manchester United's Europa League game is going ahead as scheduled on Thursday Credit: Getty
The monarch died at the age of 96, hours after it was reported doctors were concerned about her health.
Flags will be flown at halfmast and the new King Charles II will return to Buckingham Palace from Scotland tomorrow.
There are many protocols in place following the death of a monarch and the announcement is traditionally followed by a period of mourning which has typically been up to 12-13 days in the past.
Queen Elizabeth II (Photo by Jane Barlow - WPA Pool/Getty Images)
Will football fixtures be cancelled when the Queen dies?
The passing of the Queen would start a period of mourning across the United Kingdom, as detailed in a document called "Operation London Bridge".
As part of that plan, which is set out for the nine days following the monarch's death, sports fixtures would indeed be postponed.
The Premier League has this morning (Friday 9 September 2022) confirmed that this weekend's fixtures will be postponed as a mark of respect.
Manchester United's Europa League game against Real Sociedad went ahead at Old Trafford on Thursday night. However, the Red Devils clash against Crystal Palace on Sunday afternoon is now off, while Manchester City vs Tottenham Hotspur on Saturday is also postponed.
In a statement, the League said: "To honour her extraordinary life and contribution to the nation, and as a mark of respect, this weekend's Premier League match round will be postponed, including Monday evening's game."
They added that further announcements on games scheduled to be held during the period of mourning would take place in due course.
What was cancelled in the wake of Princess Diana's death?
From a footballing perspective, a Premier League match between Liverpool and Newcastle United that was due to take place later in the day was called off.
Likewise, all Football League matches that were scheduled to take place on Saturday 6 September were either moved to the previous Friday or the following Sunday as the nation observed the day of Diana's funeral. There were no Premier League matches scheduled due to international fixtures.
Ten days after Princess Diana's death, the England national team went ahead with a World Cup qualification fixture against Moldova, with both sides wearing black ribbons as a mark of respect. A minute's silence was also held prior to kick-off.