Manchester organisations which work with asylum seekers and refugees have joined dozens of groups across the country demanding changes to Government policy after last week's Channel tragedy.
More than 150 groups have now signed a statement by Imix demanding the Government sets up safe routes to prevent people trying to reach the UK in lethal small boats.
What are the organisations calling for?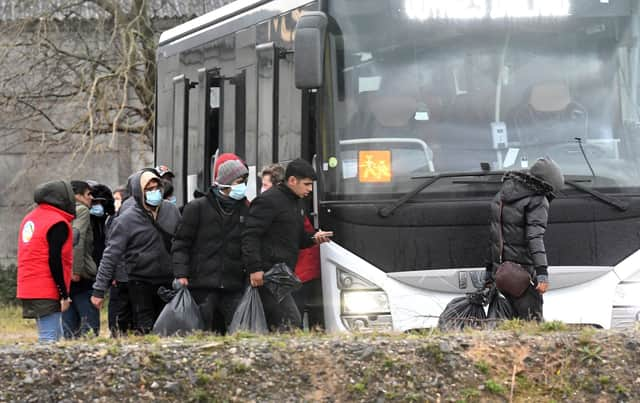 It criticised what it called the Government's "harsh rhetoric and ill-thought-out approach", saying its policy is one of "grabbing cheap headlines and blaming the French authorities".
Instead it calls for a rethink on the controversial Nationality and Borders Bill and an end to ideas such as offshoring asylum processes and pushbacks against boats in the Channel.
Ultimately, Imix says, ministers need to create more safe routes for those fleeing persecution to the UK.
What has the Greater Manchester Immigration Aid Unit said?
The GMIAU also heavily criticised the Government over its approach, calling it "inhumane and unworkable" and reminded people of the human beings and lives at the centre of tragedies in the Channel.
A joint statement by its chief executive Denise McDowell and chief policy officer Amanda Shah read: "The devastating number of people who have drowned in the Channel is truly shocking, but sadly not in any way surprising.
"At the heart of this tragedy are fathers, sons, wives, daughters; people fleeing conflict and persecution in search of safety and security.
"Research has shown the majority would be granted refugee status in the UK. By shutting down safe routes to the UK, the Government has pushed them into the arms of people smugglers and onto small boats.
"The government has been repeatedly warned that significant loss of life would be the inevitable consequence of its dangerous, unworkable approach.
"The Nationality and Borders Bill (currently going through parliament) does nothing to create safe routes. Instead home secretary Priti Patel talks up wave machines, pushbacks, offshore detention centres and immunity for staff when people are left to drown.
"The tragedy in the Channel proves yet again that the government's approach is inhumane and unworkable. Nobody wants to see tragedies like the one we've seen this week.
"It's time to scrap the Anti-Refugee Bill and take common sense decisions, like those suggested in the joint statement, to protect the small number of people relying on the UK to give them a safe haven."
What has Manchester City of Sanctuary said?
Manchester City of Sanctuary, part of the national movement City of Sanctuary UK which has signed Imix's statement, said a "more humane" approach is needed, pointing out how desperate some people are to reach the UK and the effects it thinks the Government's new legislation will have.
Strategic and partnership lead Liz Hibberd said: "After the tragic deaths in the Channel, we are once again reminded of the lengths people will go to to find safety.
"We are proud that people think they will receive a warm welcome here, and have the opportunity to work, contribute and be part of the wonderful and diverse communities that exist in this dynamic region and we work tirelessly towards ensuring that happens.
"However, the policies that exist around people gaining legal status here are complex; requiring them to prove and evidence why they 'deserve' to be granted refugee status and undermine the legal and moral responsibility we have for those needing asylum.
"If it's difficult now, it's set to get much, much worse.
"The new bill working its way through parliament will make the process nigh-on impossible to navigate; vulnerable people deserving of our support will be turned away.
"This will not remove the need, it will not remove the reasons why people need to flee their homes. It will make people resort to more dangerous methods and allow them to exploited more by those who benefit from governments turning a blind eye.
"We at Manchester City of Sanctuary will continue to advocate for a more humane and ethical asylum system that recognises people's innate humanity and loudly and proudly says: 'Refugees are Welcome here'."
What has the Government said?
She also said the Nationality and Borders Bill would provide solutions to the problem.
Ms Patel also described Channel crossings as unnecessary.
She expressed "profound sorrow" at the 27 deaths, and said the tragic event had come as a shock but had been feared for some time.