The extremely high temperatures Manchester and the surrounding area have experienced this week look set to continue and possibly even rise.
The impending heatwave has been enough to prompt a weather warning being issued for the weather warning.
Here's what we know about the heatwave and the heat warning, and also when we can expect conditions to cool down again.
What is the Met Office warning for?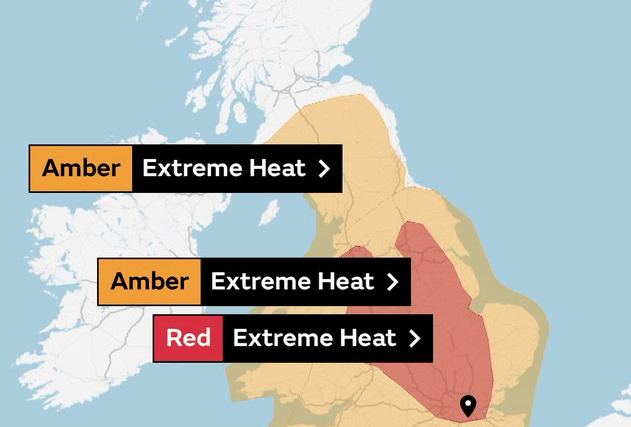 The Met Office have issued a red weather warning for extreme heat which covers most of England, including Manchester.
How long is the warning in place for?
At the time of writing, the weather warning is set to be in place for almost 48 hours. Across large parts of England and Wales, the warning will come into force at midnight on Monday, 18 July and remain in place until 11.59pm on Tuesday, 19 July.
During this time, Manchester could see temperatures reach over 30C.
An amber warning for heat will aso be in place from midnight on Sunday, 17 July.
What can we expect?
The Met Office have warned people what they can expect during the red extreme heat warning
Population-wide adverse health effects experienced, not limited to those most vulnerable to extreme heat, leading to serious illness or danger to life. Government advice is that 999 services should be used in emergencies only; seek advice from 111 if you need non-emergency health advice.
Substantial changes in working practices and daily routines will be required.
High risk of failure of heat-sensitive systems and equipment, potentially leading to localised loss of power and other essential services, such as water or mobile phone services.
Significantly more people visiting coastal areas, lakes and rivers, leading to an increased risk of water safety incidents.
When could the heatwave end?
The heatwave across the country looks set to last at least a week, with temperatures remaining very high into next week.
It is hard to pinpoint when the heatwave will be over, but a rough guide can be taken by the ending of the Met Office red warning which is due to be at the end of Tuesday, 19 July.
What is the forecast this week?
Temperatures this week are to remain high, and will peak at the 30C mark on Sunday and into Monday.
Here is the Met Office outlook for the week ahead.
Today:
Rather cloudy across the region, with patchy rain breaking up into scattered showers. Cloud breaking up to allow some sunny spells for late afternoon. Feeling slightly cooler than recent days with a westerly breeze. Maximum temperature 20 °C.
Tonight:
Cloud continues to break, providing some late sunny intervals. Staying dry with largely clear skies overnight. The risk of a few mist patches, but these clearing readily after dawn. Minimum temperature 8 °C.
Saturday:
Dry with prolonged intervals of strong sunshine, though some higher-based cloud making the sunshine hazy at times. Temperatures up on Saturday and feeling warm. Maximum temperature 25 °C.
Outlook for Sunday to Tuesday:
Largely dry with sunny intervals. Becoming very hot by day with oppressively warm nights as well. A risk of showers on Tuesday.