A Greater Manchester member of a charity representing blind people has hit out at Government plans to change the way the railways operate, claiming they would leave him "virtually housebound".
Kevin Greenan, from Middleton, is one of a number of campaigners from the National Federation of the Blind of the UK (NFBUK) raising the issue of proposals to close ticket offices at train stations and have more trains running without guards on them.
Kevin and the NFBUK say that if these changes are implemented across the rail network it will be virtually impossible for people with disabilities to use them and this is discriminatory. The organisation arranged for a petition to be handed in to transport secretary Mark Harper between Christmas and the New Year.
The Government says it is committed to accessibility on public transport.
What does Kevin say about the proposals for the railways?
Kevin,who is blind and also has mobility issues, said if the Government presses ahead with its proposals to shut more ticket offices at stations and take guards off trains it will seriously hinder his ability to travel around on his own.
He said high-tech solutions such as ticket machines are often difficult for disabled people to use and he is extremely concerned about passenger safety and getting on and off trains if there is no guard around.
Kevin, who travels on the trains several times a month between Middleton and Rochdale and Littleborough and Manchester Victoria, also said he hoped that Mr Harper would be sympathetic to the NFBUK's position as he has previously served as minister for disabled people.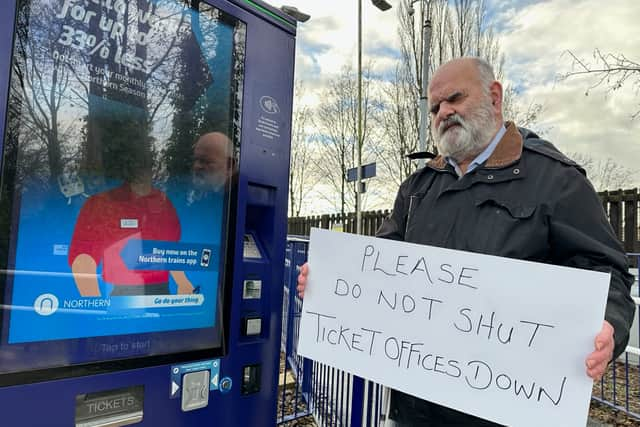 He said: "For me the trains are vital. Without the train I would be virtually housebound. If I couldn't get the train from A to B I would be basically stuck.
"The service the guards give is absolutely invaluable. They are there to help people on and off the trains and they sometimes sell tickets on the trains. They are essential for disabled people in general. How would a wheelchair user get on and off a train if there were no guards or station staff there to help? What is going to happen if someone becomes ill on the train, or there is a row and it kicks off? You can't go up to the driver and speak to them.
"Another issue is that the ticket machines are inaccessible to blind people and people who have problems with dexterity because they are touchscreens. People might say that I could use my mobile phone but if I am standing on the platform trying to buy a ticket it could get snatched. That happened to a reporter recently.
"These changes would make my ability to travel independently extremely limited. That is discriminatory and it's not fair because I want to travel.
"A lot of people wouldn't be able to travel without guards or station staff, and that will surely have a huge effect on revenue. The Government just hasn't thought this through."
What has the NFBUK said?
Sarah Gayton, street access campaign co-ordinator for the NFBUK, said: "How will anybody needing assistance to get a ticket and get on and off a train ever be able to use all of the train services in the UK if theses changes are bulldozed through by Mark Harper? How many people will be excluded from being able to travel by train, creating a two-tier system where those that do not need assistance can travel and those that do will be left behind?
"This is blatant discrimination, taking away the safety, security and accessibility of public transport from people who rely on it as a means of transport, to get to work, to study, to socialise and the many other reasons people take the train to get to places in the UK.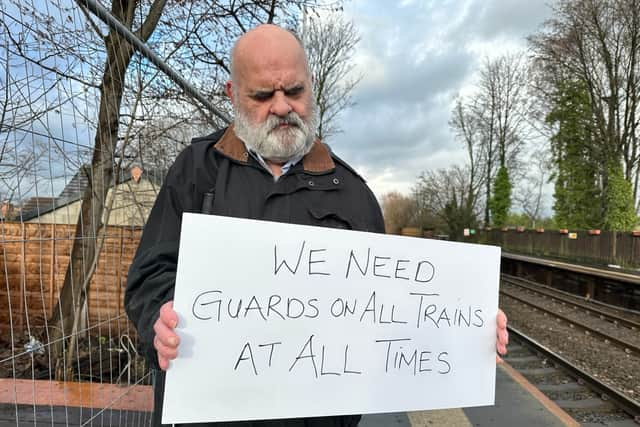 "Making the service safe and accessible for all, will ensure everyone can benefit from face to face customer service and assistance and will ensure all operators will benefit economically from more people travelling.
"Mark Harper has to stop what he is doing. His modernisation plans are unacceptable, unsafe and unworkable. His plans are mean and cruel, which will see even his own constituents being discriminated against if he carries on with his plans to plunge the UK rail travel into the dark ages of discrimination."
What has the Government said?
"Together with industry we want to improve and modernise the experience for passengers by moving staff out from behind the glass of ticket offices and onto stations to provide more face-to-face help and assistance."