Greater Manchester Mayor Andy Burnham has told a major gathering of business and civic leaders from the north of England that it is "unacceptable" for the Government to "impose the wrong infrastructure" on the region.
Mr Burnham's scathing comments about ministers over transport came in one of a number of sessions at the Great Northern Conference 2022 on Wednesday (23 November) at which roads, railways and bus services came under scrutiny.
It has been a very difficult year for Greater Manchester travellers, from delays and disruption in the peak holiday period earlier this year at Manchester Airport to train schedules being cut back and services being cancelled amid long industrial disputes over issues such as pay and job security. Speakers at the conference said bus fares remained "eye-wateringly high" and rail services in the region were "not good enough", while also outlining plans to improve things including the city-region's plans for a London-style integrated public transport system.
What did Mr Burnham say about the railways?
Mr Burnham did not hold back in his criticism of the Government over the issues on the railways as he took part in a session on connecting to create growth in the north at University Academy 92 (UA92) in Old Trafford.
He particularly spoke about the government's changing levels of commitment to Northern Powerhouse Rail, which he said has once again been downgraded from the most comprehensive plans for an east-west intercity route running through Bradford, and the fact that disputes with the trade unions over pay and working conditions which have led to months of strike action have not been resolved.
He also slammed train operating companies over reductions to services, including cuts to the key route between Manchester and London for which Avanti West Coast has been heavily criticised.
Mr Burnham said: "We've been going backwards all summer and into the autumn. To demolish the timetable between London and Manchester overnight, as Avanti did, and then leave it how it has been, just think of the damage that has done to the Greater Manchester economy, it's huge. It's nowhere near good enough. TransPennine Express has had widespread cancellations. Northern is probably a bit better than the others but still has very serious issues.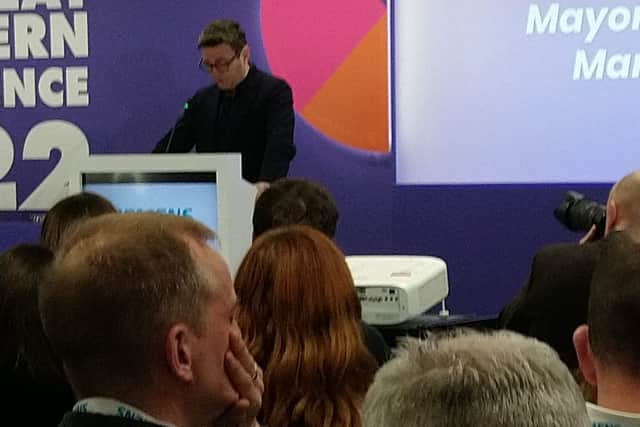 "If this had been happening in London, would it have had more attention? I don't think we've had the focus on this we deserve. It's in the Government's gift to correct it. The Government could solve the current chaos at a stroke by putting the money in and letting the agreements be signed on rest day working.
"Northern Powerhouse Rail has been redesigned again. In a parliament when the north of England is meant to be centre stage, getting priority treatment, we have yes,no, yes, no on the full Northern Powerhouse Rail.
"I don't think it's acceptable for Whitehall to impose the wrong infrastructure on the north of England that will permanently limit the prospects for economic growth for this century and into the next. We can't accept being done to, with second-class citizens, second-class infrastructure and second-class rail services."
At the start of the conference transport minister Mark Harper - who appeared via a recorded video message - said that the Government was going to ensure Northern Powerhouse Rail goes ahead and promised high-speed, electrified rail across the Pennines, as well as saying that HS2 would come to Manchester.
Bill Esterson, Labour's shadow minister for business and industry, said his party would build Northern Powerhouse Rail in full if it won an election.
Local bus and rail services under the microscope
Rail services were also under discussion at a session on solving transport and travel for growth across the north of England. Greater Manchester transport commissioner Vernon Everitt said that since the summer railways were the one area of public transport where passenger numbers are continuing to lag behind pre-Covid levels.
He said: "The reason for that in this region is because of its unreliability. The overall vibe around rail is just not good enough. We're looking to the December timetable change and the promise from Avanti to reinstate the three trains an hour from London to Manchester. In what world is one train an hour from London to Manchester a sensible thing to do? We need those three trains an hour back."
Mr Everitt said bottlenecks in the Greater Manchester railway system also need unlocking, particularly if issues around capacity were to involve increasing the number of trains going into Manchester city centre and stations such as Piccadilly.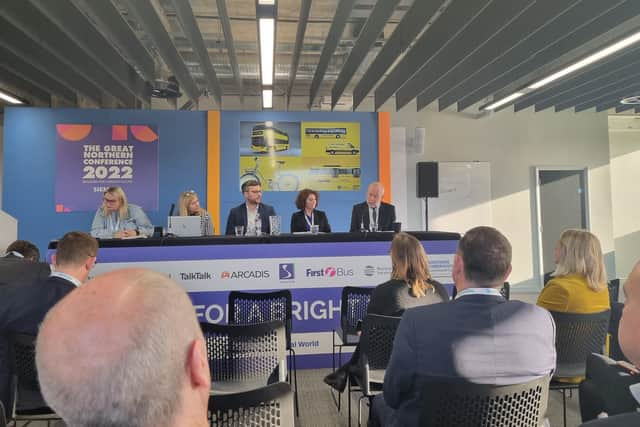 Andy Clarke, the head of public affairs at Manchester Airports Group (MAG), also expressed frustration over railways, saying services were currently so bad that some holidaymakers are actively choosing other airports to avoid flying from Manchester.
Mr Everitt also spoke about the bus franchising system being introduced in Greater Manchester, saying fares were currently "eye-wateringly high". However, Catherine de Marco from First Bus said that an increasingly large proportion of bus riders were using concessionary tickets offering significant discounts, leaving bus companies with a revenue shortfall.
Ms De Marco also spoke about the problems of traffic congestion for buses, saying the average speed of the vehicles on the First network is currently just 11mph.
Mr Everitt said: "The biggest thing that will increase passenger numbers is certainty of journey times. There's no point in using the bus to get to work if it takes 45 minutes one day and an hour and a half the next."
What is Greater Manchester doing for public transport?
The conference also heard about the Bee Network, Greater Manchester's vision for a fully-integrated travel network combining both public transport and active travel.
Currently 60% of journeys in the city-region are made by car, and there is a target to reduce this to 50%. A reduction of one-tenth in the number of car journeys, though, will mean redirecting some one million journeys a day being switched to either public transport or active travel.
The franchised bus system is being rolled out in parts of Greater Manchester next year and is planned to cover all 10 boroughs by January 2025. A new fleet of electrified buses is also being introduced to the network.
What is happening at Manchester Airport?
Manchester Airport has had a particularly difficult year in which it has made headlines for all the wrong reasons, with reports of delays, queues at security and large numbers of flights being cancelled or setting off late contributing to the airport coming bottom in a customer survey conducted by leading consumer affairs concern Which?
However, Mr Clarke said the travel hub was confident that the chaos was now a thing of the past.
He said: "We've had a difficult summer but we're at a point now where we can say you will not see that at Christmas or next summer. As soon as travel restrictions were removed suddenly we saw people with one day's notice booking holidays. People's travel habits have changed.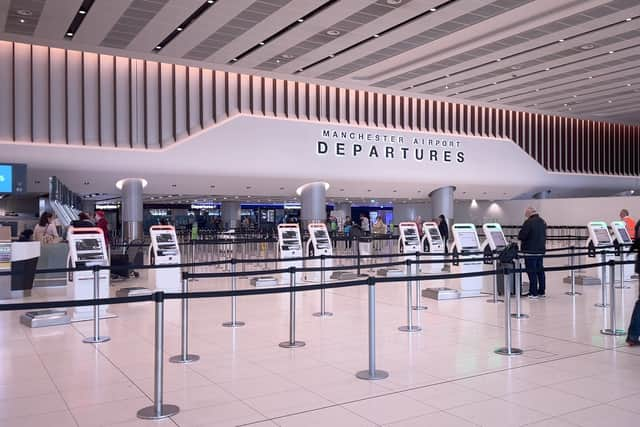 "At the new Terminal Two extension 98% of people are now going through security in less than 15 minutes. We have been working hard to recruit staff."
Mr Clarke said he was proud that the new T2 building contains adverts for the city and its brands for people arriving at the airport to see rather than airline branding, and that it was important for Manchester to have a global getaway point. However, he also recognised that net zero and sustainability pose "an existential issue" for aviation.