Trees Not Cars: group alarmed by plans for Central Retail Park in Ancoats and calls for more green space
The community group Trees Not Cars said plans for Central Retail Park in Ancoats need a rethink after computer-generated imagery based on the report appeared to show huge office blocks dominating the site.
Watch more of our videos on Shots!
and live on Freeview channel 276
Visit Shots! now
A community group in Manchester is calling for a rethink on plans for the former Central Retail Park after computer-generated imagery appeared to suggest the site will become dominated by huge office blocks.
A consultation is currently taking place on plans to develop the Ancoats site which suggest turning the former retail complex into a mixture of office, retail and residential premises along with green space.
However, Trees Not Cars says a resident has fed the data in the report on the plans into computer software and they are alarmed by the images created as a result, suggesting a local school will have its light blocked out by massive buildings.
The group has worked with an architecture concern to come up with an alternative plan focused on creating the larger green space they say is desperately needed in Manchester city centre. Manchester City Council has insisted green space will be at the heart of its plan for the Ancoats location and that it is committed to having more parks and open land around the city.
Why is Trees Not Cars concerned about the plans to develop Central Retail Park in Ancoats?
Trees Not Cars says it has become alarmed about the plans for the retail park, which are the subject of a public consultation running until Tuesday 14 February. It became aware of images created by a resident who used the data in the report to create computer-generated images of what the buildings will look like,
The community group says the development suggested by the images will be one with very large office blocks dominating the area, raising light problems for the marina and a local school. It is urging the council to rethink and to liaise further with it about plans which prioritise green space and tackling issues such as air pollution above anything else.
The group is all the more concerned about the potential for large office blocks at Central Retail Park due to the building work nearby at New Islington Green, which is being turned into an office complex with a green space smaller than the grassland that was there before.
Gemma Cameron from Trees Not Cars said: "It's great progress to see that Manchester City Council has taken note and incorporated some green space into their plans. This is a good start but it's not enough. Significant green space for local families to enjoy is needed.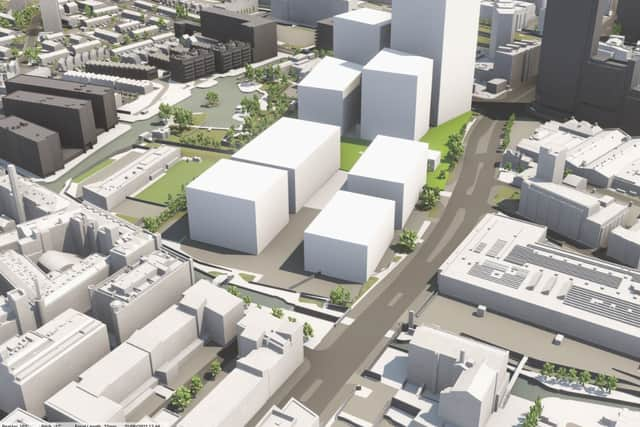 "We still believe Manchester needs more trees and fewer cars for the health of local children, including those in the school. The images showing the stolen light from the school and the marina are quite shocking. We were also taken aback by how much space has been lost in New Islington Green. These plans do not answer the needs of the local community."
Julia Kovaliova from the campaign group said: "You can see from the 3D images that the school has the sun blocked for a good part of the day. It helps people understand how massive the proposed development is.
"It gives a feeling of massive concrete blocks which will change the views of many people around there. The actual green part looks very small by contrast with these buildings.
"We will be surrounded by residential buildings if the revised strategic regeneration framework goes ahead. We need plans that serve local families and residents' needs."
What do Trees Not Cars say should happen now?
Trees Not Cars has worked with Unit 38, an architecture co-operative which is also doing projects in Manchester on community planning with residents from the Aquarius estate and the Block the Block campaign in Hulme on developing plans for the Gamecock pub.
Images created by Unit 38 show a large green space replacing the open land lost at New Islington Green and combining the retail park with the privately-owned Cotton Field Park into an area for sports, play and recreation while connecting Great Ancoats Street to the marina. Trees Not Cars said its plans would also shield visitors to the green space from high pollution levels on Great Ancoats Street by using a natural barrier of trees as well as providing green space that residents living in or near the middle of Manchester require.
Julia said: "I'm a mother of three children, one of whom suffers from asthma. I have been living locally for over 10 years. We have waited for so long to get quality green space, where my children can play safely and enjoy the outdoors away from noise and pollution from traffic.
"Cotton Field Park is too small and is not suitable for young children. Mayfield Park has great facilities, but for a mum with a baby in a pram, the 10-to-15 minute walk can take much longer and the route is not safe with multiple busy roads to navigate and cross.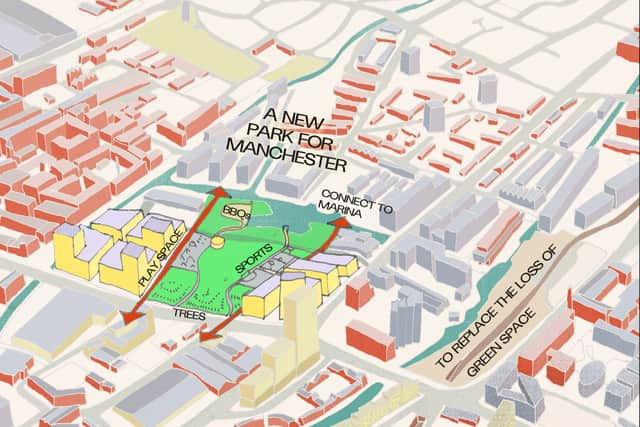 "Manchester City Council has an opportunity here to replace the loss of New Islington Green on the 10-acre site at Central Retail Park. There's such a lack of green space in Manchester and there's land here which could be shared with the proposal for offices.
"We know children have nowhere to unwind after school, they just have to go home. We've tried to be reasonable with this proposal and it's based on the feedback we've had from conversations with local residents, going back to when the car park situation was going on."
A Unit 38 spokesperson said: "Public space shouldn't be privately-owned space between large office buildings but real green open space to replace what is being lost at New Islington Green.
"We are hoping by supporting Trees Not Cars we can demonstrate to Manchester City Council viable alternatives and to make the most of this once in a generation opportunity to create a new park for Manchester. "
What has Manchester City Council said?
Coun Bev Craig, leader of Manchester City Council, said: "We know the benefit access to green space can have for our residents and we are absolutely committed to increasing green space and parks as part of our development plans for the city.
"The new Mayfield Park is a great example of that, alongside the £34m plan for public realm and green space as part of the next phase of Ancoats - which includes the transformation of Ancoats Green, a new children's play area, a 76% net increase in trees and 600sqm of new planting. And the new neighbourhoods being developed as part of the long-term Victoria North programme will each be connected by 46 hectares of high-quality, public green space.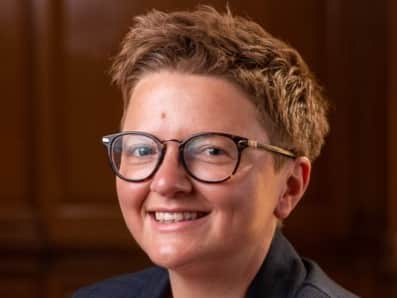 "The proposals for the former Central Retail Park are to develop an exemplar low carbon commercial district, which will have an attractive green space at its heart and generous footways and attractive planting. Trees will be a key part of the public realm plans - along with significant new planting schemes.
"Importantly, the green heart of the site will also open up and celebrate Cotton Field Park behind for the first time, creating a green link between Great Ancoats Street and New Islington."