The campaign group which thwarted council plans to turn a former retail park in Manchester into a massive car park has given its verdict on the latest proposals for the site. Trees Not Cars has set out its view on the plan for Central Retail Park in Ancoats which is currently the subject of a public consultation.
Manchester City Council is getting people's views on turning the former shopping centre into a mixture of offices, retail and residential spaces, as well as dedicated green areas. Trees Not Cars says radical thinking is required on how much greenery is in the Ancoats location and put forward a number of other things which a survey showed residents wanted to see.
What has Trees Not Cars said about the latest plan for Central Retail Park?
Trees Not Cars has expressed concern that the existing mature trees at the retail park may not be retained and is calling on the council to replace any greenery lost and increase the number of trees on the site. The group has also highlighted its survey which showed 87% of respondents said Ancoats needs high-quality play areas for children and 99% said there should be "significant green space" at the former retail park.
Trees Not Cars also said that after the extreme record-breaking temperatures experienced in Manchester in 2022 preparing for warmer summers and dealing with the impact of climate change needs to be a central concern of development.
The group wants to see play areas for families, trees for urban canopy cover, living walls and sky gardens to help water evaporate into the atmosphere from the surface, living movable moss walls which it says would help clean the air on Great Ancoats Street which has high levels of pollution, and some kind of water feature.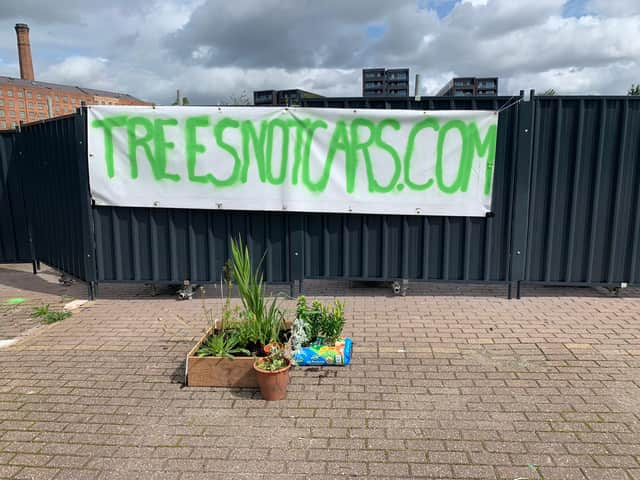 A Trees Not Cars spokesperson said: "We need radical ideas, and we need them now. The new design should prioritise making the area cooler, the air cleaner and being a place for families and residents to enjoy. Let's not shy away from being nouveau with the latest architecture that will adorn the former Central Retail Park, and let's make it future-proof and something to be proud of that other cities will be inspired by.
"For now, we will approach this with a healthy dose of scepticism because it's not a park or 'garden' until it is."
Trees Not Cars said that while the council often talks about the opening of Mayfield Park, that is already busy and more residential development is planned for the future, meaning it will not be enough green space for the area on its own. The group says it will be attending the consultation events and urging the public to make more radical demands of council planners for the site.
Trees Not Cars won a judicial review against the council in 2021 preventing the retail park being used as a huge car park. Formerly home to big high street names including Toys R Us, it was bought by the council in 2017 and closed as a shopping venue in 2019. During the Covid-19 pandemic it was a temporary testing site, while last year skate enthusiasts built a DIY facility there.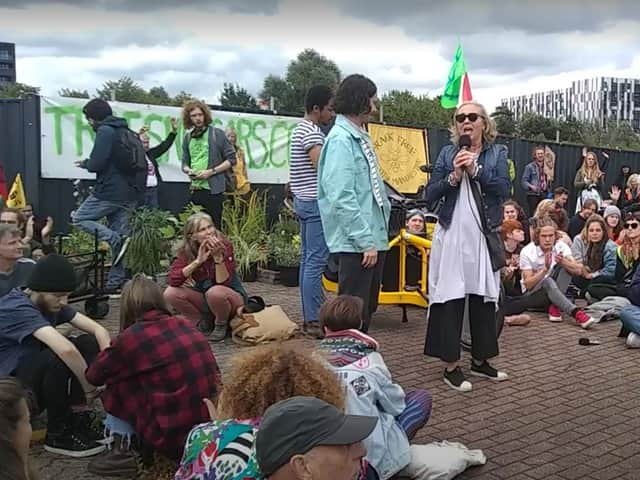 Julia Kovaliova from the group said that previously masterplans for the site prioritising green space had been drawn up by architects interested in its possibilities, including one by a group of students from the Manchester School of Architecture. She said she hoped these and the views of the public which Trees Not Cars have collected will be heard when the council makes its decisions and expressed the hope that the group can work positively with the ward councillors.
She said: "People in Ancoats and Manchester city centre want a park on their doorstep. They are happy with Mayfield but it's too small. They are happy with Philips Park but it's too far. Children here don't have anywhere to play after school. They have to cross Great Ancoats Street and go through the industrial Piccadilly area to reach Mayfield or walk 40 minutes to Philips.
"There's a 10.5 acre site on their doorstep and only a little bit is being shared with the public. I don't think it's fair.
"This is a call for hope and for the council to listen to people now. Previously we have not been listened to when there have been hundreds of objections to plans for Central Retail Park and I fear it will be the same again. I want to avoid that.
"Climate change is a big issue now and every day is another day lost for our planet."
What has the council said?
Coun Bev Craig, leader of Manchester City Council, said: "We know the benefit access to green space can have for our residents and we are absolutely committed to increasing green space and parks as part of our development plans for the city.
"The new Mayfield Park is a great example of that, alongside the £34m plan for public realm and green space as part of the next phase of Ancoats - and the new neighbourhoods being developed as part of the long-term Victoria North programme will each be connected by high-quality, public green space.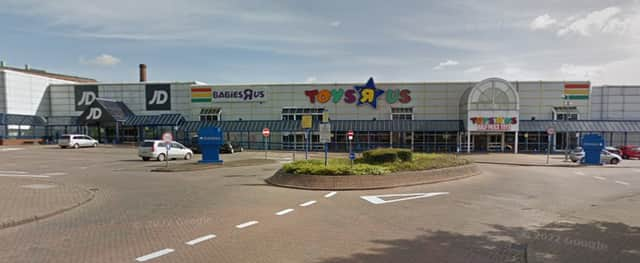 "The proposals for the former Central Retail Park are to develop an exemplar low carbon commercial district, which will have an attractive green space at its heart. Trees will be a key part of the public realm plans - along with significant new planting schemes throughout the site.
"Importantly, the green heart of the site will also open up and celebrate Cotton Field Park behind for the first time, creating a green link between Great Ancoats Street and New Islington."
The council says the current consultation runs until 14 February and urged the public to have their say. You can look at the plans and give feedback on the council's website here.