A Manchester tech writer who launched a blog about Apple while still a secondary school pupil has celebrated a decade of his online publication.
Tom Sykes started The Apple Post to write about things connected to the Silicon Valley giant founded by Steve Jobs when he was just 15. Since then the publication has grown and broken exclusive stories about the company while also taking on a small team of contributors, and Tom even met his partner through the site.
Tom is also dyslexic and struggled massively with reading and writing when he was at school but has succeeded as a writer of content for his site.
He reflected on a decade of writing about Apple and his hopes for the second decade of the website.
How did Tom found The Apple Post?
Tom started The Apple Post as a teenager in Year 10 at high school as a way to combine his interests in technology, English and journalism. He began posting on a Facebook page about Apple news and things that interested him generally in the world of tech.
Initially being encouraged by friends and family, Tom saw his posts gradually grow in popularity as the number of viewers climbed first into the hundreds and then into the thousands.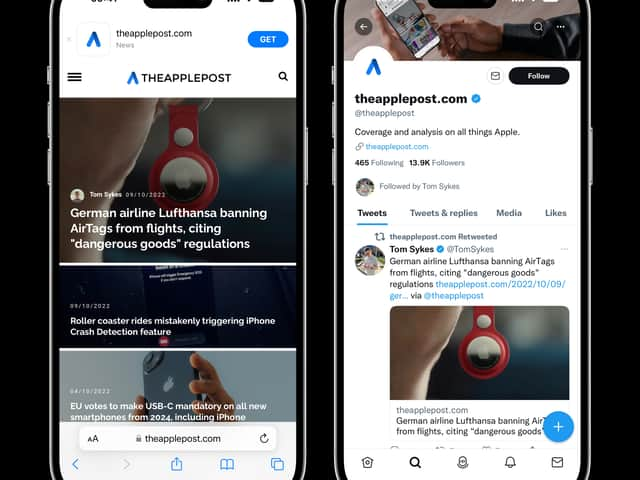 Shortly after that he realised he needed a dedicated website to cater to the increasing numbers of people interested in what he had to say about tech and Apple's products and The Apple Post was born.
Today Tom has a team of four contributors helping him with the site and he combines The Apple Post with a web role for his work.
Tom, 25, said: "Wherever there's WiFi I will end up working. I can usually be found behind a Mac, I'm usually glued to a screen."
What has The Apple Post written about and how does Tom feel about the site's 10-year anniversary?
In its first decade The Apple Post has written about a wide variety of Apple and tech-related news, with some of its stories going on to appear in large national publications. Tom says one of the highlights of the site so far came when he obtained leaked information about the company's new multi-billion-dollar office in America.
He has spoken to the company's CEO Tim Cook by email after the entrepreneur received abuse on social media about being a member of the LGBTQ+ community. However, Tom admits that he is still waiting for a big interview with Apple's main man.
Tom reflected on how far he has come in 10 years of The Apple Post and what he hopes to accomplish in its second decade.
He said: "It's quite surreal to look back and think about where I was 10 years ago. I've achieved a lot and I've met and reached a lot of interesting people along the way.
"I'm really proud of what The Apple Post is. By no means are we the biggest in the field but I started from nothing and we've established ourselves within the Apple community.
"It just started from a passion for Apple and an interest in journalism. Ten years later I'm proud of everything we've achieved and what the contributors have done. Now we can look back 10 years down the line and realise we have done a lot.
"I just want to continue doing what we are doing and what has made us successful, publishing high-quality content and not fall into the pressures of clickbait. I also want to not forget where we came from and continue interacting with our readers. I always try to reply to comments and respond to tweets. We've built a cult following and I want to keep that alive."
A project that has had a personal impact
The Apple Post has played an important role in Tom's personal life as well. He met his partner Deanna, who is preparing to move from Bristol to Manchester shortly, when her brother became a contributor and he says that pretty much all his friendships came through the site.
Tom also has dyslexia which he admits initially made it tough for him to consider writing as something he could do well and makes him mindful of how and what he publishes.
He said: "I left school with no useful GCSEs and never once did I dream that I would be in a position to write to millions of people.
"When developing The Apple Post I've tried to make sure it is easy to read and understand and has easily-digestible information. Struggling a lot with reading and writing at school means I do keep that in mind."