Many travellers heading through Manchester Airport have faced issues this year - and now data has revealed which were the worst and best airlines for punctuality at the trouble-hit travel hub.
It shows there was huge variety in performance - with major airlines having everything from three-quarters or more of their flights leaving on time to barely over one in three leaving without experiencing some form of delay.
We've taken a look through the numbers to see what holidaymakers and travellers heading out of Manchester have experienced in the first four months of this year.
What does the data show for Manchester Airport?
Of the major airlines used regularly by holidaymakers, TUI Airways had the worst punctuality statistics between January and April by some distance.
Out of 2,506 flights which departed from Manchester between January and April, just 34.8% of them left on time.
A massive 65.1% of the airline's flights were delayed, meaning 1,631 did not set off at the scheduled time.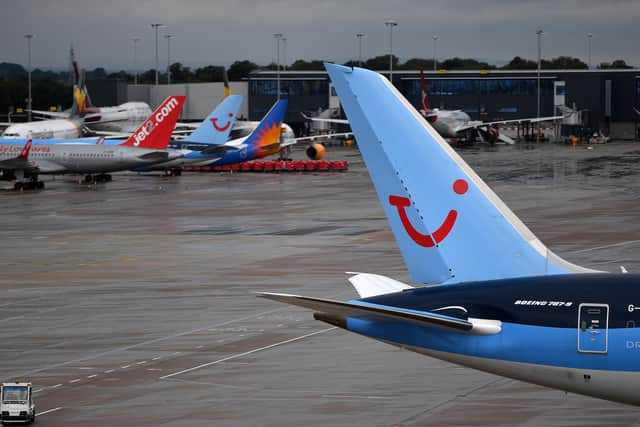 British Airways had a punctuality rate of 60.9%, with 825 of its 1,354 flights leaving on time.
That, though, still meant more than one in three BA flights between January and April departed from Manchester with a delay,
And the airline experienced 60 cancellations (4.4% of all its scheduled flights).
Ryanair had a punctuality rate of 65.5%, with 6,771 flights on time and 3,527 (34.1%) delayed.
EasyJet had 76.6% of its 7,716 flights depart on time, with 22% delayed and 1.3% cancelled. Given the volume of flights from Manchester EasyJet operates, though, that means 102 flights were axed.
Jet2 fared the best of the well-known carriers, with 77.8% of its flights leaving on time and 21.6% delayed.
Among the other airlines which had more than 1,000 scheduled flights between January and April, the punctuality rates were 79.6% for Aer Lingus, 78.6% for Loganair and 77.1% for Lufthansa.
Virgin Atlantic had 944 scheduled flights from Manchester in the first four months of the year and its rate for planes leaving on time was 70.3%.
As with previous CAA datasets analysed by ManchesterWorld and NationalWorld, a flight that is delayed is one that sets off more than 15 minutes after its scheduled time, while cancelled refers to flights scrapped within 24 hours of them being due to depart.
What has been said about the airport?
ManchesterWorld has previously looked at how many flights as a whole were on time, delayed or cancelled between January and April this year.
In response to this Manchester Airport said it was disappointing that so many passengers had not had a smooth experience when going through the travel hub.
However, it also said that there was a complicated series of factors that added up to people being delayed, including technical issues, staff sickness, late arrivals of flights into Manchester, adverse weather, and global air traffic control delays.
It said airports across Europe had experienced problems this year but it was working with airlines, handling agents and air traffic control to minimise disruption as much as possible.
TUI has been approached for comment about the punctuality data.