Manchester Airport was UK's worst for flights leaving on time at the start of this year, data shows
Data for the first three months of the year shows how many flights departed on time, how many were delayed and how many cancelled entirely.
Watch more of our videos on Shots!
and live on Freeview channel 276
Visit Shots! now
Manchester Airport had fewer flights leaving on time in the first three months of the year than any other UK airport, data shows.
Our sister title NationalWorld has been looking at how many flights across the UK departed punctually, were delayed or were cancelled in January, February and March 2022.
The data, from the Civil Aviation Authority (CAA), also shows how airports were coping compared to travel pre-Covid and how the numbers of planes taking off has changed.
The data comes as passengers have faced weeks of travel misery at Manchester Airport, which has rarely been out of the headlines due to staffing shortages causing long queues at check-in and security and in the baggage halls.
The airport said there was a combination of factors that influenced whether flights left on time or not.
What does the data show?
The CAA data shows that in the first three months of 2022 Manchester Airport had 72.3% of its flights leave on time.
This was the lowest percentage across the 26 airports in the UK which are included in the statistics.
Just over one in four flights (26.2% to be specific) experienced some form of delay. Only Doncaster Sheffield Airport had a higher percentage of planes leaving late.
And 1.4% of the scheduled flights from Manchester were cancelled.
When delays and cancellations were combined, Manchester Airport had the worst overall performance of the 26 UK airports being looked at.
A flight was counted as delayed if it left more than 15 minutes after its scheduled departure time, while cancelled flights refer to those which were axed within 24 hours of when they were due to set off.
By way of comparison with pre-Covid times, in January, February and March 2019 Manchester Airport had 77.1% of flights leave on time, with 21.9% delayed and 1% cancelled.
Pre-pandemic the airport was also handling far larger numbers of flights than at the start of this year, with 40,386 flights in the first three months of 2019 compared to 25,173 in the first quarter of this year.
Manchester Airport said that early in 2022 the Omicron variant of Covid-19 was still affecting how many flights there were, and said that in the months since flight numbers have almost rebounded to pre-coronavirus levels.
What has the airport said?
A Manchester Airport spokesman said: "On-time performance can be affected by a range of factors such as weather, technical issues, staff sickness and global air traffic control delays.
"We work closely with our third parties on site - airlines, handling agents and air traffic control to minimise delays as far as reasonably possible."
Why have passengers been encountering issues this year?
The venue has had to launch a massive recruitment drive to fill roles, and there has been criticism of airports and airliners alike from both Government ministers and trade unions.
However, official figures haven't yet been released for the Easter and spring half-term holidays, which is when holidaymakers have faced much of the disruption.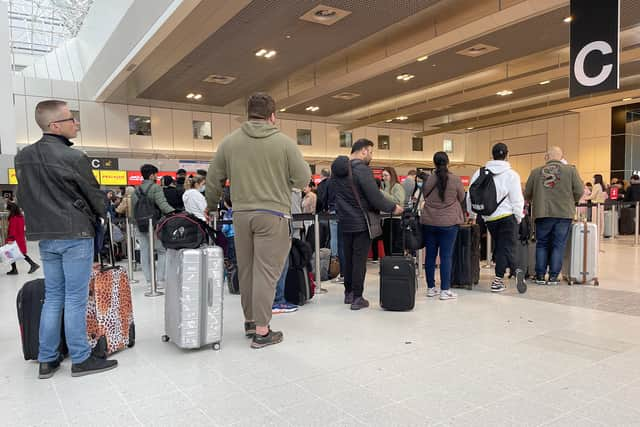 Across the UK as a whole, though, there was a greater percentage of flights cancelled in the first quarter of 2022 than in the corresponding time period in 2019, with 1.5% of flights axed compared to 0.9%.
The CAA attributed this emergence of the Omicron covid variant before Christmas, which a spokesperson said "led to many flight cancellations and some key European markets imposing bans on UK travellers".
Are airports busier than usual?
Many people have been keen to return to taking trips abroad after years of lockdowns and restrictions.
But the figures for the first quarter of 2022 show passenger numbers were still far below pre-pandemic levels.
Overall, 31.4 million passengers flew in and out of the UK between January and March this year, a 42% fall in passengers compared to the same period in 2019, before the coronavirus pandemic.
Aviation experts say it is a lack of trained and vetted staff, both within airports and on airlines, that is at the root of the problems.
The Airport Operators Association (AOA), the trade association representing the interests of airports across the UK said: "Airports anticipated it would be challenging at peak times as the industry seeks to re-start and have had big recruitment campaigns underway since before the start of this year.
"But until the restrictions were lifted, uncertainty about the future of travel made this difficult. Since then, there has been a very positive response and airports are now seeing additional staff completing the required vetting and training, and being deployed.
"As a result, while queues may be longer at certain times at some airports, most passengers are getting through airport security – and away on their holidays – smoothly.
"The focus now must be on continuing to improve the service to customers. Airports are working closely with airlines and ground handling companies to facilitate check in, baggage handling and on-time departures.
"We will work closely with them and with government to ensure we are ready for the summer getaway – the first proper summer holiday period since the start of the pandemic."