A Stockport woman who endured a nightmare 21-year wait for a diagnosis of endometriosis while suffering excruciating symptoms is baring all for an art project raising awareness of the hidden condition.
Lakshmi Hariprasad started experiencing pain aged just 11 but it was not until her 30s that she realised she was having issues because she has the condition which causes tissue like that in the womb to end up in other places in her body.
The condition has taken a major toll on Lakshmi, including a miscarriage and the breakdown of her marriage, but she is one of many women who face long waits for diagnosis and treatment, with a study showing on average it takes eight years to conclude someone has endometriosis.
Now, to coincide with Endometriosis Action Month, Lakshmi is taking part in project in which people with the condition work with body painters to turn their skin into canvases for artworks reflecting their feelings about it.
What happened to Lakshmi Hariprasad and how did she get diagnosed with endometriosis?
Lakshmi, who now works as a business analyst, endured a 21-year wait for a diagnosis before finding out that endometriosis was the cause of her severe pelvic and rectal pain and bowel issues.
She began to experience the agonising symptoms aged just 11 but she was in her 30s by the time endometriosis was finally diagnosed. By then she had suffered a miscarriage, her marriage had broken down and she had also been incorrectly told that she had a wheat allergy.
After two failed surgeries in the space of four years, Lakshmi made the tough decision to opt for a total hysterectomy, the most drastic option open to her.
Her first surgery was in 2015, and though she said this did ease the pain, which she described as so "excruciating it was hard to even breathe, let alone move", it returned around six months later. She returned to the operating theatre for a four-hour procedure in 2019 which left her symptom free for almost 10 months and able to come off her regular cocktail of painkillers.
But in summer 2020, the rectal pain came back, and scans the following year showed that adhesions from her last operation had caused her bowel to fuse with her uterus.
Lakshmi, 39, said: "My periods were agonising and heavy, and I also had serious bowel problems with alternating constipation and diarrhea. When I was 26, I started with debilitating rectal pain, which led me to seek help. But unfortunately I was given the wrong advice and was reassured that if I stopped eating wheat, everything would settle down.
"The pain was so excruciating that it would be hard for me to even breathe, let alone move. Once, at work, a cleaner found me propped up against a wall in the corridor - I'd been trying to get to the bathroom but the pain was so great I couldn't take another step."
Endometriosis causes cells similar to the ones in the lining of the womb to be found elsewhere in the body. Each month these cells react in the same way to those in the womb, building up and then breaking down and bleeding.
However, unlike the cells in the womb that leave the body as a period, this blood has no way to escape and causes pain, scarring and inflammation. Symptoms can include chronic pain, fatigue, painful intercourse and infertility.
An inquiry published in 2020 found that it takes on average eight years from the onset of symptoms to get a diagnosis. And despite being a hidden condition it is common, thought to affect around 1.5 million people in the UK.
What is the art project Lakshmi has taken part in?
To help raise awareness of the condition during Endometriosis Action Month, Lakshmi is one of 10 women from Greater Manchester with the condition taking part in Endomorphosis, a project run by Cabasa Carnival Arts. The women, who are aged between 20 and 39, worked with body painters to transform their skin into canvases for artworks reflecting their feelings about endometriosis.
The photographs were taken by lenswoman Eveline Ludlow and are now on display until 25 March at Gallery Oldham, where they can be seen for free.
Lakshmi described the impact of seeing the pictures after living with endometriosis for so long.
She said: "Having suffered from endometriosis for so many years, I wanted to try and do my bit to raise awareness of the condition. I've also struggled quite a lot with body confidence for the majority of my life, so doing something like this felt like a real leap of faith and a test of myself.
"My relationship with my body has, I suppose, been troubled. I often feel betrayed by it, sometimes angry and often ashamed - I don't like to admit I'm suffering in front of others so I hide it by making jokes or minimising my pain. The things I have to do constantly every day - do I have painkillers? Can I leave the house? - is exhausting and draining, and trying to explain this to people who aren't chronically ill can be very difficult.
"I'm working through all of this with therapy, and I've made significant progress in that regard. But I think I will always mistrust my body.
"Looking at these photos now, I am so proud of myself, and the other wonderful participants, for being so courageous and so open. I can look at my body and feel validated and confident, and the fact that I could still smile and have a good time when I was so unwell allowed me to acknowledge the strength and resilience I possess. I feel beautiful, for perhaps the first time in my life."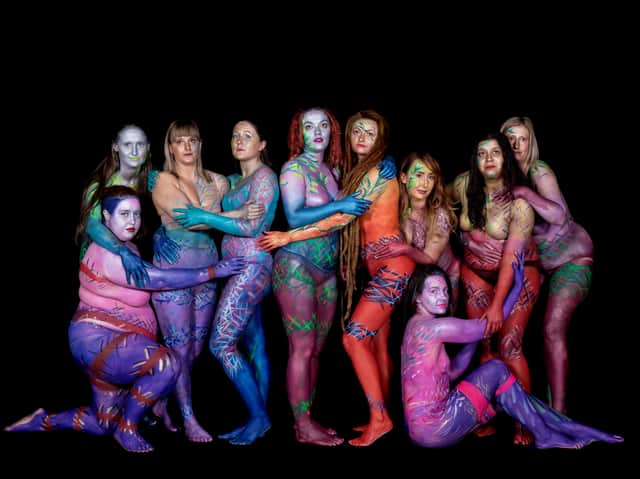 Cabasa Carnival Arts director Emily Wood, 40, also has endometriosis. She said: "Endometriosis is a whole-body disease, both physically and mentally, so I wanted to create a project which represented that. By delivering this project myself as an artist and painting a group of women who have been on a similar journey and seeing them transform was even more powerful than I could have imagined.
"Your whole body goes through so much and for me it led to negative thoughts and feelings about my body that became detrimental to my mental health and well-being.
"We have brought together a group of incredible women with endometriosis and local artists as part of Endometriosis Action Month. In these collaborative sessions, participants shared their experiences and explored how body painting could best represent them and their stories.
"We finished the project with a day of body painting and captured some amazing and powerful images, which participants can hold onto forever."
The Oldham art gallery is open for people to see the pictures between 10am and 5pm Tuesday to Saturday. The organisation is now looking for a second group of people with endometriosis to create more pictures, with the body art being captured by former Manchester City photographer Sharon Latham. You can find out how to get involved on Cabasa's website.