Sarah De Meulemeester: GMP officer who hit teenager with police car in Stockport could face jail
Sarah De Meulemeester has been warned she could face jail after being found guilty of causing serious injury by dangerous driving when she left a teenager with brain damage.
Watch more of our videos on Shots! 
and live on Freeview channel 276
Visit Shots! now
A speeding police constable who ploughed into a teenage boy leaving him with catastrophic brain injuries has been warned she may be sent to jail after being found guilty of causing serious injury by dangerous driving by a jury.
Khia Whitehead, then 15, was struck by PC Sarah De Meulemeester's liveried police car as she sped along on the wrong side of a traffic island on her way to a serious domestic violence incident in Stockport. The court heard that she was not sufficiently qualified as a police officer to set aside the usual rules of the road at the time.
The collision initially left Khia in a persistent vegetative state and though there has been some improvement he will now need round-the-clock care for the rest of his life, the court was told.
De Meulemeester, 26, admitted careless driving but denied causing serious injury by dangerous driving. However, following just two and a half hours of deliberations a jury at Liverpool Crown Court on Friday morning (21 April) convicted her of the more serious offence.
What happened in court when Sarah De Meulemeester was found guilty?
Judge David Aubrey, KC, told Greater Manchester Police (GMP) officer De Meulemeester, of Mill Court in Chinley in Derbyshire, that he would adjourn sentencing until 19 May to enable a pre-sentence to be prepared. He told her it could not be ruled out that she would be sent straight to jail and it was likely she faced a lengthy ban from the road.
"You will be granted bail, however all options including immediate custody remain open to the court and at the forefront of my mind has to be in accordance with legal principles such as sentencing, not withstanding your impeccable character, but I will consider all matters on May 19," he told her.
"Meanwhile you will be on bail but you are now disqualified from driving until May 19 and it is extremely likely beyond that date."
De Meulemeester showed no emotion when the jury returned their unanimous verdict but friends and family of Khia were emotional and hugged and kissed. The judge praised them for their "impeccable" behaviour during the week-long trial.
What happened in the incident that led to the court case?
The jury heard that that the tragic incident happened at about 9.30 pm on Boxing Day 2020 on Garners Lane in Adswood in Stockport. The night was a dark and rainy one, the court was told.
The defendant was a student officer and classed as a basic police driver, who must drive in accordance with the Highway Code and are not authorised to use police exemptions such as contravening keep left signs and speeding, prosecuting barrister Jonathan Sandiford KC told the court.
Her car was one of three police cars deployed that evening following a 999 call that a son was being violent towards his mum. After they set off to the Grade I incident further information was received that he had a knife.
The defendant's Peugeot 308 was initially in the lead but shortly before the collision she was overtaken by her colleague PC Michael Blakey who was authorised to a "response level", meaning he was permitted to exceed speed limits and disregard 'keep left' signs.
A few seconds before the collision, when she was in second position of the three police cars, De Meulemeester was travelling at 61 mph in a 30 mph zone on Adswood Road.
"Immediately before the collision she was driving her vehicle at 50 mph, but braked reducing the speed of her vehicle to 42 mph. At the point of the collision she was travelling at 37 mph," Mr Sandiford told the court.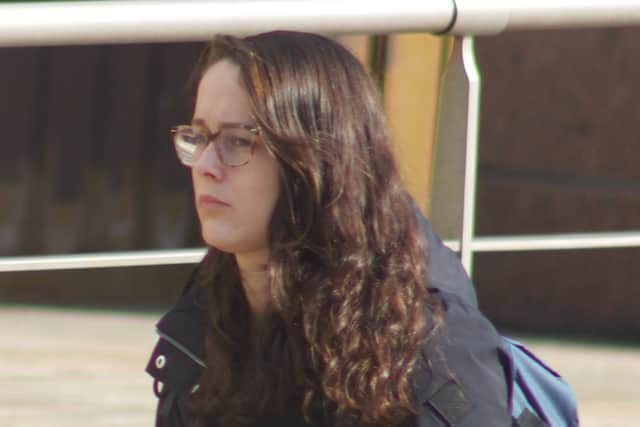 He said that she braked not because she had seen the boy but so she could drive the wrong way around a 'keep left' bollard and a traffic island and onto the wrong side of the road.
Mr Sandiford said that Khia and a friend had travelled down Arnfield Road and had crossed half way across Adswood Road and were stood in the hatched markings in the lea of the traffic island.
Both boys saw the first police car with blue flashing lights activated and both waited for it to pass. Khia's attention remained on the first police vehicle and he was still looking at it when he stepped out in front of the defendant's car.
"Khia had not expected or realised that there was a second police vehicle, nor anticipated that it would be driven on to wrong side of the road, the side of the road that he was trying to cross," said Mr Sandiford.
CCTV footage of the collision was played to the court during which several women in the public gallery broke down in tears.
The impact sent the teenager sliding along the road and the third police car, travelling close behind he defendant, forced to mount the pavement to avoid hitting him or the back of De Meulemeester's car. The court heard about the life-changing impact the collision has had on Khia.
"His injuries continue to severely impair his cognitive physical and behavioural functions, such that he will require 24-hour specialist nursing care and specialist therapy for the rest of his life," Mr Sandiford told the jury.
What did Sarah De Meulemeester say in court?
Belgian-born De Meulemeester, who achieved her ambition of joining the police in July 2019 after graduating from De Montfort University in Leicester, admitted in court that she had been speeding and driving carelessly.
Asked how she felt about causing the teen's injuries she said, "Horrible. There is no words. I know no matter what I say there is nothing that can put it right. No words I can ever ever say will express how sorry I am for that happened."
Asked by her KC David Temkin why she had been travelling that fast she replied: "I wasn't aware that was how fast I was going. I was just trying to get to the incident. I wasn't paying attention to how fast I was going."
She said she accelerated after her colleague overtook her as he "was pulling away into the distance and I was worried he was going to this violent person, who had a knife, on his own."
The defendant said at the junction of Adswood Road and Garners Lane she saw PC Blakey go round another car. "I slowed down expecting that car to move off again so I stayed behind the car but it did not move off, it stayed stationary, so I moved out into the other lane to overtake it.
"As I got to the bollard I was forced to go round it. I did not have enough space to get back on the normal side of the road. I stayed on the offside."
She said that when she saw Khia and his friend as she was passing the traffic island she started braking. She did an emergency stop and when she got out of her car she realised what had happened and was "distraught."
What has the IOPC said?
The IOPC said it received a mandatory referral from Greater Manchester Police about the incident and investigated by reviewing CCTV footage of the journey, looking at body-worn video from the officers, listening to police radio transmissions and obtaining statements from witnesses and the drivers of the police vehicles.
The IOPC said it then passed a file of evidence to the Crown Prosecution Service (CPS) which decided De Meulemeester should be put in the dock. In addition, the organisation said De Meulemeester and a second officer will have to answer a case of gross misconduct in relation to their driving prior to the collision with Khia. GMP will have to arrange those misconduct hearings in due course, the IOPC said.
IOPC regional director Catherine Bates said: "This incident has had a catastrophic effect on the lives of Khia and his family and the last few years will have been incredibly difficult for them.
"That PC De Meulemeester was responding to an emergency does not excuse the dangerous actions that have irrevocably changed the life of Khia, who was simply trying to cross the road.
"Her conviction will not erase the hardship he and his family have endured, and will continue to endure, but our independent investigation has ensured the officer responsible has been held accountable for her actions."