Anugrah Abraham: family of trainee police officer from Bury want IOPC investigation into bullying allegations
The family of Anugrah Abraham, known as Anu, have called on the IOPC to lead an investigation following his death, aged 21.
Watch more of our videos on Shots!
and live on Freeview channel 276
Visit Shots! now
The family of a trainee police officer from Greater Manchester who died aged 21 claim he was subject to "bullying and racial discrimination" and have called for an independent investigation.
The death of Anugrah Abraham, who was known as Anu, is currently being looked into by West Yorkshire Police where he was a trainee but his grieving relatives say they want the Independent Office for Police Conduct (IOPC) to do the investigation.
Anu's family allege his treatment in the workplace had a serious impact on his mental health and wellbeing in the time before he is believed to have taken his own life. The family have also criticised the way Greater Manchester Police (GMP) handled Anu's disappearance at the start of March. Organisations in Manchester are supporting them in their pursuit of an independent probe.
Meanwhile the IOPC has explained its procedure and when it will get involved in cases, while the force where Anu was a trainee has offered its condolences and said in a statement they take "allegations of bullying and discrimination within the workforce very seriously."
Anu's time in the police
Anu's family said he was a trainee officer with West Yorkshire Police as part of his degree in policing at Leeds Trinity University. His family supported his move into the police though they admitted having misgivings about whether or not this was the right path for Anu.
Anu, who was from Bury, did six months of training in Wakefield at a police college before moving home and beginning a posting at Halifax police station from October 2022.
His family say they have concerns about how he was treated while he was at the station. They claim he was asked to deal alone with serious and sensitive cases within just a few weeks of starting at the station and received little to no support to handle these. They also say he was shouted at in front of everyone after arriving a few minutes late for a shift.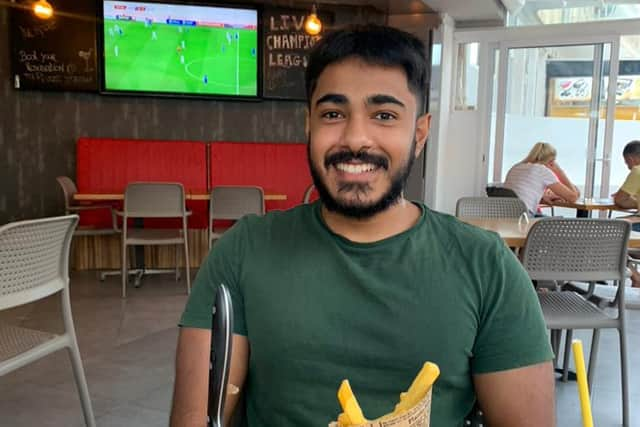 When he suffered a back injury at work he was advised he would only be offered physio, and he continued to turn up for shifts dosed up on painkillers because he was afraid of getting sacked, his family allege.
Anu's family said he had discussions with his university tutor and his line manager at the police station about being unable to cope with the demands being placed on him and, after his mental health began to deteriorate, he spoke to his union and was offered counselling, although by that point he had started to forget things and the support discontinued after he missed a session.
Anu's family believe the stress of the placement started to have a serious negative impact on him, including experiencing terrifying nightmares. He took a fortnight's break from work in February and seemed happy and relaxed but friends he spent time with said he referred frequently to feeling tired. However, on the day before he was due to return to work he went missing, and his body was found by a dog walker the following day (4 March).
What has Anu's family said about his death?
Anu's family believe that Anu took his own life and that his experiences in the police were linked to his mental health declining so drastically in the final weeks and months of his life.
They have also criticised GMP for how the force handled the search for Anu after he went missing. The family say GMP did not put out information that Anu was missing on social media, did not get the police helicopter out to look for him and would not conduct a search of the woodlands near where he was last seen at night.
In a statement Anu's family said: "Our son went from being a happy young man, proud to be a serving police officer, to becoming increasingly unconfident and anxious.
"There were numerous incidences where he was shouted at publicly in front of other work colleagues, instead of receiving any constructive criticism regarding his duties. He was sent out to incidents alone and there was little or no consideration of the fact that he was working within a team and area, where he was the only young officer of Asian extraction, and might need external support...
"He became nervous about going to work and did not feel that he was a valued member of his team. A diligent student, his academic learning began to suffer as he became more and more anxious about his working situation. We noted his increasing unhappiness and offered him support even suggesting that he could leave the force and start afresh in other employment."
The family added they will not rest until they get answers.
What have other organisations supporting the family said and what do they want to happen now?
In a joint statement released as part of sharing Anu's story and his family's experiences, Kids of Colour and the NPMP said: "What Anu went through is really harrowing. It is a devastating story.
"Anu's family and friends are understandably broken. They feel their son's life was taken by a police force that continued to tear him down, treatment they cannot detach from his experience as a racialised officer... Anu's family want to make clear that the fight they are taking on in Anu's death is about the institution(s) of policing, and the complicity of universities attached to such degrees."
The family has also set up a crowd-funding page to help pay for Anu's funeral costs and potential future legal costs, and campaigning work on issues related to his death, which can be found on GoFundMe.
What have the organisations involved in this story said?
The IOPC explained how it has handled the referrals it has received related to Anu's death and when it will investigate itself rather than pass matters back to individual forces for an internal investigation. It said Anu's family will have the right to refer cases to the IOPC after this has been done.
An IOPC spokesperson said: "Following a referral from West Yorkshire Police of a complaint containing allegations of bullying, we directed the force to carry out an investigation.
"The complainant will have the right to have the force's handling of the matter reviewed by the IOPC upon conclusion of the investigation, ensuring an appropriate level of independent oversight should it be required."
On the subject of Anu's disappearance and the family's concerns about GMP's handling of it, the spokesperson said: "We received a mandatory referral from Greater Manchester Police following the death of a 21-year-old man, due to the fact he had been reporting missing the day before his body was found. Our thoughts are with his loved ones and all those affected by his death.
"Following a detailed assessment of the available information, we identified evidence of positive action taken by the force to locate the man upon being made aware he was missing. In light of this, and in the absence of any concern that police action may have caused or contributed to the man's death, we determined an investigation was not required and returned the matter to GMP to deal with in a proportionate manner."
A spokesperson for West Yorkshire Police said: "West Yorkshire Police takes allegations of bullying and discrimination within the workforce very seriously and is committed to investigating such reports.
"The force has referred itself to the Independent Office for Police Conduct who deemed it appropriate that a local investigation is undertaken. This is currently being conducted by the Professional Standards Directorate. We are unable to issue any further comment pending the completion of the investigation."
A spokesperson from Leeds Trinity University said: "We are deeply saddened by the tragic death of Anugrah, who was completing his police constable degree apprenticeship with West Yorkshire Police and the university. Our thoughts are with his family and friends at this extremely difficult time.
"We take our students' welfare very seriously and offer a dedicated student support service seven days a week, with full information available on the myLTU platform. We will continue to work closely with our partners to support further enquiries into this tragic incident."
DCI Dave Jones, of GMP's Professional Standards Branch, said: "On behalf of Greater Manchester Police, I send the sincerest condolences to the loved ones of Anugrah following his death in March 2023.
"In line with normal procedure, the incident response was referred to GMP's Professional Standards Branch and the Independent Office of Police Conduct for review. The conclusion was that GMP had not caused or contributed to Anugrah's death and that the force had responded appropriately to the missing person's report.
"The force has not received a complaint in relation to this case. As inquest proceedings remain active, it would be inappropriate to comment further at this time."
Samaritans are there to listen and can be contacted for free at any time on 116 123. The organisation provides a listening service for anyone needing someone to talk to is and completely non-judgemental. Other ways of getting in touch can also be found on the Samaritans website.