Sahba Music Academy: the Manchester venue teaching and celebrating Persian culture and music
Sahba Music Academy, in Levenshulme, is the home of a number of Persian music ensembles and offers lessons on Iranian and Western instruments.
Watch more of our videos on Shots! 
and live on Freeview channel 276
Visit Shots! now
In geographical terms it might be quite a long way from the Middle East to Manchester - but the Sahba Music Academy has brought a small slice of Iran and its culture to the city.
Based on an industrial estate in Levenshulme, Sahba Music Academy brings the musical traditions of Iran as well as neighbouring countries from Turkey to India to Manchester with instrumental and vocal lessons as well as a number of groups which perform in concerts and at festivals. Since moving to its latest premises almost four years ago the centre has also become something of a hub for the Iranian community in Manchester and from further afield to get together for celebrations in the cultural calendar.
ManchesterWorld headed down to Sahba - which means wine - to listen to the music and meet some of those behind the centre's work.
How was Sahba Music Academy founded?
Sahba Music Academy was founded by Masoud Ghasemi, who came to the UK as a refugee from Iran in 2014. Having been a music teacher in his home city of Isfahan, specialising in the large hand drum called the daf, Masoud decided that to keep himself occupied in his new country he would start trying to provide something in Manchester.
Masoud said: "When I came here I had nothing to do. I had taught music all my life and I was thinking about doing something for Iranian music, teaching and maybe creating a band to do concerts or something like that.
"I started in a very small basement in Levenshulme and taught the daf and started a daf ensemble there. We went to many different festivals and gradually we started to invite other teachers. After a couple of years we had about eight teachers and around 30 students."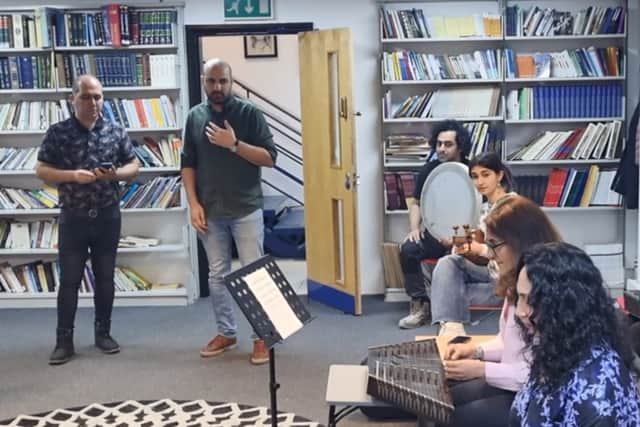 It wasn't long before Sahba was outgrowing its initial basement home. It rented a couple of rooms in a business centre for a while before opening its current facility on Printworks Lane in 2019. A two-storey building with Sahba's name proudly displayed outside, there are now as many as nine teaching rooms on the upper floor while a large hall downstairs provides space for ensemble rehearsals, performances and community events such as celebrations for the Persian New Year, Nowruz.
Masoud says the majority of students find out about Sahba through word of mouth and talking to people already involved or having lessons there. Around 70% of those learning are Iranian or of Iranian heritage, while the other 30% or so come from other nationalities, including Pakistani, Chinese, Turkish and British.
What does Sahba Music Academy offer?
The lessons for children focus more on Western instruments and getting them through their grades, with Sahba providing more affordable tuition at a time when there is increasing concern that learning to play the piano, the flute, the violin or other instruments is becoming restricted to young people with better-off parents.
Learners can also opt for a number of different Persian instruments, including the santour, a type of hammered dulcimer, stringed instruments such as the tar and setar and the long-necked lute the tambour as well as the bowed fiddle the kamancheh, and percussion instruments such as the daff and tombak.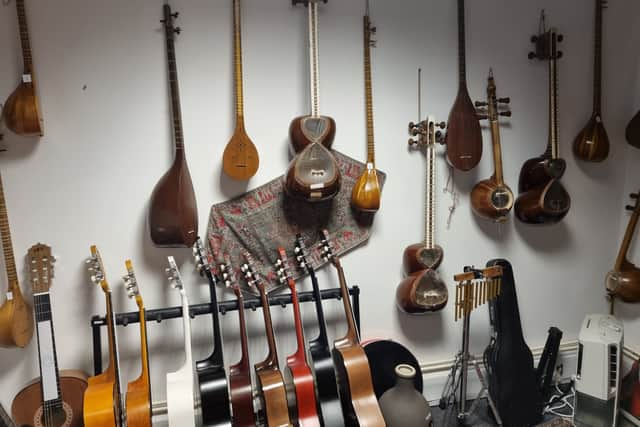 The organisation also has a number of different ensembles players can join. including the main group that plays traditional Iranian music which meets on Tuesday evenings. It started about four years ago and as more students got to the point where they were skilled enough to join the ranks swelled until there are now around 15 musicians playing, with both singers and instrumentalists.
On the evening ManchesterWorld visits the group begins with a rendition of the song Seh Godar, one of a number of folk pieces from various regions across Iran which makes up the ensemble's repertoire. It's a beautiful song, starting with a solo voice before the words are accompanied by instruments including the kamancheh and the santour. Mid-way through most of the singers and instrumentalists break off for a solo on the daff.
It's not all about music, though, with people also able to learn about arts such as painting and the Persian language at the academy.
What does Masoud say about running Sahba Music Academy in Manchester?
Masoud says he is determined to introduce musical traditions such as Iranian, Turkish and Indian music to Manchester and create opportunities for people to learn them as he believes music has an ability to cross borders and boundaries which he relates to his own story of arriving as a refugee.
He said: "Music is an international language. When I came here I couldn't speak English, not even a word, but I could play with a British band. I went to a group and said that I couldn't speak with them in English but I could play with them. I started to communicate with them. I'm always looking to mix different musics and different cultures together, trying to use music to make people happier."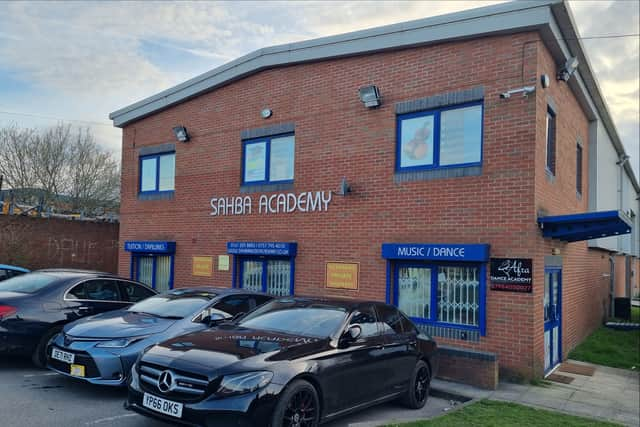 Sahba has grown considerably since its early days but Masoud has had to do everything without a penny of official financial support from the authorities, relying on income from paid-for music lessons. He says he can't help wishing he had the backing necessary to move into even bigger premises and spread the word about what Sahba is doing even wider in Manchester.
He said: "I would like to have the money to offer anyone who can't pay for music lessons the chance to come here and play music. I just like teaching music and would like to use it to bring people together and remove racism and differences on social media between people. We're all humans, we live together, so by playing music together we can be happy with each other."
How has Sahba responded to the massive protests in Iran?
In recent months huge protests have been taking place across Iran with women playing a huge role in demanding fundamental change and offering the biggest challenge to the power of the country's Islamic rulers seen in decades. Fury mounted after a young Kurdish-Iranian woman, Mahsa Amini, was taken into custody by the notorious morality police for not wearing hijab correctly and subsequently died.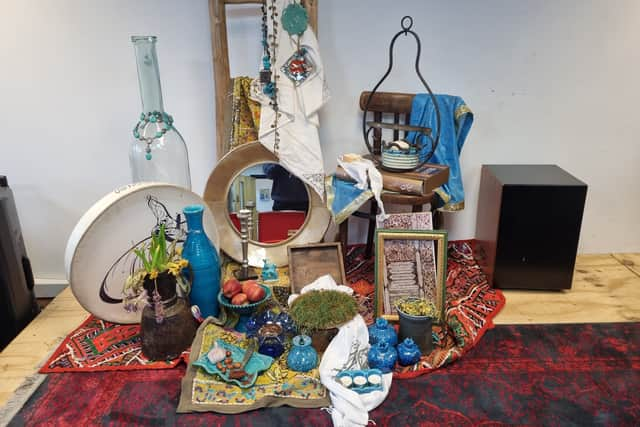 Sahba hosted an International Women's Day event based around the rallying cry of the protestors: "Woman. Life. Freedom". This included the ensemble performing songs by female artists, a video from a documentary maker who was arrested for taking part in the protests in Tehran and whose son is an active member of Sahba, a screening of a documentary about a notable female Iranian environmentalist and talks with Iranian and Afghan women from the diaspora about their work, their thoughts on recent events and the struggles women face in patriarchal societies.
Masoud said: "The women of Iran are so brave. We need to support them and let them know that those of us who are Iranian or outside Iran support their protests.
"People just want to be free and it's right that they can choose. We are trying to support them as much as possible, we have helped to organise gatherings in Piccadilly Gardens. We're playing a concert at Emmanuel Church in Didsbury on 21 April and anything we earn is going to the families of victims in Iran."
What does Sahba mean to some of the people who go there?
Sahar Alsabbagh, from Stockport, goes to Sahba as her 17-year-old daughter Nour is a singer with the main Sahba ensemble and her son Sina plays the tombak, a goblet-shaped drum. She said: "I think Sahba is really important. I'm not really involved with the Iranian community but when we come here we have that sense of community.
"Music especially keeps us in touch with the culture still. I've known Masoud for a long time, I took daf lessons from him when he just started out, but then I didn't come for a long time.
"My children like it. They feel very safe here and have discovered things about the culture they didn't know. They've been coming here for the past eight or nine months and they're more interested to find out about different aspects of Persian culture, like the Nowruz celebrations. Music brings people together. It doesn't matter where people are from, you can understand music."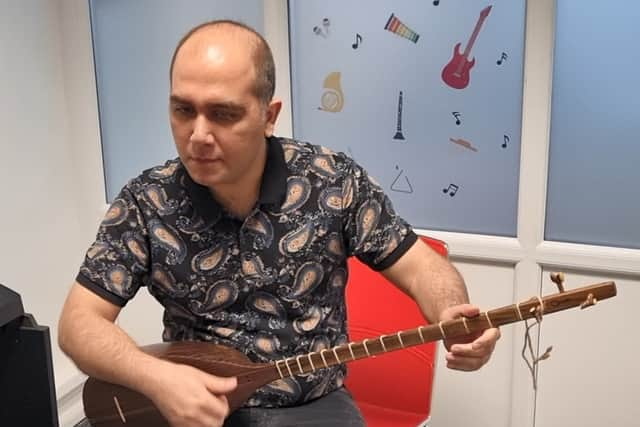 Atousa Goudarzi travels up from Chester to Manchester to be involved at Sahba, where she is having santour lessons with tutor Farshid Mahyari. The santour is a difficult instrument to play, taking up to a decade or even longer for musicians to master. Just tuning the 72 strings of the hammered dulcimer can take anything up to a couple of hours. Players also have to learn about the radif, the huge collection of modal melodies that make up the structural basis of Iranian traditional music.
Atousa says Sahba is an important place for the Iranian community across the entire north of England.
She said: "There isn't anything else like Sahba in the North West. When I moved up from London I saw on a friend's Facebook that she was in a daff group. I asked how she played the daff and she told me about Sahba. I asked if I could see what else they did and the rest is history. I contacted Masoud and started coming here.
"I now learn the santour, I also go there for piano lessons and I play the daff. I actually think Sahba helped save my sanity. When I got pregnant I gave up full-time employment and set up my own business, and being self-employed feels very lonely. You don't have a network of people to go to, whereas in London I had a massive group and we would meet up to play music together.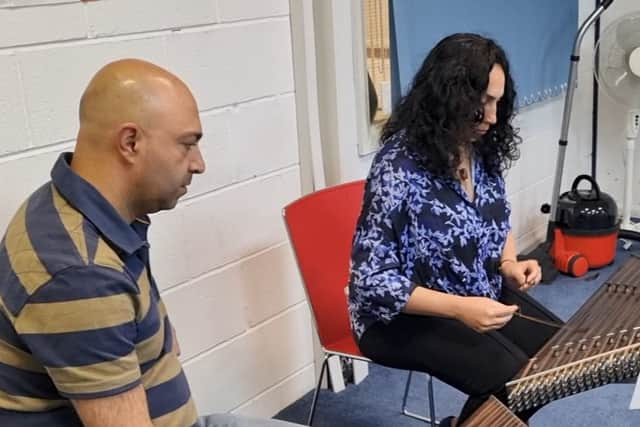 "I'm married to an Englishman so I was quite isolated from my culture. At one point we were considering moving back to London but then I found Sahba.
"It's wonderful to live in a beautiful country like England but when you grow up in an absolutely different culture to British culture and you then move away you can't really take certain things with you in your little suitcase. I think having a community like the one Sahba has created is vital for everyone who grew up in Iran and moved to the UK, I think it really helps the mental health of immigrants.
"I think it's also important for the second generation. My daughter doesn't speak Persian but Sahba runs language classes and I'm hoping she will one day be interested in learning the language. I've already taken her with me to rehearsals so she's familiar with Persian music. I want her to know that side of her mum's heritage."