The scale of air pollution problems facing Greater Manchester have been laid bare by new data and research.
A number of Greater Manchester boroughs feature in its list of the 26 towns and cities in the country with the biggest issues when it comes to three of the most common harmful substances in the air.
Campaigners say the Government is "dragging its heels" while pointing the figure at local politicians and authorities when it should be leading the way on changing the national infrastructure to make it cleaner and greener.
The Government has responded by saying air pollution has decreased in recent years but it is committed to doing more.
What does the data show for Greater Manchester?
The data COPI has released using sophisticated computer modelling done by experts at Imperial College London to predict pollution concentrations near to roads.
This was then checked for accuracy by comparing it to the readings from around 20,000 council-run monitoring sites across the country.
It has then produced an aggregated level of pollution for three substances - nitrogen dioxide (NO2) and two types of particulate matter (PM2.5 and PM10).
This allows a ranking to be drawn up of how polluted the air is in postcodes around the UK.
Salford and Manchester both featured prominently in the COPI's list of the 26 most polluted towns and cities, with more than one in four properties (27.15% to be exact) in or above the 90th percentile of polluted addresses.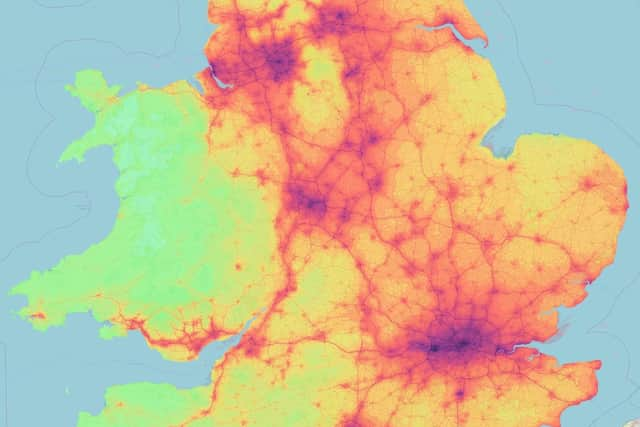 This means that just over a quarter of Manchester properties are among the 10% of addresses with the highest pollution levels in the UK.
In addition almost every property in Manchester (99.32%) is on or above the 80th percentile.
In Salford just over 30% of properties are in the 90th percentile, and 99.42% are among the most polluted 20% of addresses.
Salford has the fourth-highest rate of properties in the 90th percentile for air pollution, while Manchester is sixth.
And only Slough has a higher percentage of properties in the 80th percentile than Salford and Manchester, which are second and third.
There are pollution issues across the whole of Greater Manchester, with Stockport, Oldham, Bolton, Rochdale and Bury all making the list of 26 most polluted places as well.
In Stockport just over one in five properties (20.51%) are in or above the 90th percentile, while in Oldham it is 10.5%.
Can I check pollution levels at my address?
To accompany its research the COPI has also created a postcode look-up tool where residents can see pollution levels in their area.
This again underlines the seriousness of air pollution issues in Manchester.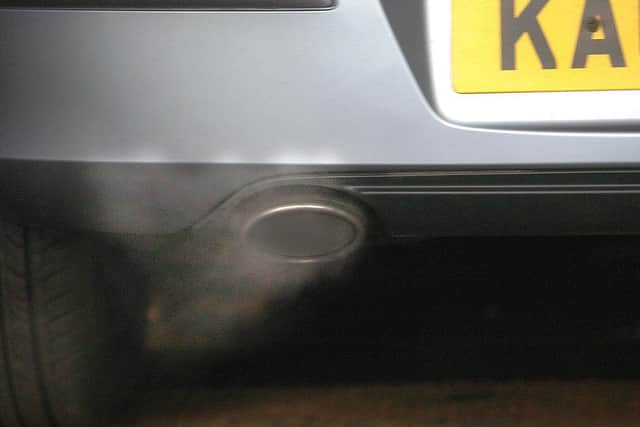 Typing in a postcode in the Manchester city centre M1 area, for example, reveals an address is in the 97th percentile nationally for the three pollutants, with WHO levels for all three exceeded.
The COPI says 70% of UK addresses breach all three WHO limits, and 97% are in breach of at least one.
The data used for this comes from 2019, which the researchers say is the last year that was uninterrupted by Covid-related restrictions on travel and lockdowns which skew the levels.
The tool can be accessed here.
What has COPI said about the research and the findings for Manchester?
The COPI, which is a non-profit creative industry alliance, is pushing for clear legislation to publish air pollution ratings by estate agents, property websites, surveyors and conveyancers, similar to the obligations to disclose the presence of other dangerous substances, such as asbestos and radon.
Humphrey Milles, founder of COPI, said: "Air pollution affects all of us. It's a group one cause of cancer, just like asbestos.
"With this new accurate data now publicly available, it would be shameful for the property industry to not start acting transparently. Lives depend on it.
"Everyone has a right to know what they're breathing before they buy or rent. And of course, we have our own part to play in this too. Air pollution isn't insurmountable and we can all do something about it."
Mr Milles said large urban areas such as Manchester have particularly severe air pollution problems and was highly critical of the Government's attitude to tackling the issue.
He said: "We've got a Government that is dragging its heels, trying to offset the blame to local government or mayors.
"Addressing this problem needs infrastructure changes, it needs buy-backs of old polluting vehicles.
"It needs central government funding, not just local councils and mayors who don't have money coming out of their ears to invest in this kind of infrastructure.
"It leaves them in a difficult position where the only measures they can put in place are viewed as quite punitive, like congestion charges and low traffic neighbourhoods.
"While these do have an impact they don't really address the problem at its root, which is that we've got too many cars and trucks pumping out fumes on the roads.
"People need to be able to travel cheaply and cleanly and they can't do that without major infrastructure investment. Trains are too expensive, public transport links between towns are often poor, people can't cycle safely because the roads are dangerous.
"This is where central government comes in."
What has been said locally about the air pollution data?
This will largely target emissions of fine particulate matter PM2.5, which is especially dangerous to health as it can get deeper into the lungs and organs due to the minute size of the particles.
According to Defra, 25% of all emitted PM2.5 in the UK currently comes from domestic burning, including woodburning stoves, with a further 13% from road transport.
Coun Tracey Rawlins, executive member for environment at Manchester City Council, said:"We take improving our air quality extremely seriously - both as a public health issue and an environmental one, as part of our drive to make Manchester zero carbon by 2038.
"Cleaning up the air our residents breathe is a priority. We are investing in a range of measures which include developing high-quality, well designed permanent cycle and walking infrastructure to encourage people to walk and cycle more and create lasting change towards active travel away from the car at the same time as working with local communities and schools across the city to help reduce car pollution.
"We're also committed to improved public transport especially around buses and investing in electric vehicle charging infrastructure.
"However, we cannot tackle air pollution alone, so we are working closely with our partners in the nine other Greater Manchester local authorities, Transport for Greater Manchester (TfGM), and the GMCA.
"This includes our continued work with Greater Manchester colleagues and the government to deliver a new Greater Manchester Clean Air Plan to meet legal NO2 levels at roadside which is currently under review.
"We are also working on joint GM campaigns to discourage solid fuel burning as we know some of the most harmful air pollutants to health come from domestic burning including from woodburning stoves."
What has the Government said?
Defra said that in just over a decade levels of some pollutants have actually declined significantly and the Government's Clean Air Strategy aims to halve the harm to human health caused by air pollution by 2030.
A spokesperson said: "Air pollution at a national level continues to reduce significantly, with nitrogen oxide levels down by 44% and PM2.5 down 18% since 2010, but we know there is more to do.
"We have legislated the phasing out the sale of the most polluting solid fuels in domestic combustion, and also have committed to driving down emissions across all modes of transport.
"We are also committed to setting stretching and ambitious targets on air quality through our Environment Act."