Analysis of figures from Greater Manchester Police (GMP) also shows that hundreds of people travelling on two wheels are injured on the city-region's roads each year, dozens of them seriously.
Avaris eBikes sent a Freedom of Information (FOI) request to the police force on incidents involving cyclists over a three-year period.
The results, showing the scale of safety problems on Greater Manchester's roads, have led to hopes being expressed that changes to the Highway Code will help to cut down the number of incidents.
Greater Manchester Police (GMP) have said the figures are concerning.
What does the data show?
The data shows that in total 1,021 incidents involving both drivers and cyclists were reported to GMP between January 2019 and May 2021.
Manchester, Salford and Trafford were the worst-affected of the 10 boroughs, with 331 in Manchester, 125 in Salford and 104 in Trafford.
In the same time period 11 cyclists were killed across Greater Manchester, with three fatalities in Manchester, three in Trafford, two in Oldham, two in Rochdale and one in Bury.
In figures which could well be attributable to lower traffic levels during the Covid-19 pandemic there was a drop in incidents from 514 in 2019 to 388 in 2020.
There were 119 incidents reported in 2021 up to 21 May, when the dataset ends.
However, as far as fatalities were concerned 2020 was the more dangerous year, with seven compared to the three in 2019.
Across the time frame there were a total of 185 cyclists seriously injured, with 82 in 2019, 73 in 2020 and 30 in 2021 up to 21 May.
What were the FOI figures for each borough in Greater Manchester?
The figures for the 10 Greater Manchester local authorities between January 2019 and May 2021 were as follows:
Manchester: 331 incidents, three of them fatal, 40 involving serious injuries to cyclists and 288 in which the cyclist was slightly injured.
Salford: 125 incidents, 29 involving serious injuries and 96 with slight ones.
Trafford: 104 incidents including three fatalities, 22 with serious injuries and 79 with cyclists being slightly hurt.
Stockport: 96 incidents, 14 with cyclists suffering serious injuries and 82 involving slight injuries.
Wigan: 78 incidents, 20 with cyclists seriously injured and 58 with slight injuries.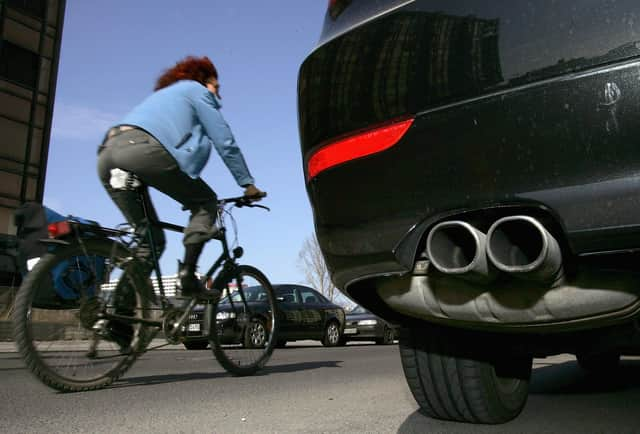 Bolton: 73 incidents, 17 involving cyclists being seriously hurt and 56 with slight injuries.
Tameside: 58 incidents, nine with serious injuries to cyclists and 49 with slight injuries.
Oldham: 55 incidents, two with cyclists being killed, 15 with serious injuries and 38 with slight injuries.
Rochdale: 55 incidents, two with fatalities, 11 with serious injuries and 42 with slight injuries.
Bury: 46 incidents, one with a cyclist being killed, 10 with cyclists seriously injured and 35 with cyclists suffering slight injuries.
What has been said about the data?
The figures come as the Department for Transport plans to update the Highway Code with the introduction of a 'hierarchy of road users', to prioritise and protect those most at risk of serious collisions, such as pedestrians and cyclists.
They include eight new rules and amendments to various existing rules, and mean those in charge of vehicles that can cause the greatest harm in a collision bear the greatest responsibility to reduce the danger they pose to others.
If a driver, motorcyclist or cyclist is turning into or exiting a road at a junction, they should stop to let pedestrians cross.
When turning in or out of a junction, or changing lane or direction, drivers should not cut across cyclists who are travelling straight ahead. Drivers must not turn if doing so would cause a cyclist to stop or swerve, and to stop and wait for a safe gap in the flow of cyclists if necessary.
Motorists should also use the 'Dutch reach' method, which involves using the hand on the opposite side of their door to open it to ensure they look over their shoulder, thereby reducing the chance of hitting a passing cyclist.
They should leave at least 1.5 metres of space when overtaking cyclists at speeds of up to 30mph, and give them more space when overtaking at higher speeds.
Avaris eBikes, which made the FOI request on cycling safety, welcomed the updates and expressed the hope they would help to make the roads a safer place.
Richard Heys, the founder of Avaris eBikes, said: "All road users need to be aware of the Highway Code and should shoulder their responsibility to take care of others.
"This is extremely important because there is an ever-growing number of cyclists on the roads for a number of reasons. A huge amount of people, even those living outside cities, are now saving time and money by using electric and traditional bikes to commute to and from work.
"Fitness goals, gridlocked cities at rush-hour, general traffic, and a greater awareness of how carbon emissions are impacting our environment, mean people are switching away from car use and making smarter choices.
"We want roads to be safer places for cyclists and drivers, but this won't come without both types of road users committing to being up-to-date with the rules and practices in place, being more aware of their surroundings, and educating themselves about all aspects of road safety."
Cycling UK, a group that has campaigned for a safer Highway Code and worked closely with the Department for Transport on the proposed changes, welcomed the updates but stated they will be of limited benefit if the public aren't aware of them.
The AA polled 13,000 of its members on the subject just before Christmas and two in three of those quizzed did not know about the updates.
What have the police said?
Inspector Jon Shilvock, of GMP's roads policing unit, said: "The high number of fatalities and serious injuries caused by collisions on our roads is a real concern.
"We have stepped up regular patrolling of hotspot areas where our intelligence tells us there is a problem with dangerous driving, and are taking robust enforcement action against irresponsible drivers who put themselves and others at risk.
"Taking risks on the roads can have devastating consequences, and as well as taking the appropriate enforcement action, our officers will be continuing to engage with all road users to educate them on the impact the decisions they make can have."