PROGRESS21: how will Manchester recover from the pandemic? City leaders spell out their vision
The landmark event at Manchester Central considered the city-region's international ambitions and how it can recover from the Covid-19 pandemic.
There was a distinctly upbeat mood at a Manchester exhibition and conference centre as a landmark event discussed the city-region's future.
PROGRESS21 took over Manchester Central on Thursday 23 September to consider the subject of how Greater Manchester moves forward from the Covid-19 pandemic.
Topics for discussion included the changing world businesses face, the need to make the city region a greener place, public transport and homes.
While there were acknowledgements of the challenges and hurdles lying ahead, the overall feel of the conference was largely positive as delegates and speakers talked up Greater Manchester's potential and international ambitions.
What was PROGRESS21?
PROGRESS21 was created by social enterprise The Growth Company to look at Manchester's future and its economic recovery in the wake of the Covid-19 pandemic.
The event took over Manchester Central, the exhibition and conference centre created in a former railway station. for talks, workshops and presentations.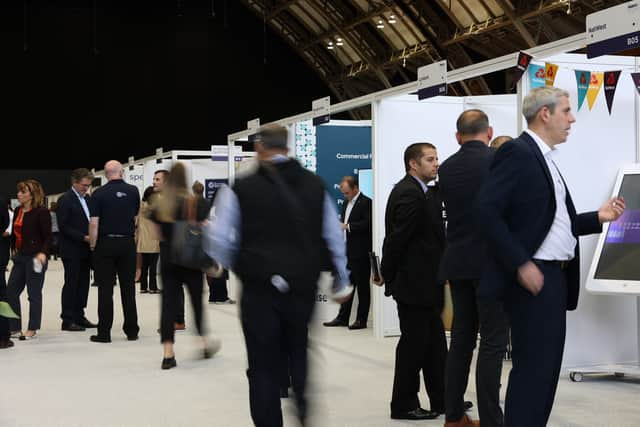 There were three strands to the event: PROGRESS21 Careers, a large jobs fair, PROGRESS21 Business, which discussed the opportunities and difficulties ahead for the city-region's firms, and PROGRESS21 Global dedicated to putting Manchester on the international map.
High-profile speakers included Greater Manchester Mayor Andy Burnham, the outgoing leader of Manchester City Council Sir Richard Leese, national ministers and prominent politicians from the city-region's 10 local authorities.
Coming out of tough times in a strong position
Mr Burnham addressed the global section of PROGRESS21 with a speech largely drawing on the recent announcement that Manchester had been selected as the world's third best city.
He said the city's passions for innovation, creativity and technology was among the things putting it on the map, and he challenged the conference to see if Manchester could move even further up the global rankings.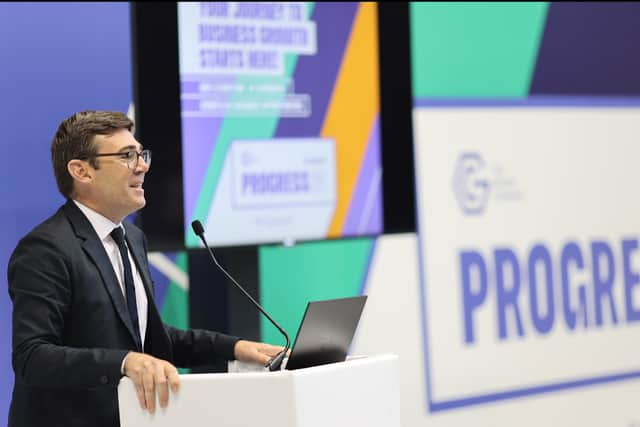 He said: "Manchester is the home of vibrant innovation and disruption, and that's a big part of being the third best city in the world.
"We are making waves on the global stage, we are getting noticed. This city is going places and this is a moment to go further, faster.
"I am upbeat and really positive about what is coming. We are about to go up to the next level and we can get there more quickly if we all pull together. That is the greatest strength of this city-region.
"We never aim to be second best at anything. We are not going to stop where we are now.
"We are coming out of these tough times in a strong position, and our vision and destination is clear. Let's go out and make it happen."
The conference was told that spending by businesses on research and development in Manchester had increased by 50 per cent in the last couple of years.
Mr Burnham also spoke about the importance of a green city-region, praising work on technologies such as green hydrogen and more efficient energy storage systems being done by companies in Greater Manchester.
Small businesses can lead the way
The afternoon panel discussion on business growth contained a rousing message about the value of small and medium-sized enterprises (SMEs) in building a strong future for the city-region.
Coun Elise Wilson, the leader of Stockport Council who is also a business owner, said: "Diversity and difference makes us great and where we see that so well is in our SMEs.
"People are working and living in a different way and SMEs are at the forefront of that. People started them because they were made redundant in the pandemic, so turned their hobby into a business.
"We have an opportunity to drive change."
Coun Wilson acknowledged that for some small businesses Covid-19 had been an extremely challenging experience, but said the way SMEs had looked after workers and the relationship they have with their employees is an example others should be following.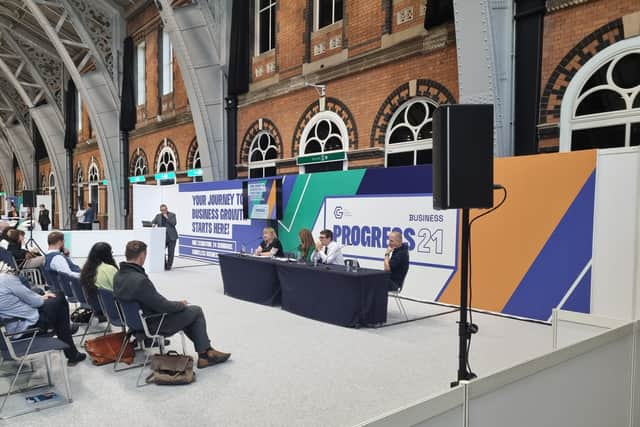 She also outlined her support for an ambitious wage strategy for Greater Manchester.
She said: "It has been bonkers for us, highly pressured. Some of us have been shut, some have wondered whether or not they would still be open at the end of this, some have been crazy busy, some have seen a massive growth spurt and struggled to keep up, get the people they need and keep teams safe. Meeting demand has been particularly difficult.
"SMEs are at the forefront of what employers should look like.
"We want this to be a Living Wage city-region. That can be particularly worrying or a bit scary on how we're going to make ends meet.
"But these are the people that matter to us. It's for SMEs to really show the big boys and girls that this is how we do it and how we value people."
She said: "We don't just want any jobs or growth. We are known for industriousness, innovation and creativity.
"We've had 10 years of transformation in 10 months. It would have come anyway, but it has come within a year.
"Some industries probably don't have the vibrant future they might have had, but others will be a huge part of what we are going to achieve.
"These represent good, well-paid work which will be here in 20 years' time.
"We have a very clear vision of what good employment should look like."
Challenges ahead on skills and green targets
It was not all glowing optimism at the conference, though, as speakers acknowledged there are difficulties ahead for the city-region.
Mr Burnham acknowledged that the roll-out of the Greater Manchester Clean Air Zone, which comes in across all 10 boroughs next year, would be concerning for business, but pledged to ensure that support would be available for those that need it.
The conference also discussed a notable skills shortage in Greater Manchester.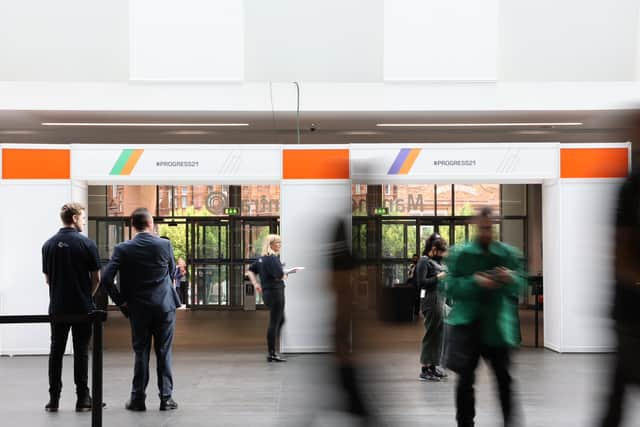 A panel event heard from one business lured to the city by its reputation for technology and digital success which was facing serious struggles to recruit people with the required skills in cloud computing and blockchain.
It was recognised that more needs to be done both to connect young people who will be entering the world of work with the industries and skills that will be needed for the future and to quickly retrain older workers in sectors which currently do not look to have a particularly rosy future.
What did the organisers say?
The conference organisers hailed the day as a great success.
Mark Hughes, the Growth Company's CEO, said: "It's been fantastic to see thousands of people come together for an event that has real potential to transform lives.
"As we continue the recovery from the Covid-19 pandemic, employment, business growth and securing global opportunities will play a key role in the green and inclusive recovery of our city region.
"PROGRESS21 has been a fundamental stepping stone in this recovery – a chance to come together and build momentum and support individuals, businesses and the city-region to recover and then start to thrive."